Latest /
News: Associated British Ports Announced as Diamond Sponsor and Sponsor of Clean Maritime Operator Award
News: Associated British Ports Announced as Diamond Sponsor and Sponsor of Clean Maritime Operator Award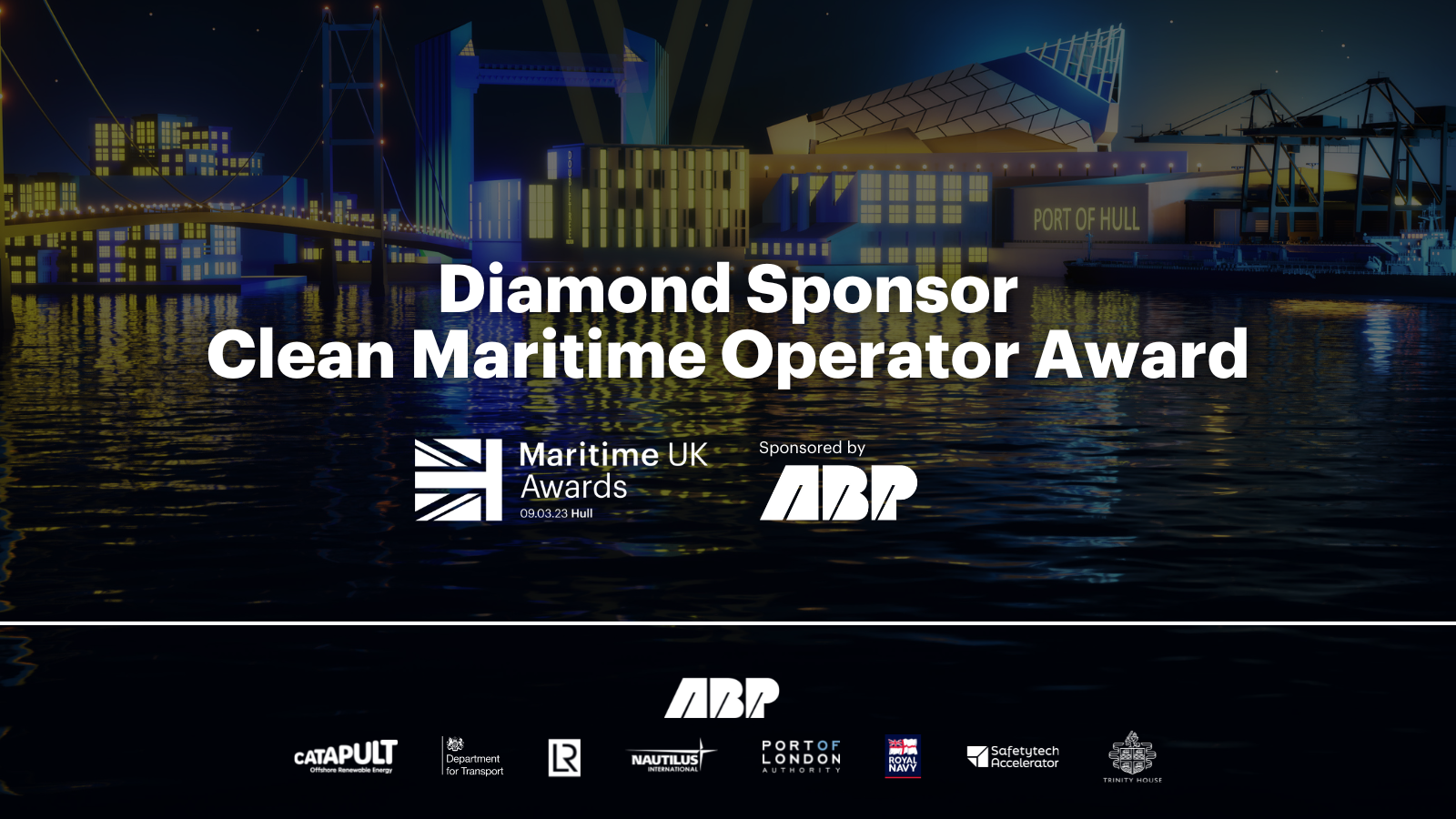 Associated British Ports has been announced as Diamond Sponsor for the fourth national Maritime UK Awards 2023 and Clean Maritime Operator Award to be held at the Hilton Double Tree in Hull on Thursday 9 March 2023. 
The Maritime UK Awards recognise the very best of the UK's maritime sector, organised by industry, for the benefit of the industry.
Associated British Ports operates 21 ports and the Hams Hall Rail Freight Terminal which together handle around a quarter of the nation's seaborne trade. ABP's Humber ports together constitute the largest ports complex in UK and serve its busiest trading estuary. The Port of Southampton is the UK's principal port for the automotive trade and cruise, and home to the nation's second largest container terminal. By facilitating trade and connecting British businesses and manufacturers to international markets, their ports act as important drivers of economic growth in regions and coastal communities around the country. Together with our customers, our ports handle £150 billion of UK trade, support 119,000 jobs around the country, and contribute £7.5 billion the UK economy. 
Henrik L. Pedersen, CEO from Associated British Ports said: 
"It is great to be involved with the Maritime UK Awards which celebrate the many successes of our industry. Clean Maritime is the story of the future. As we all look to reduce our carbon emissions, ensuring that maritime plays its part in green supply chains is essential. As the UK's largest port operator, ABP is determined to have a major role in ensuring the clean maritime future we all hope to see."
Ben Murray, Chief Executive of Maritime UK said:
"We're delighted to have ABP's support as Diamond sponsors and as the sponsor for the Clean Maritime Operator Award at this year's Maritime UK Awards. Our sector is committed to getting to net-zero by 2050 and in recent months we have seen some really important projects and developments by operators across the sector. The awards provide an opportunity to showcase those, make connections and help drive the sector forward in pursuit of its shared objective to decarbonise." 
The Clean Maritime Operator Award will be awarded to a maritime company that have taken action to move their UK operation towards zero emissions. This could be a port, shipowner or shipbuilder.
The awards, which are open to companies from across the breadth of the maritime sector including its shipping, ports, services, engineering, and leisure marine industries, opened on 10 December and applications are already piling in. Submissions close on 20 January.
To find out about the 2023 awards, categories, sponsorship opportunities and how to enter visit www.maritimeuk.org/awards
To find out more about Associated British Ports International visit www.abports.co.uk