Latest /
News: Safteytech Accelerator sponsors the Start-up of the Year Award
News: Safteytech Accelerator sponsors the Start-up of the Year Award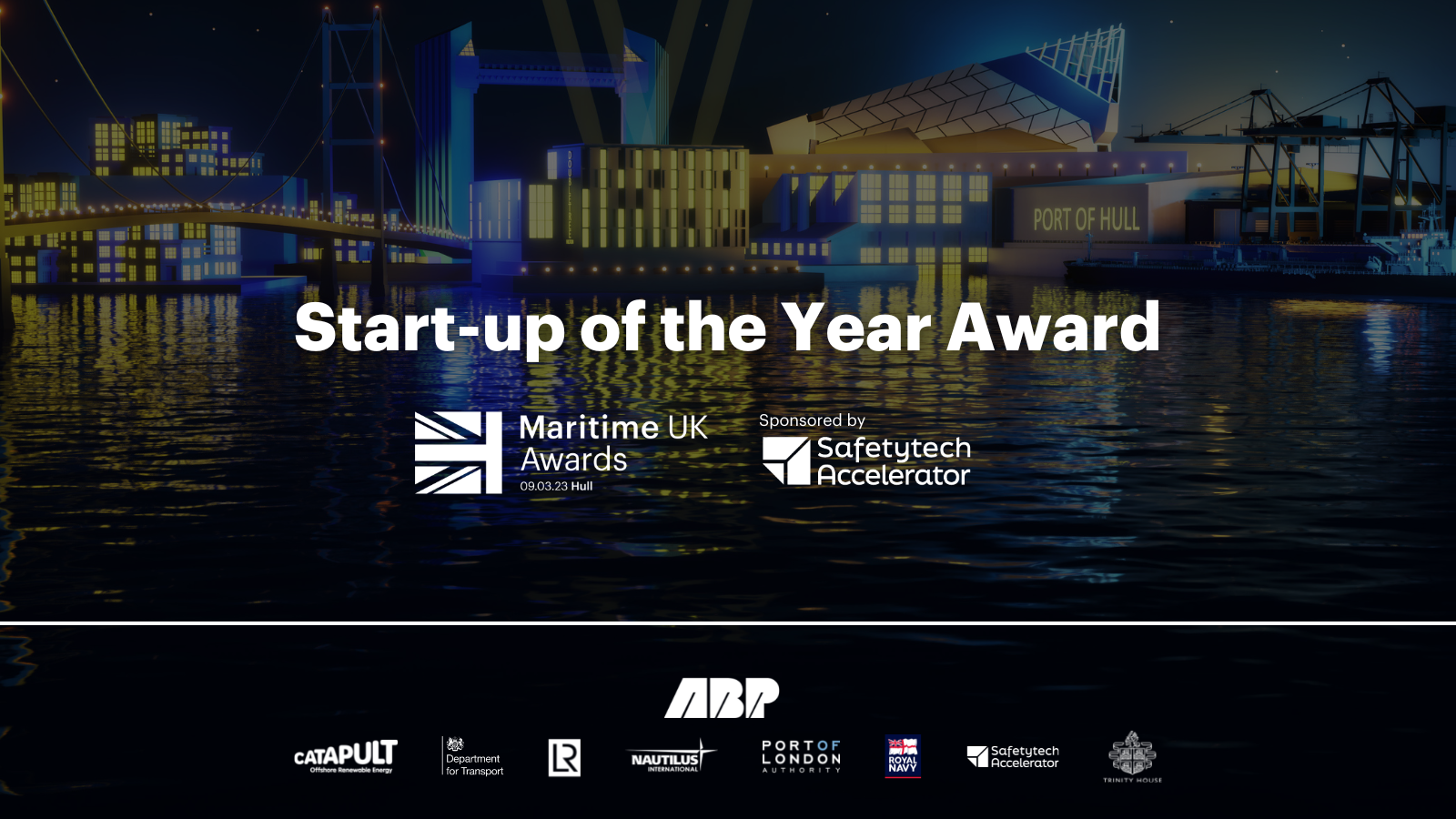 Safetytech Accelerator has been announced as Category Sponsor of the Start-up of the Year Award for the fourth annual Maritime UK Awards, to be held at the Hilton Double Tree in Hull on Thursday 9 March 2023.
The Maritime UK Awards recognise the very best of the UK's maritime sector, organised by industry, for the benefit of the industry.
Safetytech Accelerator is the first fully dedicated technology accelerator focused on safety and risk in industrial sectors and critical infrastructure. Their mission is to make the world safer and more sustainable through the wider adoption of industrial safetytech. Established by Lloyd's Register, they work with clients and cutting-edge tech companies to solve important safety and risk challenges.
Safetytech is defined as digital technologies that deliver significant improvements to safety and risk management in critical industries and supply chains. They focus on 8 technologies: Analytics, AI, Visual Analytics, AR, VR, Sensors & Wearables, Drones & Robotics. To date, they have engaged over 600 early-stage technology businesses and launched 20 cutting-edge innovation pilots.
Maurizio Pilu, Managing Director of Safetytech Accelerator, said:
"At Safetytech Accelerator we are passionate about enabling tech entrepreneurs to solve some of the most pressing challenges in industrial sectors, especially maritime and the blue economy. We are delighted to partner with MaritimeUK on this prestigious award and we look forward to receiving great applications from startups across the UK."
Ben Murray, Chief Executive at Maritime UK, said:
"We're delighted to have the Safetytech Accelerator's support for the Start-up of the Year Award at this year's Maritime UK Awards. With significant challenges and opportunities facing our maritime sector, it's great to see that a growing number of start-up businesses are seeing their future within the sector. New thinking and ways of working are making a fundamental contribution to the success of our sector, and I'm looking forward to seeing some of the best start-ups in Hull!"
To be eligible for the Start-up of the Year Award, entrants must:
Have started to trade no earlier than three years from the date of entry.
Be 'independently owned'. This is defined as a business that is substantially owned by its founders and/or a group of independent investors, is not quoted on the stock market or any other stock market; and is not a subsidiary or associated company of another business.
Be UK based.
For every category, the judges are looking for a great business. Those with excellent potential will always rank more highly in the final reckoning. This will be based on revenue growth, profitability, and major-client wins.
The awards, which are open to companies from across the breadth of the maritime sector including its shipping, ports, services, engineering, and leisure marine industries, opened on 10 December and applications are already piling in. Submissions close on 20 January.
The Diamond Sponsor for the 2023 awards is Associated British Ports.
To find out about the 2023 awards, categories, sponsorship opportunities and how to enter visit www.maritimeuk.org/awards
To find out more about Safetytech Accelerator visit www.safetytechaccelerator.org