Fawley Waterside Intelligent Merchant City
Fawley Waterside Intelligent Merchant City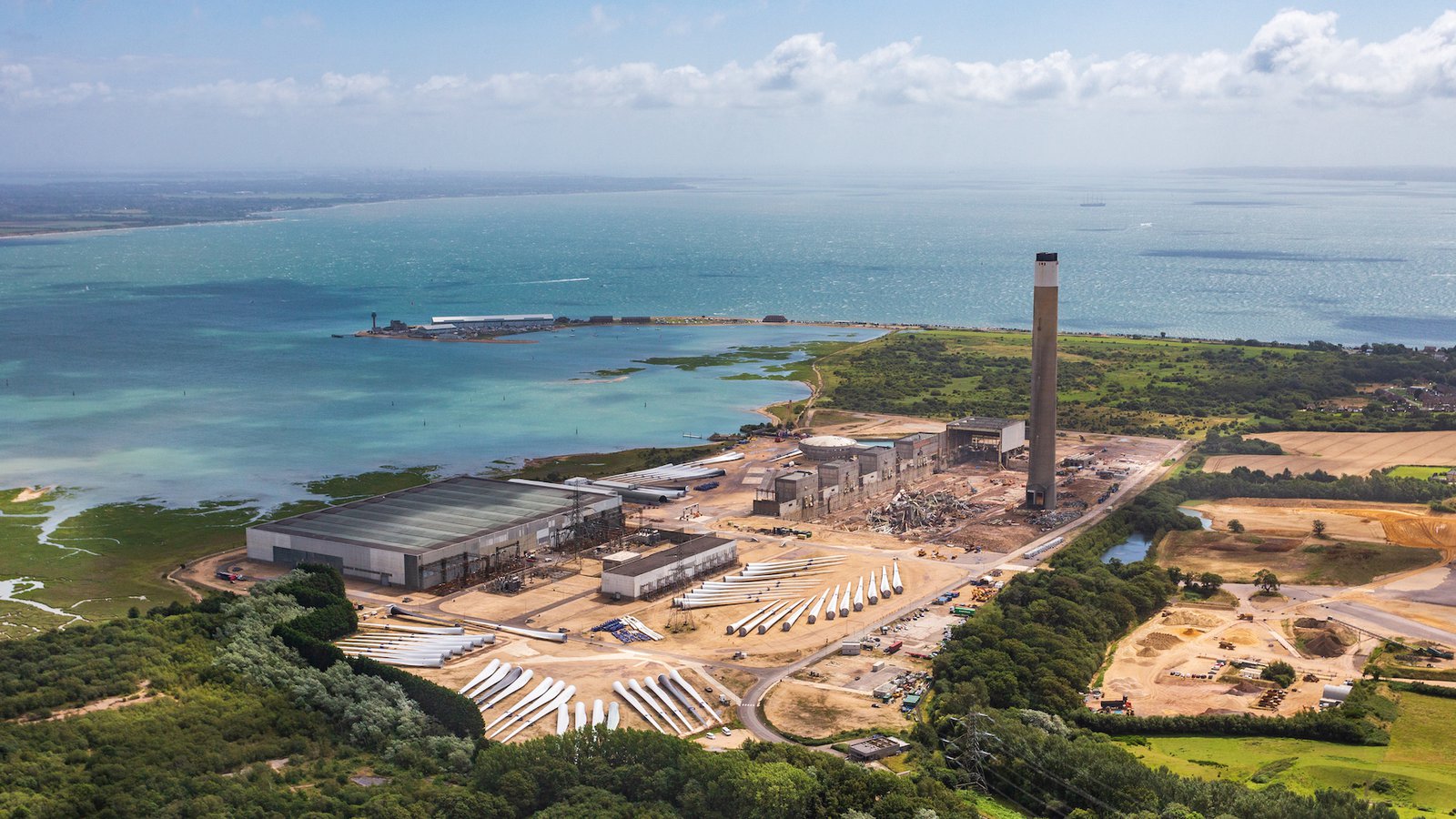 Fawley Waterside – a new build intelligent merchant city in the Solent Freeport
Fawley Waterside started COP26 with a bang. At 7am on Sunday 31st October our 50 year old, 198 meter chimney stack was demolished using controlled explosives. This is the last major step in the removal of the former Fawley Power Station, which in its day was the most efficient power station in the UK. Our demolition team have achieved an impressive 98% recovery rate on the many thousands of tons of materials which they have processed.
Our new intelligent merchant city - a showcase for sustainable living - will be built over the next few years, delivering up to 5000 jobs and 1500 homes. Our first permanent buildings will be completed in mid 2023, including a maritime innovation centre.
We are located at the mouth of the Solent on the south coast of the UK – just across from the Isle of Wight and backing on to the New Forest National Park. Our 50 hectare development site is surrounded by over 200 hectares of new public realm parks and saline lagoons. Our residential waterfront style aims to create one of the finest examples of small town design – echoing the character of Venice and other classic ports.
As part of the Solent Freeport, we offer financial incentives which are attracting ambitious investors, with proposed maritime projects including the building of decarbonised vessels, the production and supply of green hydrogen, the building and deployment of a fleet of electric water taxis and a major investment in maritime skills for the next generation including design, construction, port operations, data analytics, remote piloting and autonomy.
Fawley Waterside will operate as an intelligent community, generating economic value through productive jobs. Residents, tenants and visitors will enjoy a smart lifestyle supported by our integrated intelligent infrastructure that extends from the home to the workplace. Our maritime leisure facilities include a dry stack for up to 600 boats and a newly constructed canal which will connect our existing harbour to the boatyard facilities in our industrial quarter.
If you look at Fawley Waterside site on a satellite image today, you will see the dry bones of green industry neatly laid out, in the form of rows of huge turbine blades currently being painted and stored by Vestas. Each blade is over 85 meters long and weighs around 135 tons. They are brought in Williams Shipping (on a customised vessel perhaps inevitably called the "Blade Runner") from the Vestas factory in the Isle of Wight and when finished they are shipped off to offshore turbine fields. We have been happy to have the site used for this purpose during the years of demolition – and this activity will continue during the early years of construction.
We are now planning the launch of our industrial quarter and look forward to welcoming some leading marine engineers, an apprenticeship centre, a Catapult Quarter, the National Oceanographic Centre, all sorts of data and com and many other elements of the maritime community. You would be very welcome to join us.
Paul Copping, CTO Fawley Waterside, paul.copping@fawleywaterside.co.uk