Feasibility Study for Shore Power in Aberdeen Harbour
Feasibility Study for Shore Power in Aberdeen Harbour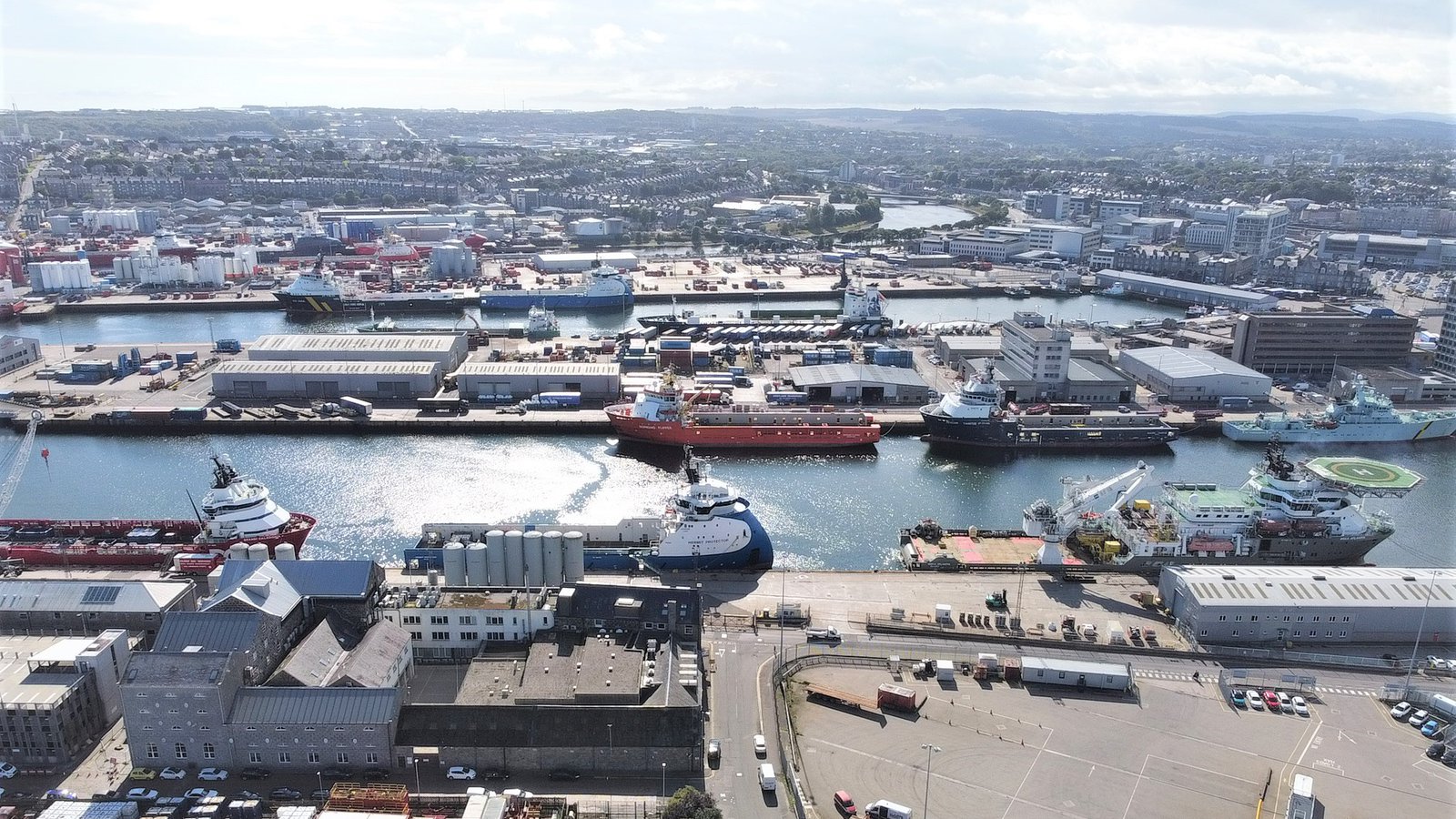 Like many of the world's greatest cities, Aberdeen has a port at its heart, and over recent decades Aberdeen Harbour has been Europe's largest logistics and supply port, successfully and safely servicing the UK's North Sea oil and gas sector. An ambitious growth strategy will see investment of £350m in the new, state-of-the-art South Harbour. This supports the port's, and wider region's, ambitions to be at the leading edge of the energy transition, bringing together innovation, supply chain expertise and the unique local skill base to support existing and emerging sectors.
The first critical step on that journey is to address the emissions from the operations of the existing harbour. Driven by this imperative, and buoyed by the Clean Maritime Plan, in 2020 Scottish Enterprise commissioned a study by Buro Happold and the Tyndall Centre to identify a decarbonisation strategy for Aberdeen Harbour.
The results of the study were compelling. Over 75% of the port's carbon emissions come from vessels at berth within the harbour, arising from burning marine fuel oils in their auxiliary engines to power activities on board. With access to green electricity from shore, overall port emissions could be reduced by over 50%. This initial study provided the foundations for where shore power could be most effective and a preliminary costing. Although requiring some ongoing public funding (as with all shore power schemes) the initial business case looked very promising and harbour users were supportive.
The CMDC was launched at the ideal time to support Aberdeen Harbour Board (AHB) in making this vision a reality. The CMDC Strand 1 project will enable them to complete the next, critical feasibility stage for a shore power scheme, which could lead to a demonstration project to confirm the viability and start roll out of the scheme. Buro Happold, a key subcontractor to AHB, will provide independent engineering design and techno-economic modelling for the scheme. Together with project partners Connected Places Catapult (CPC), the broader impacts of the future 'green port' will be explored and built on, maximising the environmental benefits of initiatives for UK ports, maritime stakeholders and places. This collaboration means that the CMDC project will not only deliver a focused study for AHB but also transfer key learnings to support development of a wider blueprint for a future 'green port'.
The current project (total budget £540k with £412k CMDC funding) kicked off in September 2021. It aims to deliver a shore power scheme design in early 2022 before concluding in March 2022 with a business case and consortium assembled to deliver a shore power demonstration project in Aberdeen, and a dissemination event for UK port stakeholders for the 'green port' blueprint.
It is hoped that the shore power demonstration project will form part of the ongoing CMDC programme, which could see 'first power' from the demonstration project by mid-2023. If the demonstration is successful, phased roll out of green shore power across Aberdeen North and South Harbours could realise ~23,000 tonnes CO2 per annum savings (and positive cashflow) for AHB by the mid-2030s.
For further information contact Andrew Green, Programme Manager, andrew@greenknowledge.co.uk
Publicly known funding
£412,000