Marinisation & Installation of PCB Hydrogen Fuel Cell into USV for Demonstration
Marinisation & Installation of PCB Hydrogen Fuel Cell into USV for Demonstration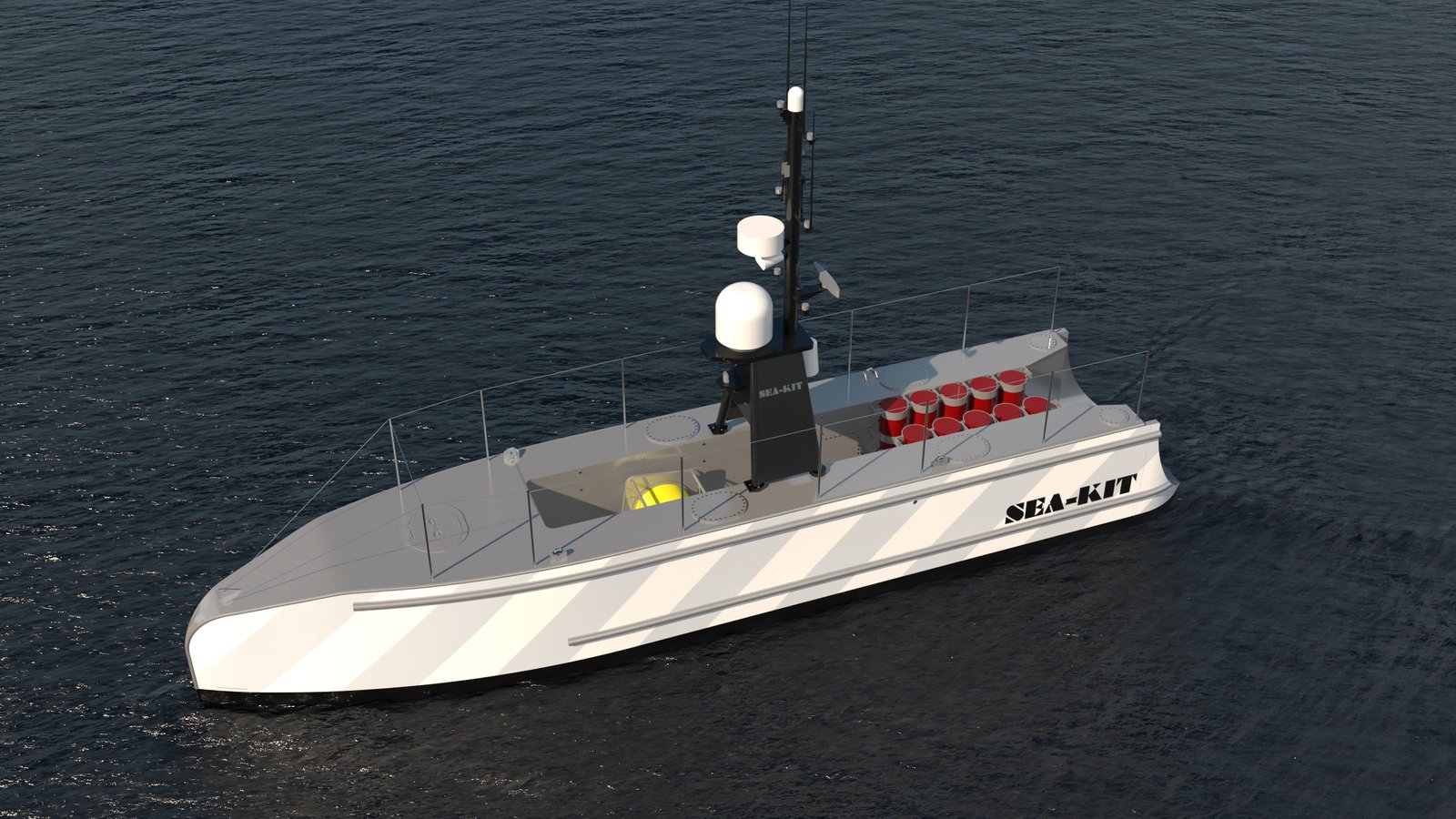 This project, led by SEA-KIT International, will showcase a diesel to hydrogen conversion of SEA-KIT's proven Uncrewed Surface Vessel (USV) design and demonstrate a route to fulfilling the UK's Clean Maritime Plan Strategy commitment of reducing greenhouse gas emissions from shipping by at least 50% by 2050.
SEA-KIT will install an innovative PCB-based hydrogen fuel cell, engineered by project partner Bramble Energy, on its 12m USV 'Maxlimer' and demonstrate zero emission maritime operations.
This project is part of the Clean Maritime Demonstration Competition and 70% funded by the Department for Transport in partnership with InnovateUK.
Long term ambitions
The USV will be fitted with Bramble Energy's novel Printed Circuit Board Fuel Cell (PCBFC™), with the demonstration planned for March 2022. Data gathered from bench testing and sea trials will be utilised for the design and build of similar USVs and larger uncrewed vessels in the near future.
The project paves the way to the commercialisation of hydrogen fuel systems for USVs. Powered by green hydrogen, this class of vessel will bring zero emissions capability to numerous offshore tasks, such as geophysical survey, offshore inspections, surveillance and coastal asset monitoring.
Progress and impacts
The marinised fuel cell has been designed and is currently being manufactured. Fuel cell testing will be completed by the end of January 2022.
Key benefits of Bramble Energy's PCBFC™ technology are its adaptability in shape and form factor and the rapid turnaround time from design to manufacturing the fuel cell for testing. The project is showing this in practice with design and manufacture expected to take just 8 weeks in total, a significant reduction compared to traditional manufacturing methods.
The facility to prototype fuel cell designs specifically for marine applications accelerates the development schedule of a commercially viable, zero emission USV.
Future plans
Following project completion, the hydrogen fuel cell powered USV will take part in capability demonstrations during Q2 2022. These additional demonstrations will further SEA-KIT's understanding of the real-world performance of the system.
Environmental impact
USVs are already being deployed around the world for a wide range of commercial offshore tasks due to their significantly lower carbon footprint compared to crewed vessels. The application of a hydrogen fuel source to a USV will be a world first, putting the UK firmly in the lead on zero emission uncrewed technology for sustainable maritime growth.
More information
Email: d.ball@sea-kit.com
| Public Funding | |
| --- | --- |
| Clean Maritime Demonstration Competition | 70% funded by Department for Transport in partnership with InnovateUK |
| | |