Digitization: The road to smarter shipping
Published:17 Feb 2023
Last updated:20 Mar 2023

Address
Clarksons,
Commodity Quay,
London
E1W 1BF
UK


Start Date
22 Mar 2023

End date
22 Mar 2023

Time
5:30 p.m. - 7 p.m.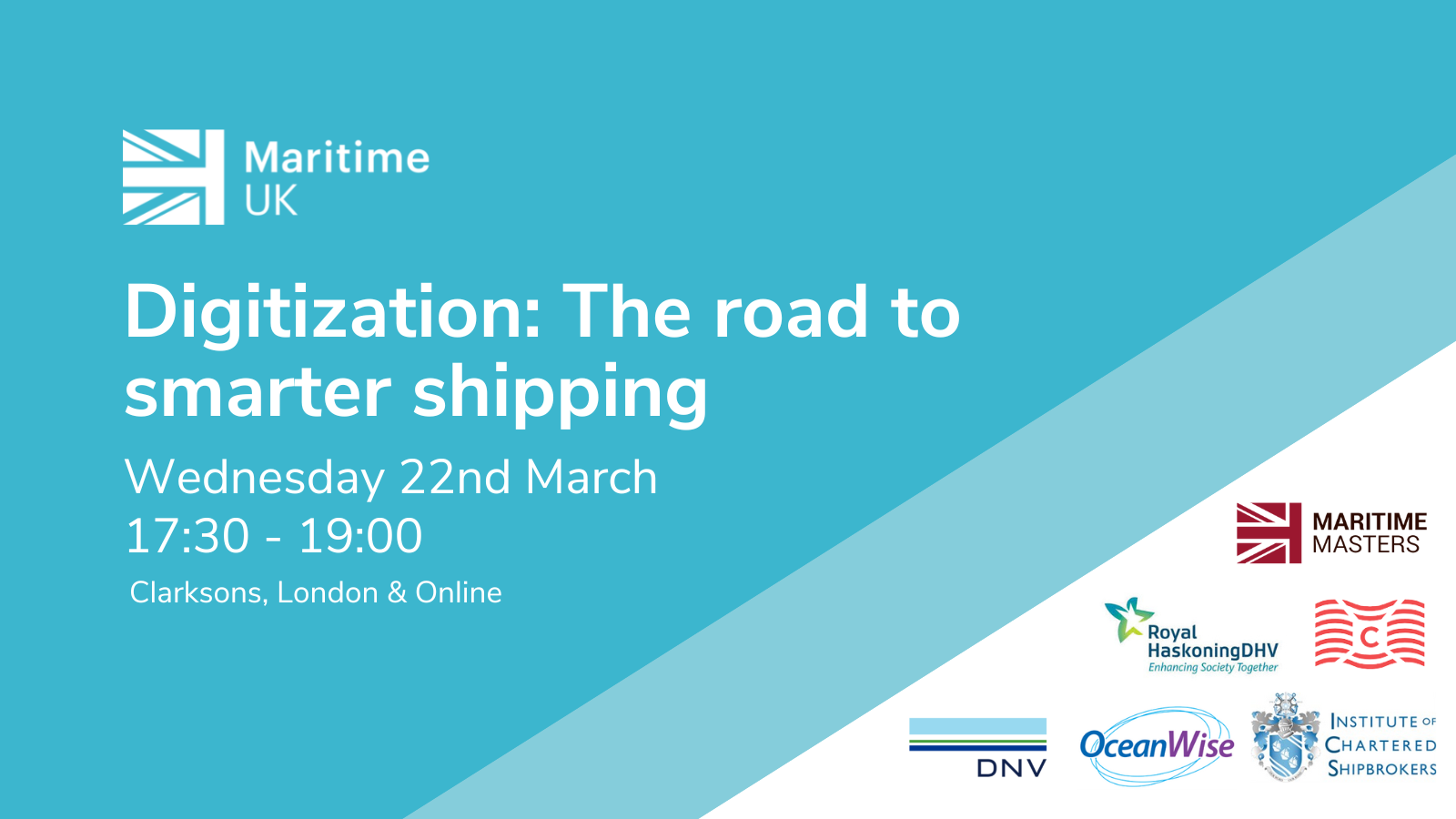 Maritime UK's Maritime Masters programme is strengthening links between UK industry and academia. The programme promotes academic excellence amongst students and their universities, whilst providing valuable research to support the maritime sector's work.
We invite the Maritime Masters students and maritime professionals to come together to discuss the topic of Digitization.
This event is being held at Clarksons, Commodity Quay on the 22nd March 17:30-18:30 followed by a small drinks reception. There is also the opportunity to join this event online for those that are unable to attend in person.  
 This event will focus on the progress which has been made to date by the global shipping industry to digitize the way it works as part of the ongoing efforts to achieve more efficient, safer and more sustainable operations. Titled  'The road to smarter shipping', you will hear speakers including:
James Milne, DNV who will give an overview of progress made, where we are today and where we are heading;
Andrew Clark, Royal Haskoning DHV who will speak on smarter ports
Caroline Levey, OceanWise who will speak on digitalisation without data management - is it possible?
There will also be a chance for questions and a discussion on these topics
Thank you to Maritime Masters sponsors Clarksons, Royal Haskoning DHV and Institute of Chartered Shipbrokers for supporting the programme.
Further events for Maritime Masters students and industry focused on decarbonisation and people/skills to be announced shortly.

In-person registration for this event has now closed. You can access the virtual webinar by registering here.