Maritime BIM Bootcamp
Published:1 Mar 2023
Last updated:23 May 2023

Address
UK


Start Date
21 Jun 2023

End date
22 Jun 2023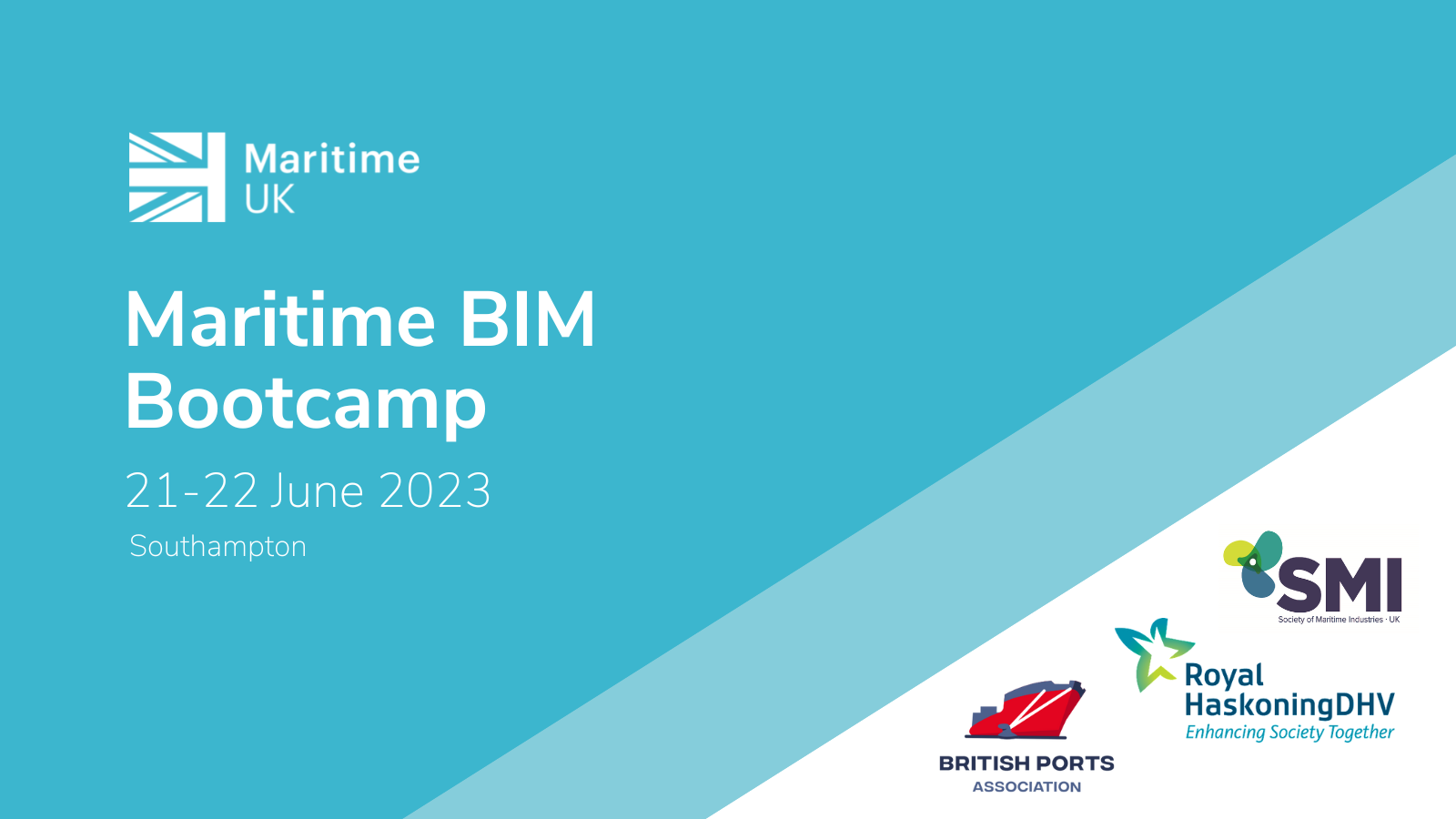 Unlocking the full potential of Building Information Management within the Maritime sector
Maritime UK together with the Society of Maritime Industries, British Port Association and Royal HaskoningDHV are pleased to announce the launch of our Maritime BIM Bootcamp in 2023 – An interactive two-day workshop that aims to unlock the potential of Building Information Management (BIM) for the entire maritime industry.
By bringing together the maritime supply chain, we will look to plot the journey we will all need to follow to create a fully collaborative BIM integrated industry aligned with the Maritime 2050 strategy. Throughout the two-day workshop, we will take a detailed look at the current state of affairs, share success stories and establish what we can learn from more BIM mature industries. This will provide us with the platform to establish the goals on how we will all move forward together with BIM integration at the core of the full project lifecycle.
This will be the start of the journey, with the aim of supporting industry initiatives to help us achieve the Maritime 2050 goals. 
Places at the event will be limited and we expect the event to be oversubscribed.Please note that by we cannot guarantee places to everyone who registers. 
To maximise knowledge sharing and to gain momentum for the industry, we would like to target the event at BIM decision makers and subject matter experts across the maritime sector. This includes port owners, port operators, contractors, designers, consultancies and research companies.

Agenda 
Day 1
Welcome, introductions, and code of conduct reminder Maritime UK
9:35 – 10:45
Why this bootcamp?
Where we are currently - A global perspective
Jugal Makwana (Board Member in buildingSMART International)
Maritime 2050 Maritime UK or ministerial representative
Building SMART / Nima
Nick Nisbet (buildingSMART UK & Ireland chapter) 
Panel session between all entities to present their current maturity
Representatives from ports, contractors,designers, operators
10:45 – 11:15 Coffee break
11:15 – 12:00
Presentation, followed by breakout groups of 8-10 people to discuss issues, concerns
and experience:
What benefit does BIM provide to your organisation?
What challenges should I expect when implementing BIM?
Choosing from the multiple platforms available
Is there a set of standards to follow?
How does the maritime industry maturity compare to other industries?
12:00 – 13:00 Lunch break
13:00 – 14:00
Structured asset data for projects and operations
Panel discussion followed by Q&A, focused on a case study that demonstrates
successful use of BIM data in transition from construction to operations handover.
UK or European construction / operators
14:00 – 14:45
Successful BIM data use for Contractors and the building industry
Presentation followed by Q&A, focused on a relevant case study
14:45 – 15:15 Coffee break
15:15 – 16:15
Pitfalls and essentials of planning and design engineering
Brief presentation focused on a case study, followed by breakout groups of 8-10
people to discuss ideas. Finishes with a 15-minute plenary session
16:15 – 17:00
Developers, ports and landowners - The start of the BIM journey and how that
might look
Presentation from developers who have successfully used managed information and
models at the early stages of project development, followed by breakout groups of 8-
10 people to discuss ideas. Finishes with a 15-minute plenary session
Day 2
9:00 – 9:30 Welcome, introductions and code of conduct reminder
9:30 – 10:30
Other industries present their journey
Rail
Aviation
10:30 – 11:00 Coffee break

11:00 – 12:00
How do we maximise the potential of AI and Digital Twins to the benefit of
the maritime industry?
Panel discussion followed by Q&A
Technology providers
2:00 – 13:00 Lunch
13:00 – 14:30
Workshop discussing challenges and solutions relating to:
Procuring and setting up the correct BIM environment
Delivering a project within BIM
Managing infrastructure developed in the BIM environment
Summary of findings over the previous 2 days
14:30 – 15:00 Final panel session: What happens next

Registration
https://www.eventbrite.com/e/maritime-bim-bootcamp-tickets-637143361947