Maritime Leaders Forum: Session 3
Published:15 Dec 2022
Last updated:16 May 2023

Address
Trinity House, London
UK


Start Date
16 May 2023

End date
16 May 2023

Time
6 p.m. - 9 p.m.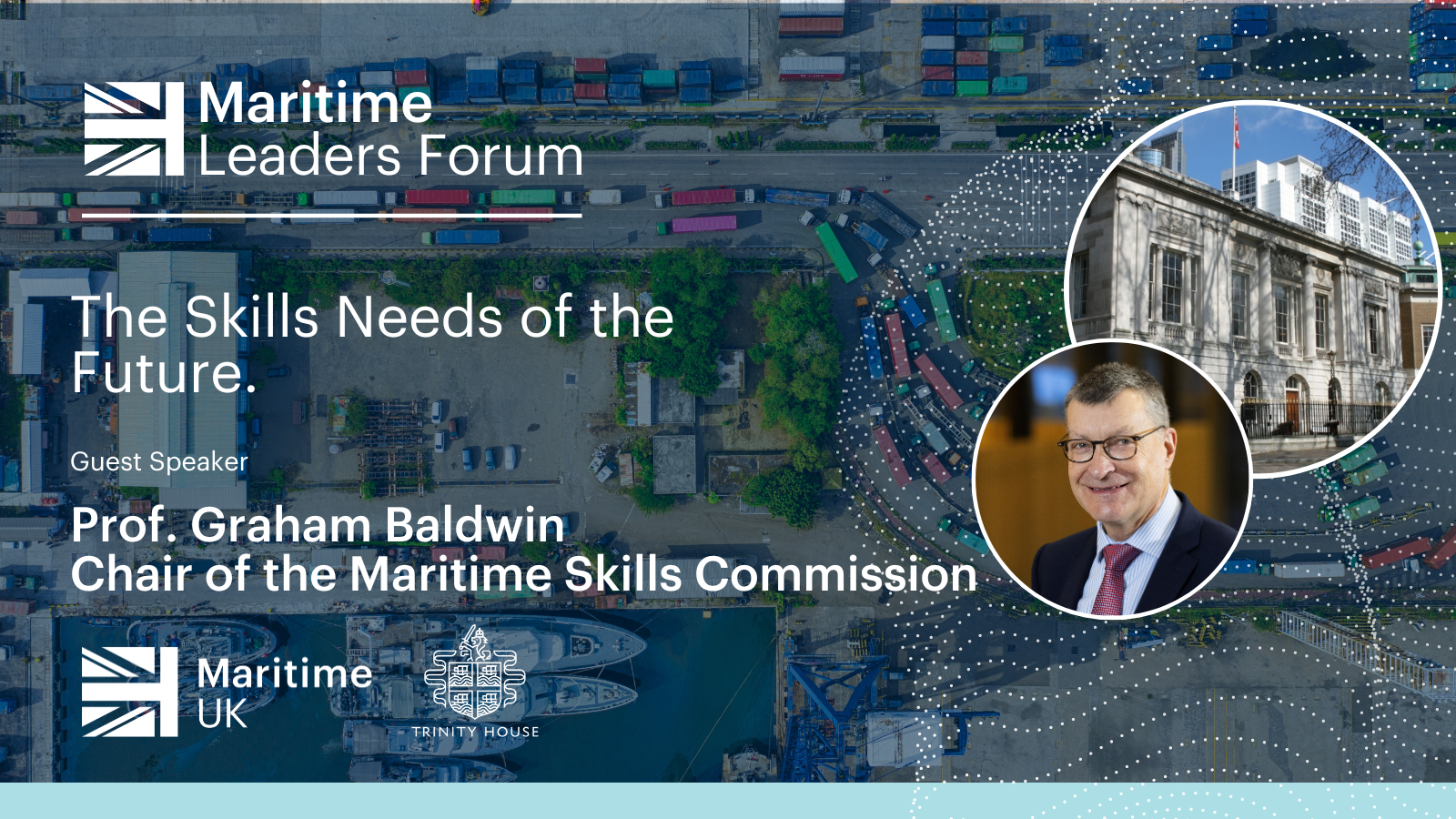 The third Maritime Leaders Forum will take place on Tuesday 16 May  2023 at Trinity House. 
Professor Graham Baldwin, Chair of the Maritime Skills Commission, will lead the forum to discuss The Skills Needs of the Future and we welcome Sarah Kenny OBE, Chief Executive Officer BMT, who will chair the event.

Professor Baldwin will follow two previous sessions of the MLF. The first was a scene setter looking at how the maritime industry is working to achieve our national and international climate change obligations. The second focused on collaboration to achieve those goals, attract investment and Government funding. A common theme was skills and people.
This session takes as its theme  'Skilled and innovative people are delivering fast moving technological developments in the maritime environment. We will require an equally skilled workforce to deliver the benefits. How do we do it and how are we doing?' Our speaker will start the evening by offering his thoughts on the theme as well as talking about the role and future of the Maritime Skills Commission. A plenary session will follow for delegates to offer their thoughts on the topic, share best practice and generally promote collaboration in skills development.  
The objective of the Maritime Leaders Forum is to establish a regular series of lectures and discussions, hosted by Trinity House and Maritime UK. The topics and speakers are selected to illustrate an area of work which would benefit from wider promotion, invariably, but not exclusively, drawn from Maritime 2050, and for senior members of the Maritime Industry to contribute to the discussion. The aim is to bring industry leaders together to share insight, analysis and thought leadership to inspire a conversation on recent and pressing developments in the maritime sector.
The Maritime Leaders Forum is a collaboration between Maritime UK and Trinity House. 
The event will be at Trinity House, doors open at 1800 and the talk and discussion will begin at 1830, to be followed by the networking reception, finishing at 2100. The event is open to members of both Trinity House and Maritime UK (associations belonging to MUK). 
This event is now at capacity

Please use the form below to register your interest in attending.