Media /
Blog: Ports as key catalysts for regional growth
Blog: Ports as key catalysts for regional growth
Published:8 Jul 2022
Author:Tim Morris, UK Major Ports Group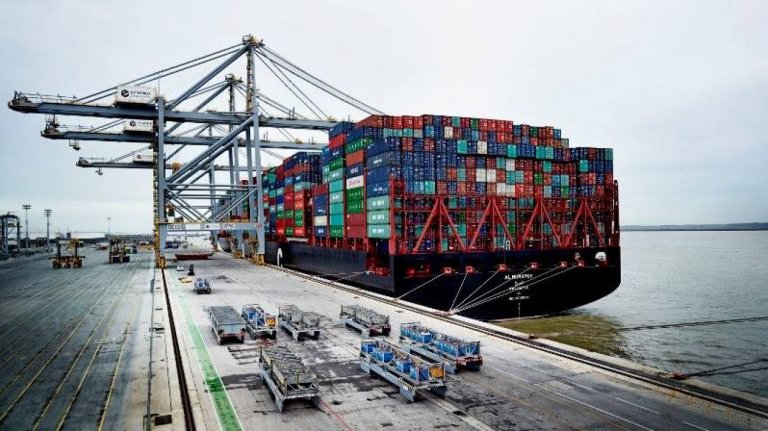 Louise Logan was looking for a role in hospitality or retail as she struggled to find a job after finishing college in Falkirk. Now, via Forth Port's involvement in the in the Kickstart programme, Louise has a well-paying, permanent role at the heart of the operations at Grangemouth, Scotland's biggest port. Louise is integral to ensuring that all the container traffic through the port flows as efficiently as possible, helping haulage drivers with their enquiries and ensuring the right containers get released to the correct customers.
It's great news for Louise. And it's great news for Forth Ports too, as they develop the young, diverse workforce of the future.
Louise's experience is not unusual in facing difficulties in job hunting in coastal and estuarine communities. Neither is the engagement of Forth Ports with the communities around the UK's ports. All across the UK you'll find ports acting as major catalysts for jobs, investment and opportunity in areas which are, too often, facing real challenges. 
In fact, Louise is now one of the 125,000 people employed on ports in jobs which are 50% more productive than the UK average and 20% better paid. For every Louise there are 6 extra jobs in often local supply chains. The UK's port operators invest around £600 million of private sector money each year in ports and associated infrastructure – the infrastructure that facilitates 95% of UK trade and creates ports as economic hubs in their own right, sites for manufacturing, logistics and even film studios.
There's a lot of talk about 'levelling up'. This is it in practice.
And its not just economic benefits or 'capital' that ports are growing. It's natural and social capital too. Associated British Ports' electric vessel charging in Southampton, tree planting in Bristol, hydrogen corridor development by the Port of London Authority, and PD Port's Teesside Explorers junior school engagement programme to highlight just some. It's a long and proud list.
Over what has been an incredibly challenging period – pandemic, global supply chain pressures, Brexit – ports have not just maintained operations but also their commitment to the future, as Louise's story illustrates. But also, perhaps more conventionally, the examples of tens to hundreds of pounds of investment in capacity and capability at the likes of Peel Ports, DP World and Hutchison Ports.
Ports and other maritime businesses are ambitious to do more. Not out of philanthropy but because its what's responsible, successful businesses do. Ports are an inherently long term sector, with one example being this year's 175th birthday of the Belfast Harbour Commissioners. Long term success comes through adapting our businesses, playing our part in healthy communities and through ensuring sustainability is at the heart of what we do.
Ports can't do it alone. But what they're seeking from Government is not big handouts or direct intervention. In fact, such moves could be counterproductive. The key role of Government is providing the right enabling conditions for the business investment and job creation to take place. Those are physical conditions, like good road and rail links. They are also the policy and regulatory conditions like planning rules for coastal locations that incentivise responsible investment. And they are the environmental frameworks that provide for ambitious but viable transitions to a net zero future.
Ports and other maritime businesses are ready made conduits for prosperity and opportunity in coastal communities all around the UK. We're ready and ambitious to not just bounce back from the recent challenging conditions but also bounce forward. We look forward to working with Government and others to deliver more success stories like Louise's.
This blog was written as a feature for the 2022 State of the Maritime Nation Report.