Arksen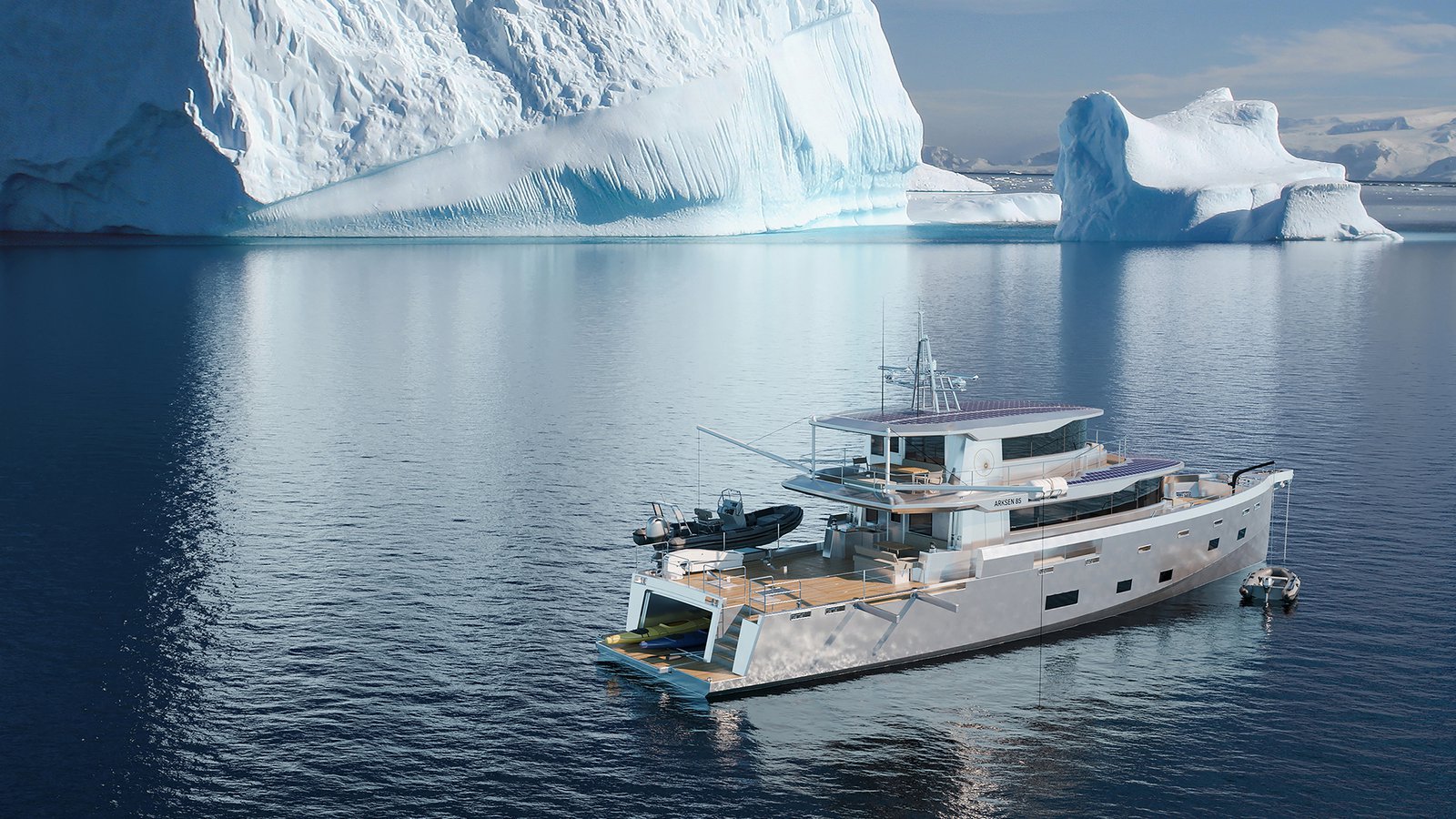 Arksen builds capable explorer vessels that enable family and friends to confidently explore some of the most wild and precious places on the planet.
Since launching in 2019, Arksen has taken a holistic approach to sustainability that aims to help drive the important and necessary transition towards a greener marine future. This is through adopting circular economy principles in the design of our vessels, carefully choosing equipment and suppliers, and through philanthropic initiatives under Arksen Philanthropy as founding partners of Yachts for Science and 10% For The Ocean. With this approach, Arksen seeks to reduce waste in the leisure marine sector, across three main areas-reducing waste materials, reducing wasted energy and increasing asset utilisation.
Reduced Waste through the use of recycled and recyclable materials such as the aluminium for our vessel hull and superstructure which contains at least 40% recycled content and is recyclable at the end of life. Interior materials are selected for their durability and environmental credentials. Systems onboard are optimised for ease of maintenance and services to help extend the lifespan of the vessel.
Reduced Wasted Energy through efficient hull forms that reduce fuel consumption and emissions, hybrid propulsion packages which are about 18% more efficient than standard propulsion options, solar arrays which provide zero-carbon electrical power and selection of heat reclaim systems for heating and cooling. As an example of the reduction in emissions the Hybrid vessel would use approximately 2,400 litres less fuel on a 3,000 mile trans-ocean passage, saving approximately 6,400 kg of CO2 emissions.
Increased Usage through a Sea Time Pledge and the Yachts For Science platform to reduce the time that vessels are left idle in marinas. The Arksen vessel range has been designed to be multi-use and provide vessels of high caliber that can accommodate as wide a range of science projects as is possible for their size. Our Sea Time Pledge encourages owners of Arksen vessels to donate a portion of their vessels' annual sea time to research projects. This pledge allows scientists, explorers, thought leaders, filmmakers, journalists and athletes access to a fleet of vessels to realise their project goals when matched with host vessels under the Yachts For Science programme.
At Arksen, we believe that we all have a responsibility to help better understand and protect the oceans. The sustainability of our vessels goes beyond the choice of raw materials, the systems onboard, or the efficiency of the hull design. We also help take responsibility for the use of the vessel throughout its life cycle. With our services and platforms, we offer new ways to optimise the use and enjoyment of our explorer vessels which means they are not a wasted resource. We aim to demonstrate that yachts can be used to benefit the health of our oceans and provide a learning opportunity for those onboard.
Working with local partners Humphreys Yacht Design, Design Unlimited and Wight Shipyard as part of a boat building ecosystem, Arksen has two 85ft explorer vessels currently under construction on the Isle of Wight and a third hull scheduled to start soon, the first example will be due on the water summer 2022.