Orkney: charting the course to net zero with maritime transport
Orkney: charting the course to net zero with maritime transport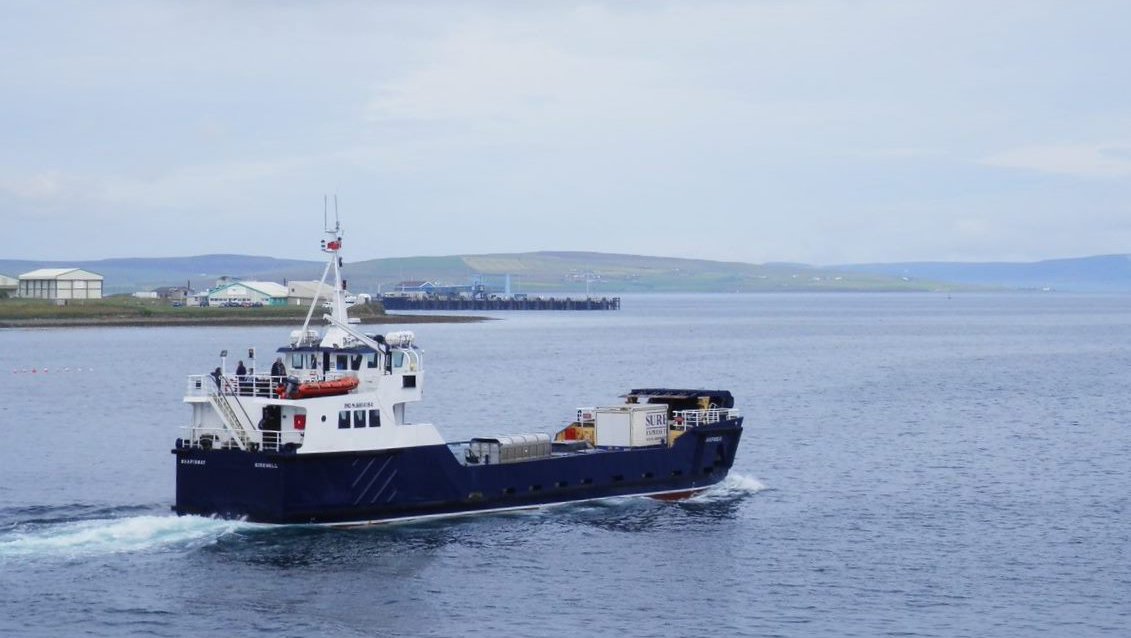 The Orkney Islands are pioneers when it comes to innovation in the clean energy sector. From the testing and demonstration of wave and tidal energy technologies to harness the power of the ocean at the European Marine Energy Centre (EMEC) to undertaking R&D activities with green hydrogen to decarbonise the energy system across heat, power and transport, Orkney is often described as a "living laboratory" where they are learning by doing.
This also rings true for Orkney's maritime sector. The islands have a rich maritime heritage, from the influential 18th Century cartography of Murdoch Mackenzie, through to the role of Scapa Flow in the world wars. The maritime sector is still of key importance to Orkney, with ferry transport a vital lifeline service providing connectivity between island communities and to the Scottish mainland. That said, ferry transport also represents a significant proportion of the islands' overall carbon footprint due to reliance on fossil fuels. The need to decarbonise ferry operations presents a huge challenge and an innovation opportunity and R&D work is already underway on the islands to make green ferry transport a future reality.
HyDIME project
The Innovate UK funded HyDIME project led by Ferguson Marine focussed on the use of hydrogen as a fuel for marine transport and investigated the technical, regulatory and health and safety challenges of integrating hydrogen fuel into an existing diesel-powered auxiliary engine on a commercial ferry.
As part of the project, a first of a kind hydrogen training course was developed to equip mariners with the necessary skills and knowledge to work on board hydrogen fuelled ships. The course was written and delivered by Orkney College UHI's Maritime Studies department in collaboration with local partners – EMEC and Orkney Ferries - and approved by the Maritime and Coastguard Agency (MCA).
In addition to a new training course, the project was successful in integrating hydrogen into one of the auxiliary engines, however regulatory barriers hampered demonstration of the system and partners continue to work with regulators on these issues.
HyDIME has provided a stepping-stone to de-risk and kick-start future hydrogen marine projects.
"Innovation is a journey of discovery, bringing people, ideas and networks together to make things happen. You might not end where you intended to, but you will end somewhere, and most importantly, you will have moved. The lessons learnt are key to developing a sector as novel as hydrogen is, creating a knowledge economy that benefits future projects" – Neil Kermode, EMEC Managing Director
HIMET project
Funded under the Department for Transport's flagship Clean Maritime Demonstration Competition and led by EMEC, the £2.2 million HIMET (Hydrogen in an Integrated Maritime Energy Transition) project kicked off in September 2021 and builds on some of the learning outcomes from the HyDIME project. The ambitious 7-month project will take place in Orkney and explore solutions for decarbonising ferries as well as shore-side activities in ports.
To decarbonise ferries, various solutions will be designed and demonstrated in the coming months including hydrogen storage specifically intended for use on board a vessel, and the supply of on-board auxiliary power using a hydrogen fuel cell. A conventional ferry propulsion engine will also be tested running on pure hydrogen at a dedicated off-island test facility.
To develop resilient shore-side power for the maritime sector, a hydrogen engine will be deployed at Hatston pier to power crew welfare facilities at the cruise terminal, and microgrid solutions will be explored to consider future power requirements for ferry terminals.
HySeas III
HySeas III is the final part of a three part research program that began in 2013 looking into the theory of hydrogen powered vessels (HySeas I), followed by a detailed technical and commercial study to design a hydrogen fuel cell powered vessel (Hyseas II 2014-2015).
HySeas III builds on the first two parts by aiming to demonstrate that fuel cells may be successfully integrated with a proven marine hybrid electric drive system (electric propulsion, control gear, batteries), along with the associated hydrogen storage and bunkering arrangements. The project will do this by developing, constructing, testing and validating a full-sized drive train on land. The string test is currently underway at a facility in Norway and it is hoped to move on to build that knowledge and knowhow into a ferry.
The expected route to be the recipient of this innovative vessel will be Kirkwall to Shapinsay in the Orkney Islands, and initial concept designs of the proposed hydrogen fuel cell-powered ferry have recently been unveiled.
Orkney as a Centre of Excellence in Maritime Innovation
Building upon the history of maritime innovation in the area, the HyDIME, HIMET and HySEAS III projects have put Orkney on the map in terms of hydrogen research and development for maritime decarbonisation. Alternative fuels will be vital in facilitating a Net Zero transition in the maritime sectors, and stakeholders in Orkney will continue to play their part in showing the way forward.
Organisations involved: HyDIME consortium: Ferguson Marine (lead partner), EMEC, HSSMI, Lloyd's Register, Orkney Islands Council, ULEMCo. HIMET consortium: EMEC (lead partner), Aquatera, Eneus Energy, OakTec, Orcades Marine Management Consultants, Orkney Islands Council, Ricardo, RINA, Schneider Electric, ULEMCo, and Urban Foresight. HySEAS III consortium: University of St Andrews,Caledonian Maritime Assets Limited, Ballard Power Systems Europe, Kongsberg Maritime, McPhy Energy, Orkney Islands Council, DLR Institue of Networked Energy Systems, Interferry, Arcsilea