Zero-Emissions Super-Efficient Hybrid Research Vessel for Plymouth Marine Laboratory
Zero-Emissions Super-Efficient Hybrid Research Vessel for Plymouth Marine Laboratory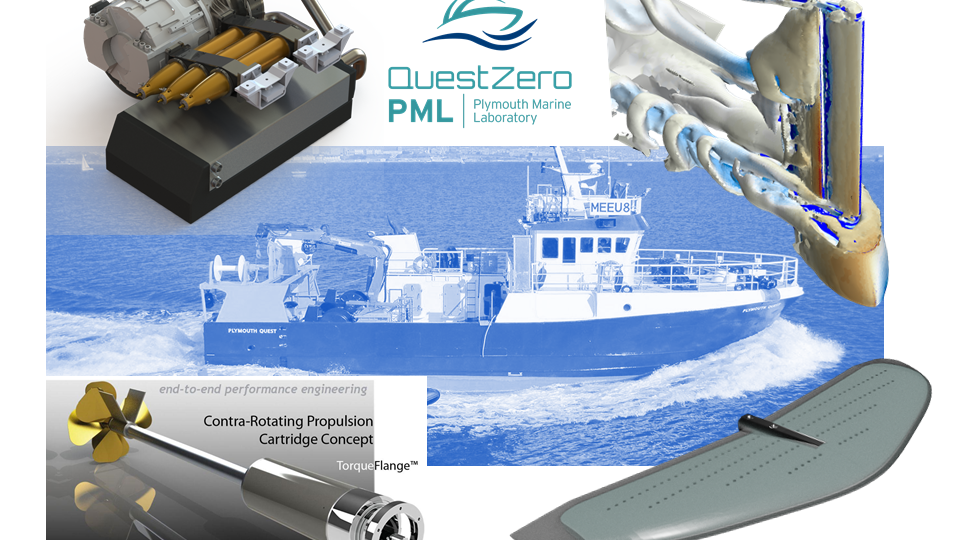 Team QuestZero, comprised of IDPortal, Duodrive and Steamology, is delighted to have been awarded a prestigious Clean Maritime Decarbonization Competition grant.
The Zero-Emissions Super-Efficient Hybrid Research Vessel Design for Plymouth Marine Laboratory project is part of the Clean Maritime Demonstration Competition, funded by the Department for Transport and delivered in partnership with Innovate UK.
The QuestZero partnership is delivering a sustainable vessel propulsion and stability system design package for a ~24m Hybrid Research Vessel to replace Plymouth Marine Laboratory current vessel Quest. The ambition is for the vessel to be powered by a Steamology hydrogen-based zero-emission steam system, a Duodrive high efficiency contra-rotating propeller electric drive, IDPortal 3Flex pitch advance propellers and wing sail with Xiphias low profile hydrofoil/rudder stability system. All systems are modular, to be tested individually reducing risk and built together to shift to zero emission efficient ship propulsion .
IDPortal
IDPortal Hydrodynamics have been helping to design and assess underwater systems for the Navy for over a decade and are expert in complex computational simulation, experimentation and sea trials. As owners of DASA funded 3Flex and Xiphias technologies we can design and manufacture selectively propellers and hydrofoils with exceptional marine performance properties. We can manufacture our devices using recycled materials and simulate and predict system hydrodynamic performance of the system.
Duodrive
Duodrivetrain is a unique end-to-end performance engineering product destined for conventional shaft-driven boats <28m in length. Without special hull design,this class of vessel has not previously been able to access the energy saving properties of Contra-rotating propulsion. A new configuration makes the installation in a new vessel possible without any major redesign or even change of layout so keeping the desired shaft-driven configuration. The product can even be retrofitted taking over the zone of the existing shaft drive propulsion and in most cases will result in space improvements on the vessel in question.
Steamology
Steamology zero emission energy solutions address three markets with common technology:
Zero emission steam for industrial applications
Zero emission diesel engine replacement power 250 kW to Megawatt scale, mechanical, electrical, hybrid drivetrains for trains, trucks, ships transport or static applications
Renewable Energy (RE) storage and power generation
Steamology, founded to commercially exploit the technology legacy of a successful landspeed world record attempt, to explore the potential of clean green renewable hydrogen steam. Steamology deliver scalable and modular solutions for industrial steam heat and power, embracing the hydrogen economy, eliminating emissions, replacing fossil fuels and fossil fuel engines.