Amber Hurn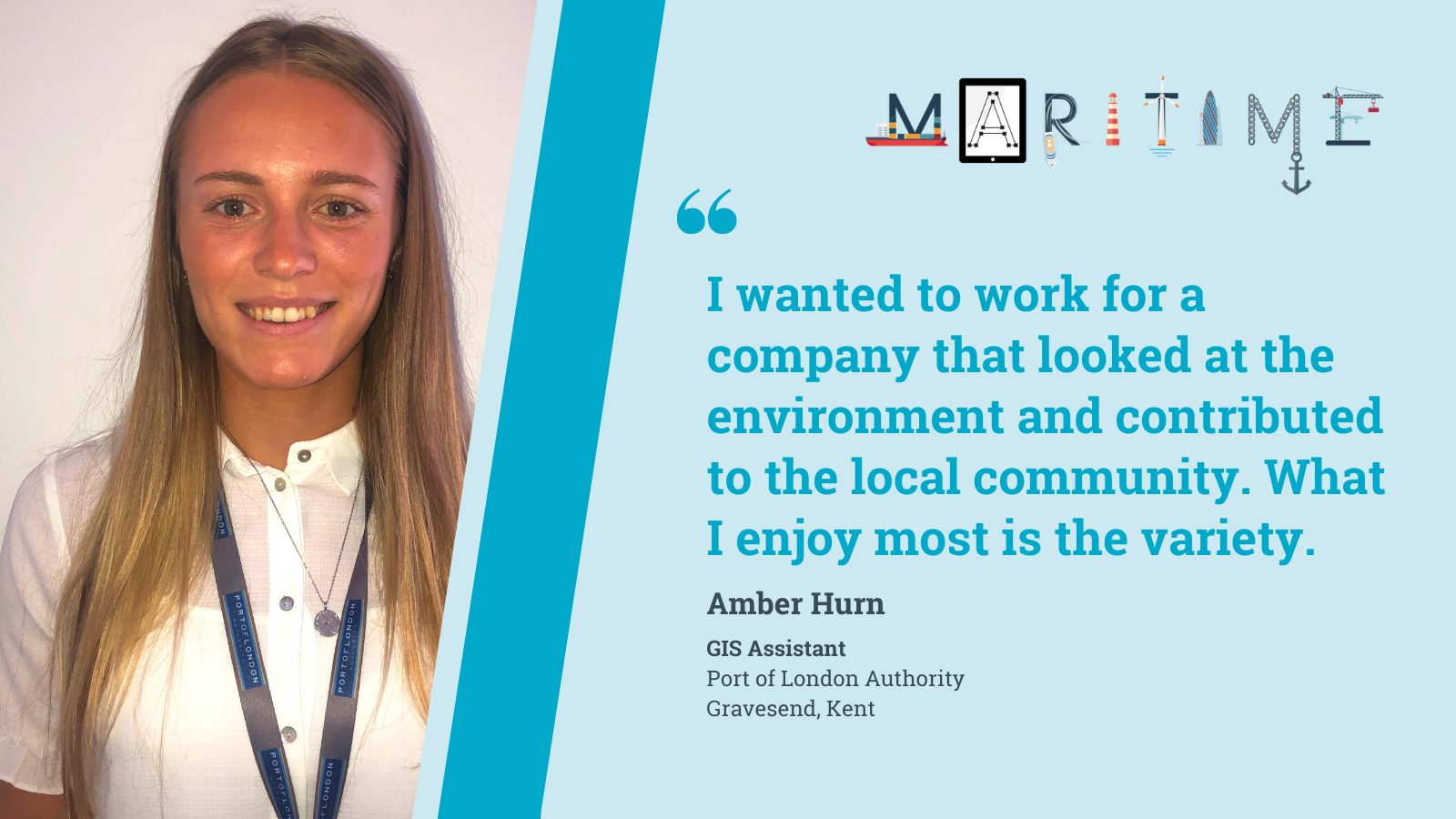 What do you do?
I am a GIS (Geographic Information Systems) Assistant at the Port of London Authority.
Having worked in my current role for only 6 months, I have already gained so much in terms of experience and knowledge. The organisation's online GIS system was created to allow all members to see the data they may only previously have seen on paper, in a very visual way. Therefore, most of my work has so far involved creating the "layers" which are pushed up to this system for viewing across the organisation. 
My main involvement with this so far includes River Thames Safety Mapping (i.e. collecting data on locations/quality of life rings, ladders, boats and chains), mapping importance legal boundaries of the PLA (including navigational, pilotage and property limits), wreck and obstruction mapping of the Thames and estuary, creating plans to register PLA land with the Land Registry, as well as putting together data on terminals and wharves along the River Thames. Future projects include mapping the mooring/bouys along the river.
The aspect of my job I enjoy the most it it's varied nature. As GIS can be applied to anything 'spatial' (everything that has a location), my manager receives many varied requests for the GID team, and I like learning along the way when projects involve a topic I have not yet been exposed to.
What does a typical day at work look like?
Day to day, I typically check my e-mails first thing in the morning to see if I have received any important tasks which take priority over those I already have set, and I continually check my e-mails throughout the day. I spend most days in the office, on my computer getting on with mapping tasks. Applications I use on a day to day basis include; Excel, Microsoft Word, Microsoft Teams, Adobe, Arc Pro (a GIS software) and Cadcorp (another GIS software). Depending on the task, I may spend several hours to several days getting things finished. For example, mapping the wrecks and obstructions along the river and estuary is a task that has gone on over a few weeks and still has further to go. sometimes, I accompany my manager to have meetings with people from other departments about the work I am doing. Also, I have had several days of field work in London when collecting river safety data (for example life rings location and status), as well as attending several conferences and events in London (including a Dredging Liaison Group, Esri Georisk Seminar 2019, 3D London Conference at City Hall and so on).
How did you get to where you are?
I did my A-levels in Geography at Palmers University and went on to gain a first class honours degree in BSc in Physical Geography from the University of Brighton. I am accredited by the Geological Society of London.
In my first year at university, a lecturer introduced me to GIS (Geographic Information Systems), explaining how this mapping software could become more popular in the future, for example for businesses that needed to map their ownership and work out statistics on this in order to improve and grow. I therefore picked as many GIS modules as I could, and focused my final year research dissertation on using GIS to map how Studland Bay Beach changed in height and width over 10 months, in order to study erosion and accretion. This gave me GIS experience, and showed me how much I enjoyed it. I also gained some work experience at university in GIS, creating a story board on a fieldwork trip to Siciliy in Italy, using Esri UK's 'story map' software.
During and prior to my time at university, I had several other part-time roles such as student ambassador for the University of Brighton, bar staff/waitress at the FC Amex Stadium, senior waitress at a local golf club, event steward for the Brighton Marathon, lead waitress in the Royal Enclosure at Ascot, etc. After graduating, I did some volunteering in order to build up my communication, work, and environmental studies experience at Chartwell House National Trust, maintaining the grouds (i.e. litter picking), and at a local Nature Reserve maintaining and improving habitats by disposing of litter, chopping back unwanted vegetation and so on, allowing for protected species to grow. From there, I did a ski season in Courchevel, Three Valleys in the French Alps and explored the mountainous region by skiing, snowboarding and hiking. Roughly two months later, I started in my role at the Port of London Authority. I was keen to work for a company which looked at the environment, contributed to the good of a local community, and was heavily involved geographical studies (i.e. looking at the river).
What do you enjoy doing in your spare time?
I enjoy kayaking, surfing, paddle boarding, skiing and snowboarding when on holiday. I enjoy activities or sports which contribute to improving my personal fitness and well-being such as pilates, yoga, running and visiting the gym. I played netball at university and currently play for both a local and regional team. I have also trained as part of an England Netball County Academy in Essex. I also like to try to read when I can. A more recent hobby of mine is attempting to solve Cryptic Crosswords. I have put a bit of research into this, and would like to gradually build up my ability to complete these puzzles.