Amy Thompson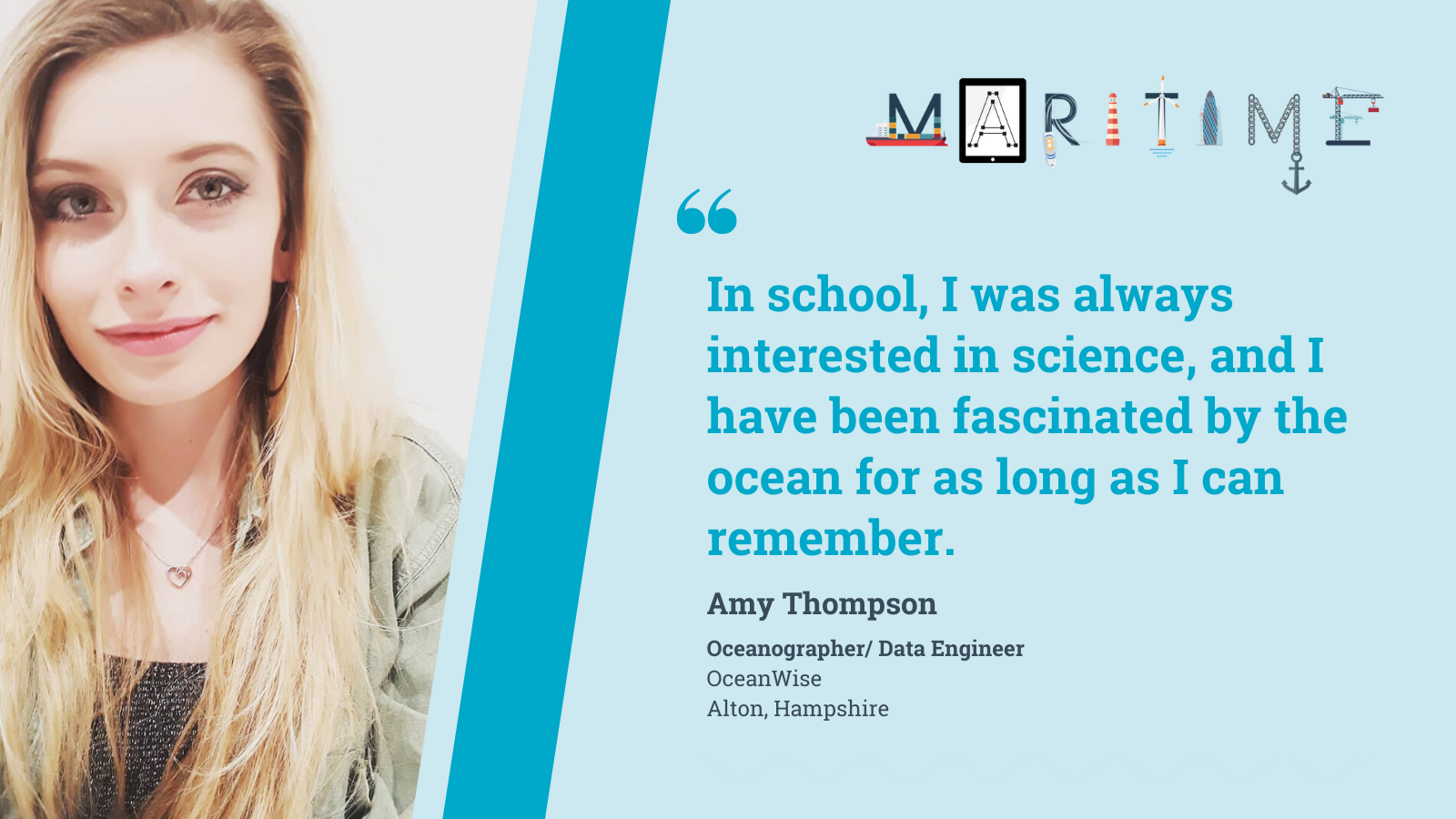 What do you do?
The purpose of my role is to support both our Technical and Operations teams. This means that my work is split between the office and sit work. I've had to undertake a few courses to be able to go on site, including 'Working at Height Awareness', health and safety (I was the only girl at both these courses!) and first aid at work. I have learnt some interesting skills since starting, including soldiering wires and cables connectors (something I didn't pay much attention to in Physics), get an electrical motherboard ready to receive data, and programming the sensors before we install them. I love how many different aspects there are to my position, and I am really looking forward to developing these skills and lots of others in the future. I've recently been learning how to provide support to our customers around the world from our office, and it can prove really satisfying when we are able to provide a solution quickly from the comfort of my desk.
I have lately been undertaking more site-based work, including site surveys for new environmental monitoring stations and performing onsite servicing and maintenance of the sensors, which means more time away from home. I've been sent out to sites around the UK so far, but hopefully I'll be able to head to some of our stations abroad soon, which is really exciting!
What does a typical day at work look like?
Every day is slightly different in my job. I might start my day by making a cup of tea, answering e-mails and have an office day, and I might have project meetings or be at my computer working on a GIS project. Or, I could be getting equipment and sensors ready for deployment in our workshop, making sure they are powered correctly and programming them. Sometimes, I'll spend the whole day on site, usually in ports and harbours, conducting site surveys, installing sensors for our customers and making sure they collect data and transmit properly. The sensors we work with include met-stations (which measure temperature, rain, fog, wind speed or air pollution), tide-gauges (which measure the height of the tide and can be used to improve tidal predictions), instruments which measure ocean currents and instruments that measure how muddy the water is, which is an important factor in dredging. 
How did you get to where you are?
Throughout school, I was incredibly interested in science and the natural world. Geography was probably my favourite subject because it combined all these interests. I grew up in Cornwall by the coast, so I have been fascinated with the oceans for as long as I can remember, As soon as I started learning about ocean circulation (I think it might have been in year 11), I was hooked. Growing up with the issue of climate change inspired me, and I always hoped that one day I'd be able to positively help solve the issues. This has been the thing that has kept me going over the years, being so interested and passionate about climate change. My parents were incredibly supportive and encouraged me to pursue this - something I was so passionate about - as opposed to something 'safer' and more likely to get me a job later in life. They showed me that determination goes a long was, and not to give up on your dreams!
I had a part-time job at 14, working in a surf shop in the village I grew up in. I then  moved on to working behind a bar when I turned 18, and worked at the Student Union part time during my degree. Even after graduating, I worked as an Assistant Manager of a pub, so you might wonder  why I'm not still in that industry. Basically, all those jobs were there to support me financially whilst I worked towards other things - my degree, both before and while I was at university, and to save up for travelling after university - something I had my heart set on since before I started. 
I was offered my current role a few months after returning to the UK after travelling around South East Asia and Australia for 6 months, after enquiring about vacancies with the company.
Going into my current position, I didn't have all that much relevant experience within the marine science industry, other than what I had learnt at university. Sometimes, this will reflect negatively on you, and there is nothing you can do about that (I had a lot of rejections when i was looking for a job), but keep at it and try not to take it personally. 
What do you enjoy doing in your spare time?
I really enjoy gardening and growing my own fruit and vegetables in the summer, and I am trying to make my garden as friendly to wildlife as possible. Because I grew up in the countryside and by the sea, I love being back in the outdoors whenever I can be, for walks, treks or trips to the beach. I occasionally attempt to surf, but I'm not very good! I try my best to keep fit, and during a normal week I'll go to the gym a few times and to a yoga class or two. Whilst I was away travelling, I learnt to scuba dive, and I'd love to gain more experience with that in the future. I try to take nice pictures and sometimes paint them, and i also love music, going to gigs, festivals and camping with my friends.