Charlotte Gifford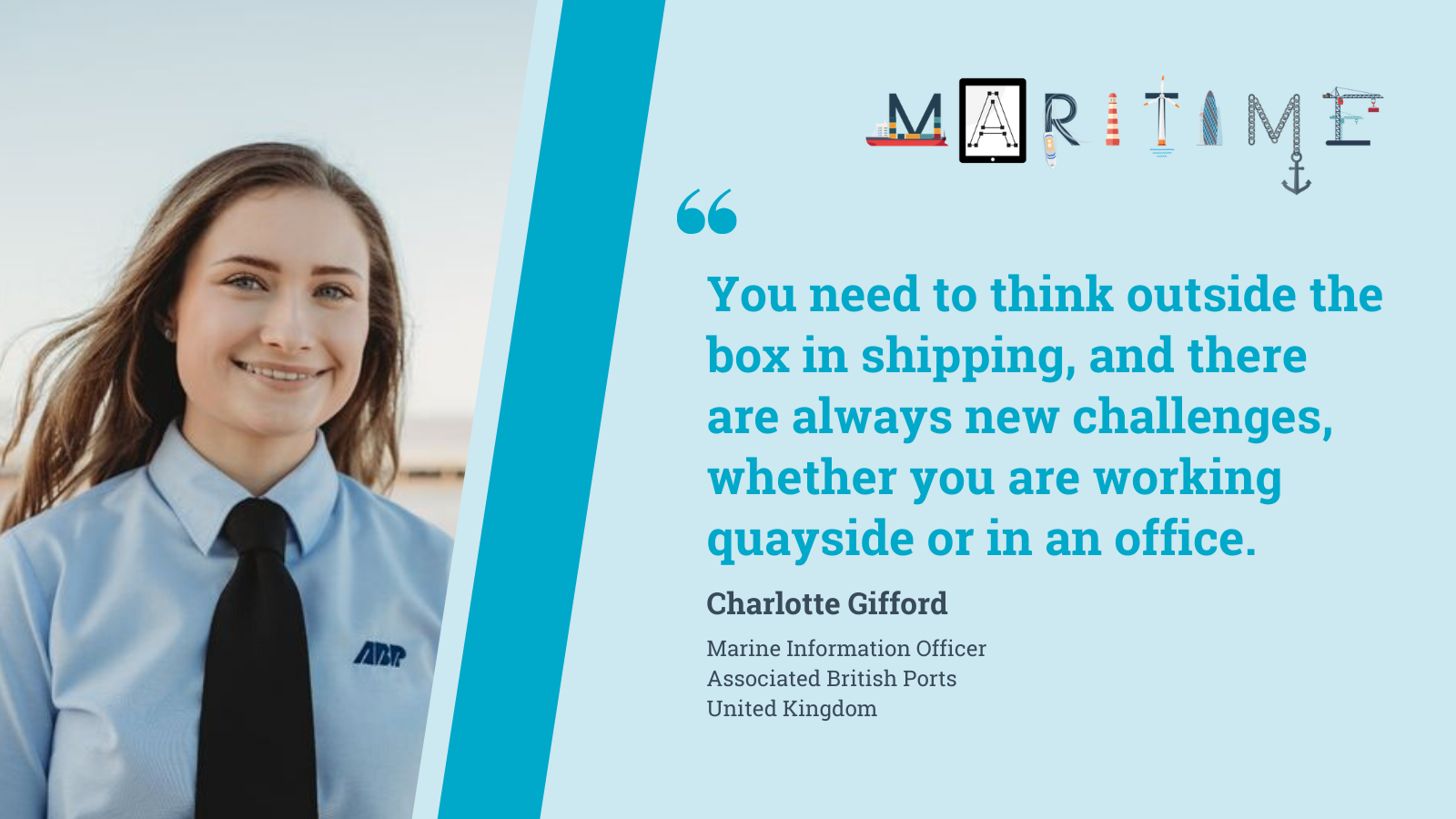 What do you do?
As a Marine Information Officer I am the communicator between the Harbour Authority and the local ship's agents. A ship's agent acts on behalf of a vessel to arrange and be responsible for all of the requirements that the ship will need while in port. The Harbour Authority is legally responsible for operating and managing all river traffic to ensure the safe navigation of all vessels transiting the river – in my case, the River Humber, River Trent and River Ouse. As part of this obligation to ensure safe navigation, the Harbour Authority is required to provide a marine pilotage service, whereby a qualified Master Mariner with great knowledge and experience of the local waterways will be required by law to go onboard vessels and advise the ship's Captain on how to navigate safely. Pilotage is one of the services that a ship's agent is responsible for arranging, and as such they will communicate their requirements to me and I will allocate suitably qualified Marine Pilots on behalf of the Harbour Master. Once an agent has booked a pilot, it is also my responsibility to collate all of the vessel movements into our computer database. From this, we can determine which pilots we will allocate to different vessels depending on the size and navigational requirements of the ship, as well as decide what time we will muster the Pilot to provide the service. Mustering the Pilots is the single most important part of my role because if I don't notify them in due time that they have been allocated for a particular job, they won't be able to provide the service! The river operates 24 hours a day, 7 days a week, 365 days a year and we work hard to maintain that complete time coverage. We work a combination of 12 and 9 hours shifts to ensure full 24 hour coverage is provided every single day of the year. Working long hours – particularly overnight – can be tiring, but there is generous off-duty time to recover and a competitive salary, starting at £21,000.

What does a typical day at work look like?
My responsibilities slightly vary depending on whether I'm working a day or night shift, but all shifts will start with a formal handover from the off-going team. Handovers are really important for the people starting their shift, as they need to obtain a clear picture of everything that has happened over the last 12 hours in a very short and concise manner. I know that at the end of my shift I will be delivering a handover myself, so I'll always make notes throughout the day of anything I think the next shift team will need to know. I spend time responding to emails as well as focusing on our integrated database PAVIS – Ports and Vessel Information System. This database holds all information of the planned vessel movements on the river. The system is used by many different departments within the company, such as Port Operations and Accounts, so it's crucial that we keep everything as up to date as we can so that those in planning roles are making informed decisions and those in the accounts team can be confident they are invoicing customers correctly for the services provided. I will also be calling Marine Pilots to work at the designated time as well as coordinating their transport to and from the vessels. This will be a combination of either launch boat to get offshore, or by moving around our fleet of cars for shoreside transportation. In addition to this, we also broadcast a radio service every 90 minutes for the pilots to listen to. This enables the pilots to determine which job they are likely to get and so can plan their day – or sleep – accordingly. In addition to all of this, if I'm working a night shift I will also be responsible for preparing a number of reports. Once the clock has struck midnight, we can gather all the information of everything that has happened the previous 24 hours and put it into a report so that our management team can have a concise overview of the previous day's activity.

How did you get to where you are?
I started in the shipping industry when I did work experience with a ship's agency firm during my year 10 of secondary school. After just 2 weeks I knew it was the industry for me, so I worked a summer job in the Company's accounts department during the school holidays of years 10 and 11. I started working for the Company on a full time basis once I turned 17 and had passed my driving test, working on a three year training programme to give me experience in the accounts department, the Research Team where I assisted in the generation and distribution of specialised intelligence reports, before transferring to the Customs Clearance team, which made for great training before finally moving into the Agency Operations team to learn and become a qualified Ship's Agent. Once qualified, I then spent a further 2 years covering a variety of operations around the UK as well as remotely coordinating overseas operations via the global Hub-Agency team. After 5 years with the Company the opportunity arose to join Associated British Ports to use the experience I had gained to further develop my shipping career.

What do you enjoy doing in your spare time?
A natural benefit of working on the River Humber is living on the coast. I was born and raised in Grimsby so have been able to spend much of my free time at the beach. As a child it was amazing to live a few miles away from the sandy beach, slot machines and sweet stalls. Now I'm in my 20s and it's still a joy! While I do still love the arcades, these days I like to attend exercise classes at the beach. It's a great way to get outdoors, and you can see all the commercial vessels transiting the river while you exercise – you don't need to be this geeky to be a good Marine Information Officer but it helps! I also really enjoy cooking and find it a good way to de-stress after a busy day; you get to chill out and have some delicious food at the end of it which is always a winner. I think it's really important to know how best to spend your down-time for yourself, though this will be different for everyone. Whether it's yoga, dancing, seeing friends or just sitting and watching a movie, knowing how to recharge and keep a smile on your face is absolutely crucial in such a busy world. And just because someone tells you it's good for you doesn't mean it is – I've tried running and unless it's to or from something that my life depends on, I think I'd just prefer a steady stroll thank you…