Dr Karen Purnell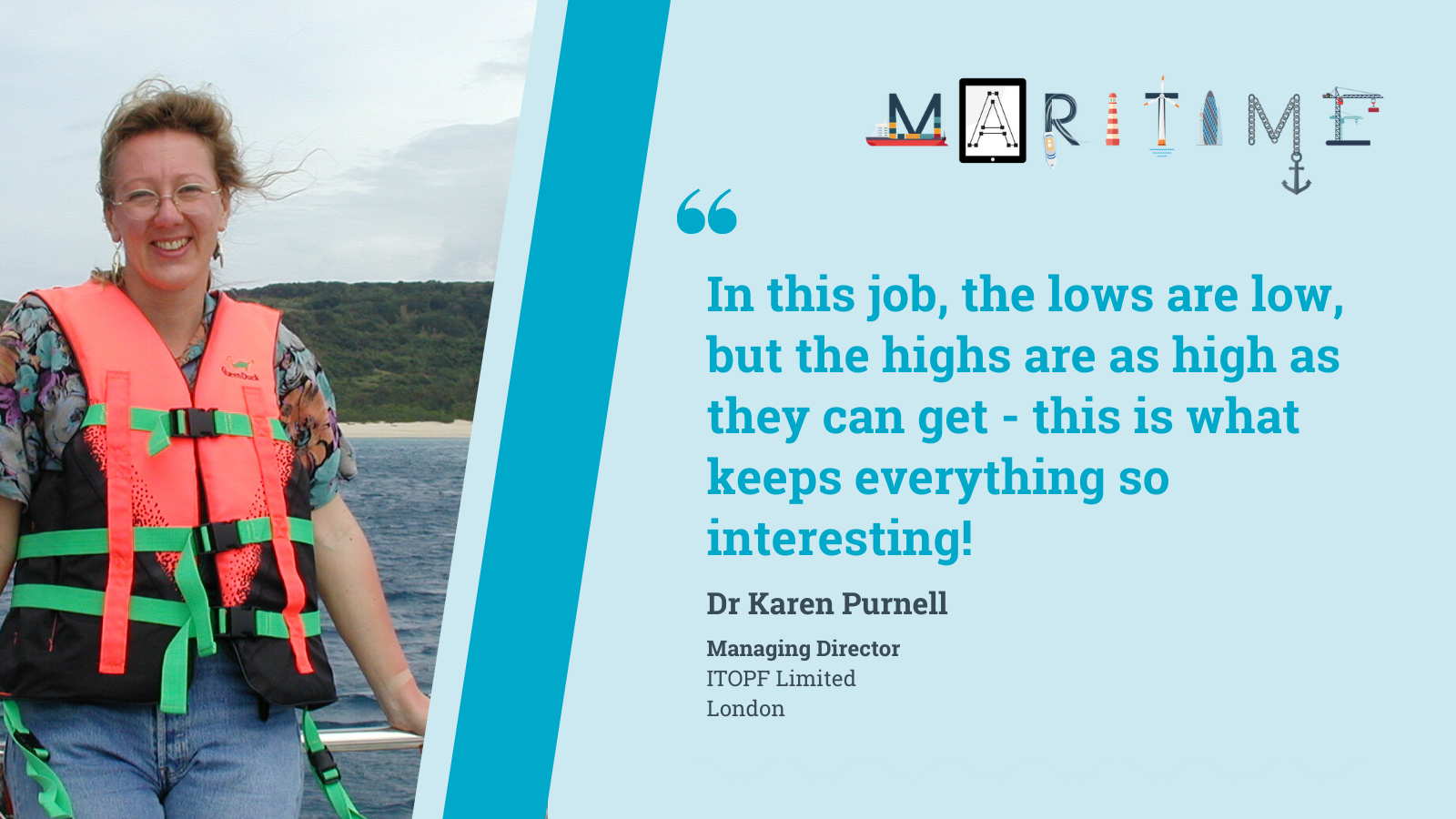 What do you do?
When I was a Technical Adviser at the start of my career, my job was to be available 24/7 to travel anywhere in the world to assist local people to try to minimise environmental and economic damage caused by an accidental spill of oil or chemicals from a ship. I would have at most, a day's notice, but more often just a few hours' notice before needing to board a plane to go to the country affected. I'd have a suitcase packed with everything I needed except clothes for the country. Sometimes, I wouldn't even know exactly where I was going until I got to the airport and collected my tickets. It was exciting work, sometimes daunting, but never boring. I progressed through the ranks to Senior Technical Adviser and then Technical Team Manager (responsible for the Americas region). I attended incidents such as the SEA EMPRESS (Milford Haven, 1996), PRESTIGE (Spain, 2002), TASMAN SPIRIT (Pakistan, 2003), COSCO BUSAN (USA, 2007) and many other incidents all over the world. I have seen some amazing places and experienced some memorable occasions, such as sitting with Korean fisherwomen in their tents by the seashore in Busan; riding on the waves to see an isolated colony of Southern Fur Seals in Uruguay and speaking with the Captain on board his ship in the dead of night after the ship had grounded in a cyclone in India. I have needed an understanding husband, having disrupted our plans many times, missed birthdays, Christmases – even having to exchange gifts in Heathrow airport on one occasion!
The job is undoubtedly difficult. I must go into a country, as a foreigner, and win the trust of those in charge of the response. This is often against a backdrop of panic, because oil has spilt and local people don't know how to respond, or blame, because they are looking to blame someone and often this is the shipowner. Because I have been asked to attend by the insurers of the shipowner involved, this means that I am sometimes the target of blame and I need to work hard to convince them of my objectivity as a scientist and, hence, win their trust. The most enjoyable part of the job is when I have achieved this and I am working together with the local people. In short, the lows are about as low as they can get but the highs are as high as they can get – this is what keeps the job so interesting!
Today, in my role as Managing Director, I steer the company to ensure it continues to be the best that it can be. I am able to use my experience 'in the field' as a Technical Adviser to add credibility to my current role and to demonstrate to our new employees that I know what it feels like to be called away in the dead of night or on Christmas Eve. I am answerable to a very high profile and knowledgeable Board of Directors, comprised of CEO from major tanker companies, oil companies and insurers. They each give their support and experience to ensure ITOPF goes from strength to strength. I am about to embark on preparing the company's next 5-year strategy, which will involve discussion with all the staff to gain their ideas and share the vision for our future. I enjoy these strategy discussions very much because it allows me to see the energy and ideas coming from our younger staff and gives me confidence that the Company has a strong future. 
What does a typical day at work look like?
I am usually using my commuting time to read reports or to organise my day. Once in the office, I will walk around to say 'hello' to the team and chat to those who have been out of the office 'on mission'. This might be missions where a member of staff has been working with the International Maritime Organisation (IMO) to help train developing countries on preparedness and response to oil spills from ships, or it might be that they have just returned from attending an oil or chemical spill anywhere in the world and working with local communities to reduce the environmental or economic damages that could arise from the incident. I then work with my Personal Assistant to organise my day, attend meetings and respond to e-mails. Meetings I attend could be with other managers to ensure the company is running efficiently, it could be with insurers or shipowners concerning specific incidents, it could also be related to the company administration and governance; such as pensions, finance or the office building. Often, I am asked to give presentations or speeches to organisations or conferences that are interested in the work of ITOPF. In which case I spend part of my day preparing my own presentations or writing articles for publication. I am also invited to several receptions and dinners in the evening, some of which are 'black tie', which are good events for networking and often include a nice dinner and entertainment. It is a busy life but interesting and each day is different. 
How do you get to where you are?
I confess to developing my interest in Chemistry as a result of having a crush on my Chemistry teacher at the tender age of 13! However, after studying hard to do well in his subject, I actually found I really enjoyed the subject. I left school at 16 to become a Laboratory Technician at the department of Biochemistry at Bath University where I studied for an ONC in Biology as a day release student. I then changed jobs to become an analyst at Commonwealth Smelting in Avonmouth and studied for an HNC in Chemistry at Bristol Polytechnic, also as a day release student. However, my grasp of maths was not strong, and I was failing in the subject. I therefore took the decision to go back to my earlier college in Ashley Down and take an ONC in Chemistry. Two years later, I re-joined the HNC course at Bristol Polytechnic and moved to Bristol University as a Laboratory Technician in the Chemistry Department. This time I passed with flying colours and was awarded a prize for being a 'Student of the Year'.
I then decided to study for a Chemistry degree and enrolled with the Royal Society of Chemistry and did my degree with them – all of this was on a day-release basis. During the summer break at the University, I would work with the research chemists and professors to help them with their research. Unfortunately, this meant that I was ostracised by the other technicians as they saw me as being 'above my station'. However, I was bored playing cards during the summer break and continued to attend lectures and work with the research chemists during the summer. In turn, they helped me to develop a keen interest in Chemistry and I passed my degree and became a Graduate of the Royal Society of Chemistry in 1987. I developed an interest in doing a PhD and applied to move to the research department. However, my boss at the time said, 'I'd never make it'. This gave me greater determination than ever to show him that he was wrong.
I then took the decision to leave my job to become a full-time student at Bristol Polytechnic and study for my PhD. I chose to do my studies in Chemical Physics (a challenge, as I only had a CSE in Physics and would need to teach myself non-linear optical physics for my choice of subject). My research involved synthesis of organic molecular structures for use in fast optical computer switching and molecular electronics. I passed my viva in 1991 and was awarded 'Best Thesis'. It took me 9 months to write up my thesis on a part-time basis, but it was the best decision I have ever made as it has subsequently opened up so many opportunities.
Whilst finishing my thesis, I was offered a job as a researcher for a small start-up company (Bradtec Limited) in the nuclear industry. My job was to develop methods to decontaminate land, water and even reindeer milk after the Chernobyl incident. Regrettably, after 4 years, the company was struggling to survive, and I left in 1994 to move to London to join ITOPF.
I still recall the day that I applied for the job of Technical Adviser at ITOPF and I have never looked back since. On 21st November 2019, I celebrated my 25th Anniversary with ITOPF – which is a warning for anyone who says that they are looking for a 'longer term' position – be careful what you wish for!!
Since becoming Managing Director in 2009, I also studied for a Non-Executive Diploma with the Financial Times and, in addition to my job with ITOPF, I am also now a Non-Executive Director for the Harwich Haven Authority – the port authority responsible for piloting the mega-container ships that come into Felixstowe.
What do you enjoy doing in your spare time?
I keep and breed Welsummer chickens! We also keep quail and I grow our own fruit and vegetables. We live about 2 hour's commute from my office (which can be tiring at times), but it means that we have a slice of 'The Good Life' within commuting distance of London. Cleaning out chicken poo helps to keep me sane when dealing with the stresses of a 24/7 job. When I have time, I also enjoy walking in Cornwall and visiting gardens around the UK.