Emily Fowles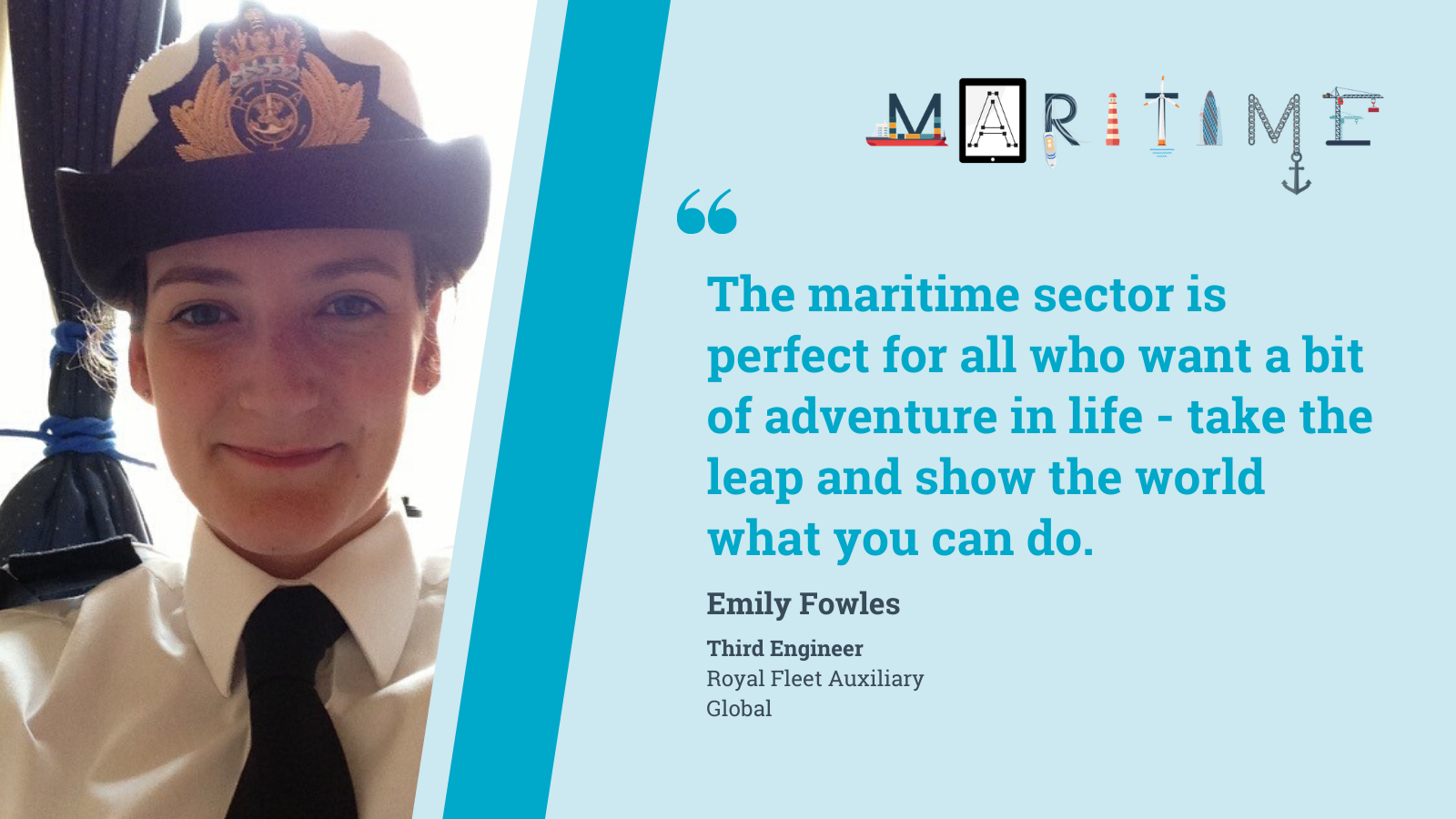 What do you do?
As a Third Engineer in the Royal Fleet Auxiliary, I mostly do preventative maintenance – this means doing work on equipment before it breaks to save time and money. This is rewarding as it means that your equipment will be running without failure. The thing that I enjoy most about my work would probably be being able to take equipment apart when its not working, and fix it so that the ship has maximum capability.
What does a typical day at work look life?
Typically day involved going to the control room where the boss will talk through any new jobs that have come up and ensure that everyone is on track for completing the required maintenance on their equipment. Then as a duty Marine engineer you will conduct a set of rounds – this is where you can around all of the machinery spaces and check that all of the equipment is running within its normal parameters. Then just before lunch you may do a fuel transfer to ensure that the generators have enough fuel to run in their tanks. After lunch you might do some light maintenance like some water testing, change an air filter on an air compressor or take some oil samples. Before dinner you will conduct another set of rounds to ensure that the equipment is still running correctly and check that to engine spaces are safe to be left unattended. 

How did you get to where you are?
I did my cadetship straight after A-Levels, I didn't really know if I wanted to go to university but thought that if I wasn't sure then I should commit 3 years and a lot of money to do something I wasn't sure about. Then I found the RFA and the Cadetship and it was the perfect fit for me!
What do you enjoy doing in your spare time?
In my spare time I have completed a degree via distance learning. I have also been able to use the practical skills that I learnt on the job to be able to do house renovations with my boyfriend. I love walking my parents' dog along the beach in the summer and in the winter I enjoy doing arts and crafts at home and really letting my creative side run wild!