Fiona Mackenzie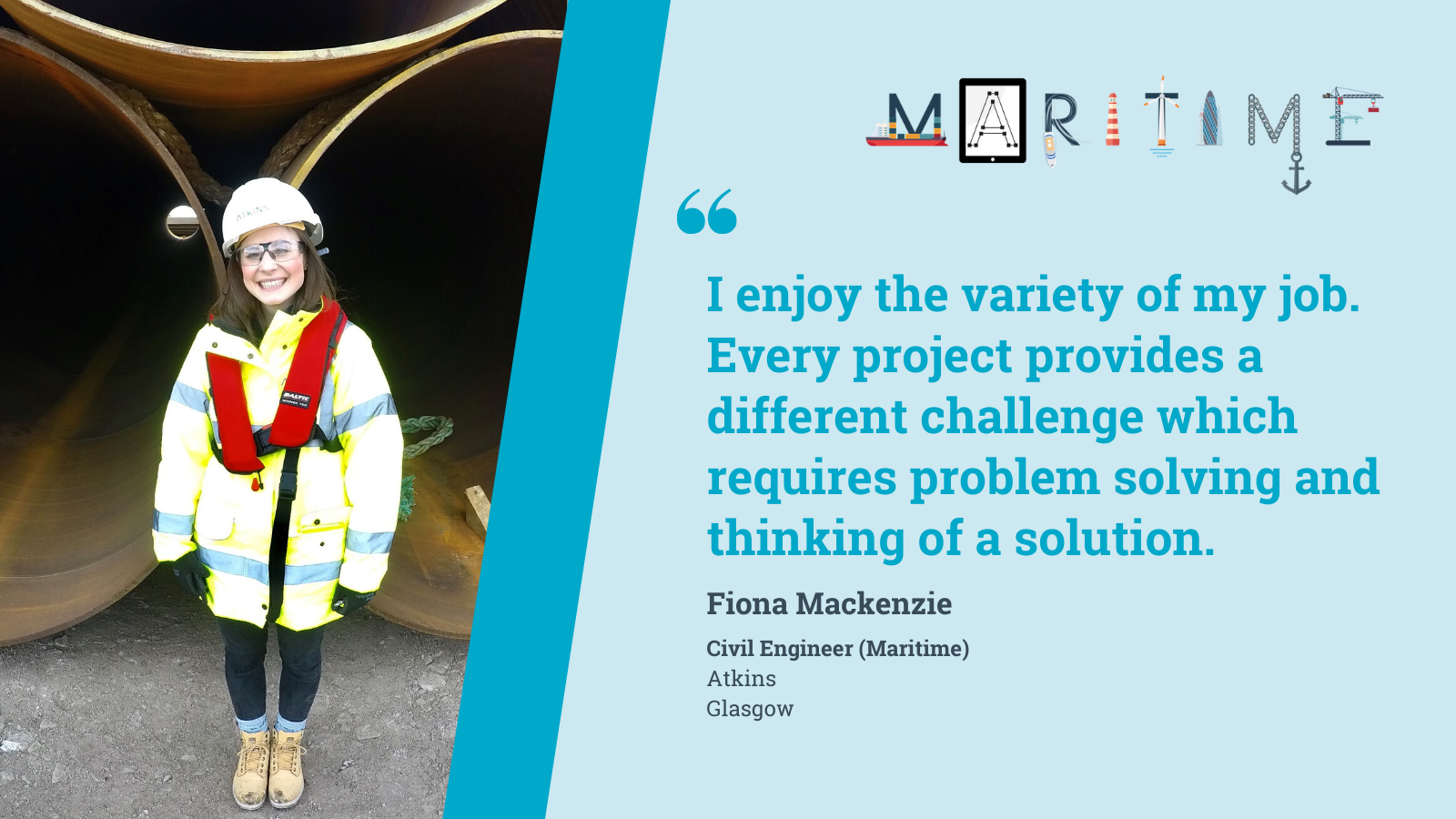 What do you do?
As a Civil Engineer in Maritime at Atkins, I mainly design maritime structures; this could include quay walls (e.g. river walls or cruise ship berths), jetties or slipways. The design process has to consider many different things to deliver the Client's requirements such as the final use of the structure (it could be to support the construction of an offshore windfarm or a quay wall for pedestrians and cyclists) and if there are any unique aspects to consider such as a special vessel which needs to use the structure. I then work with the Ground Engineering team who work out how the ground materials will affect the type of structure we need to design by producing a geotechnical analysis model. From the model, they give me the forces which I need to prepare the structural calculations to work out what size of components, like beams or piles, are needed. The outcome of this work is then put into drawings prepared by a CAD technician and used to construct the new structure on site.
I enjoy the variation of my job. Every new project provides a different challenge which requires a lot of problem solving to think of a solution which will work in practice and deliver what the Client wants. 
What does a typical day at work look like?
Every day is different which is one thing I love about being an engineer. There are two different 'typical days' at work for me. One would be in the office working on a design project such as a quay wall or slipway. For example, I could be preparing calculations for a new structural design, writing a technical report or sketching and reviewing engineering drawings which have been prepared by a CAD technician.
The other 'typical day' would consist of being out on site visiting a construction site or inspecting an existing maritime structure like a pier or slipway. Through inspections of existing structures, I've had the opportunity to visit many parts of the UK and contribute to extending the life of older structures. Recently, I have been on site observing the construction of a quay wall which I helped to design. It has been really interesting to see the quay wall come to life after working on the calculations and seeing the drawings on paper only a few months before.  
How did you get to where you are?
When I had to start thinking about what I wanted to do at the end of secondary school, I really didn't know! I looked into a lot of different careers and somewhere along the line someone suggested civil engineering. It seemed to tick a lot of boxes so I went along to some university open days to learn more and the topics really appealed to me. I decided to go for it and I went to the University of Dundee for five years to study for a Masters in Civil Engineering, Design and Management. I had two summer placements before leaving university, one was in the engineering department at a local council and the other was in an engineering consultancy. This really gave me a feel for what engineering was like in the 'real world' and how I could apply what I was learning at university to real life situations. 
What do you enjoy doing in your spare time?
In my spare time, I like to get outside to go cycling on my road bike. Although in the winter months I prefer to keep warm and go to the gym instead!