Fiona Vick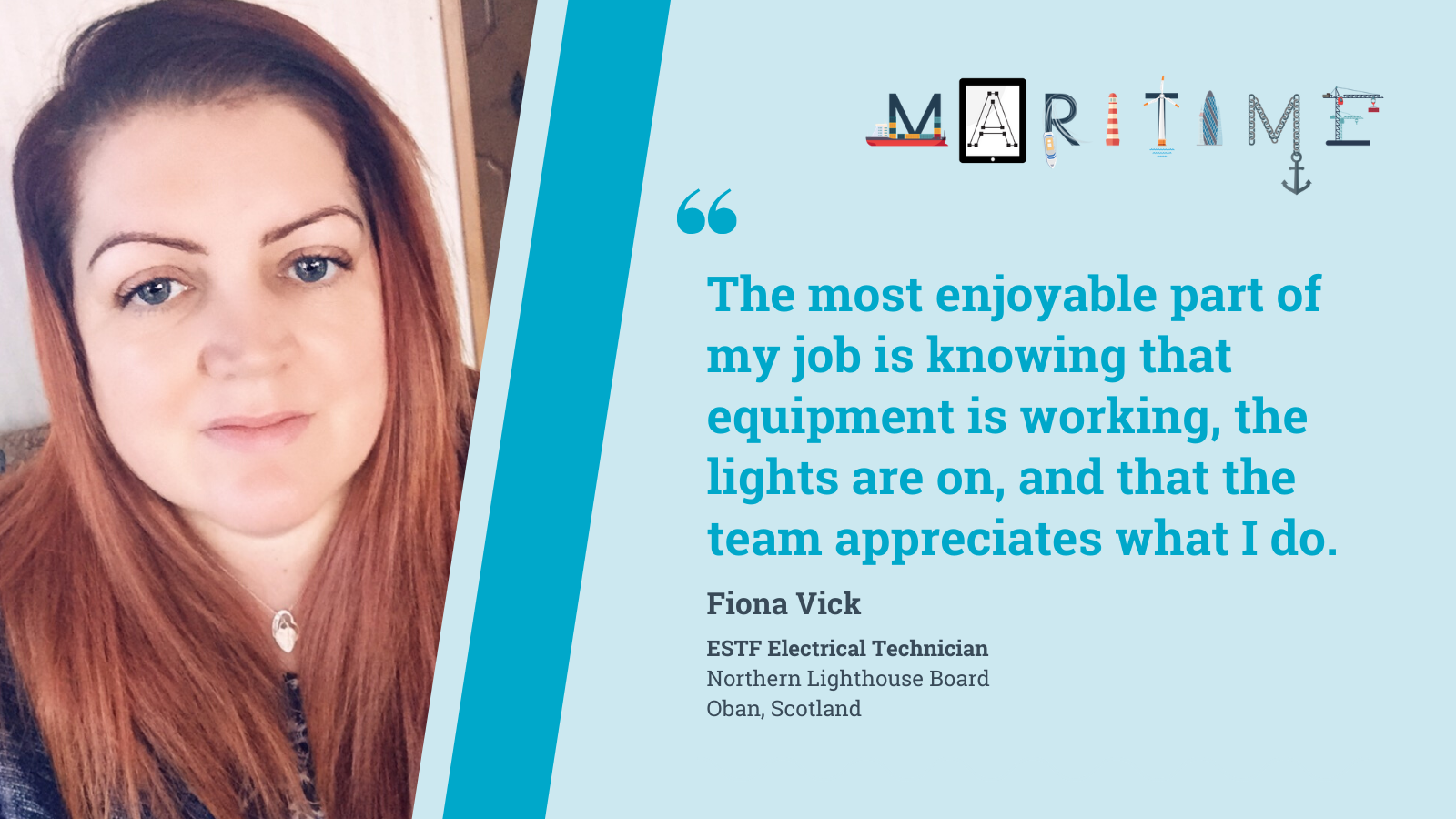 What do you do?
I am an ESTF Electrical Technician working for the Northern Lighthouse Board (NLB) in Scotland. My role is to work on navigation lights, LEDs, filament lamps automatic identification systems, radar beacons, solar panels and batteries (Ni-CAD, NiMH and lead acid). All equipment to be installed on lighthouses and buoys come through our workshop to be tested for functionality, so I get to work on a huge variety of equipment. This means every day is different and I get to learn new things and share what I have learnt with the rest of the team. We have a great team of technicians at the Northern Lighthouse Board and the support teams are really helpful, allowing us to get on with the work we need to complete.
The outcome of my work is to keep the navigation aids working. So we need to make sure our lights, battery banks, solar panels, generators, lights, radar beacons and monitoring equipment are all working correctly. The most enjoyable parts of my job are knowing the equipment is working as it should and the lights are on! I also really enjoy working as part of a bigger team and being appreciated for the help I give to other departments.
I have worked for the Northern Lighthouse Board for 14 years and I absolutely love my job and knowing the difference I'm making. I love to help people. Working for NLB enabled me to keep working full-time in engineering when I had my family. The organisation fully supported me with maternity leave and flexible working. They have a great family friendly policy which means I've been able to stay working full-time while raising a family.
What does a typical day at work look like?
My typical working day will start with checking for outages and failures as these are the most urgent tasks. Completing an outage would usually involve speaking to the on-call engineer to find out what equipment I would need to prepare. I would then access our engineering database to see what equipment is already fitted and find a spare in our workshop. Next I would open a work order detailing what is needed to be done. I would then need to find out the navigational needs for that particular station, so range of light (nautical miles it needs to flash to), what the flash character is (there are hundreds of different ways a navigational light can flash to help the mariner know exactly where they are when at sea). I then set up the equipment and as I go along with the setting up, I complete a configuration sheet and keep records with photos when needed. I will set up and test the equipment to make sure it's working correctly. Once it's all prepared, I would contact the engineers again and we will discuss the quickest way to get it to the outage. This could be by road, sea or helicopter. Our aim is always to get the outage fixed as quickly as possible to keep everyone safe at sea. A lighthouse or buoy not working could have a devastating effect if a ship were to hit rocks.
On days without any outages, I'll catch up on emails to check for other work requests and order spares and tools for the workshop. I have to keep the workshop fully stocked for visiting technicians. I might also need to order stores of batteries, cables, solar panels and navigational lights for other areas. Because I work with a variety of different technology for all areas of Scotland and the Isle of Man, I also help to train the other technicians on lights and racon (radar beacons) as they might not have come across that specific type of equipment in their area of Scotland.
The most important parts of my day are to keep records of everything I'm doing so the engineering database is accurate and up to date. This helps everyone know exactly what's fitted and working on lighthouses and buoys. We have 206 lighthouses and over 170 navigation buoys and all can have different equipment installed. 
How did you get to where you are?
As a teenager I loved cars. My dad was always working on cars, as he loved to fix and make everything he could. I loved to help and watch him work. I started my career training to be an accounts technician in an accounting firm when I was 16.  I knew I loved numbers, but I also loved cars and knowing how things worked! It was hard to decide when I left school what to do and after 18 months I decided that I needed to try and look for an apprenticeship. I wanted to be a car mechanic, but I couldn't find a suitable apprenticeship. My dad worked at the local power station and told me there was an apprenticeship coming up there and I should have a go and apply.
The apprenticeship was for a technical trainee doing a multi-killed apprenticeship in engineering at Cruachan Power Station. So I applied, my application was successful and it was the best move I ever made! I loved it and it gave me such a good background and start in my engineering career. The bonus was I also got to work with my dad! When I finished my apprenticeship, I worked at the power station for a year. but there wasn't a full-time role for me and when I left I couldn't find another engineering job in my area. At that time there weren't many opportunities but luckily, I had admin and accounts experience and worked in an office for a couple of years.
I got back into engineering by taking a welder/fabricators job with a local aquaculture firm. Soon after starting work with them, I progressed to fixing all their equipment and working as a plant fitter which I really enjoyed. It gave me much more experience and variety to my engineering knowledge. Then a good friend of mine mentioned he was applying for a technician's job at the Northern Lighthouse Board and they were looking for more technicians, so I applied, and was delighted to get the job. That was 14 years ago, and I have loved every minute of the job, the people and the lighthouses! 
What do you enjoy doing in your spare time?
I love spending time with my kids. My daughter is 10 and helps out with RDA Carriage driving and rides horses. She spends most of her time at the stables or at Pony Club. My son who is 7 loves football and golf so we try to keep him as active as possible with these sports. We love to walk our dog and enjoy the countryside near our home. We are currently building our own home and have been living in a caravan for over a year now. That's certainly been an experience, some of it good and some bad!
I'm a STEM Ambassador and enjoy helping out with local schools and groups. The Northern Lighthouse Board has been really supportive and I have had many groups visit me at my workplace to find out what I do and to learn about STEM opportunities. I also love old technology and collect singer sewing machines from the early 1900's. I'm not so good at the sewing part but I'm learning!
I also still have a huge love for cars. We have a few classic cars and I would love to get more. Before we had children we would spend every weekend at car shows, rallies or anything car related. My husband and I even got married on the way to a car show and visited the M SPORT rally team workshops straight after the wedding service. We then did a tour of the Lake District with the wedding ribbons on our car with 180 other classic cars. This was our honeymoon!
Fiona Vick sadly passed away in January 2021. As well as being a talented and dedicated technician, Fiona was passionate about encouraging young people especially girls into engineering careers and we have no doubt that Fiona will have inspired many young people to think about engineering as a career.