Heather Enness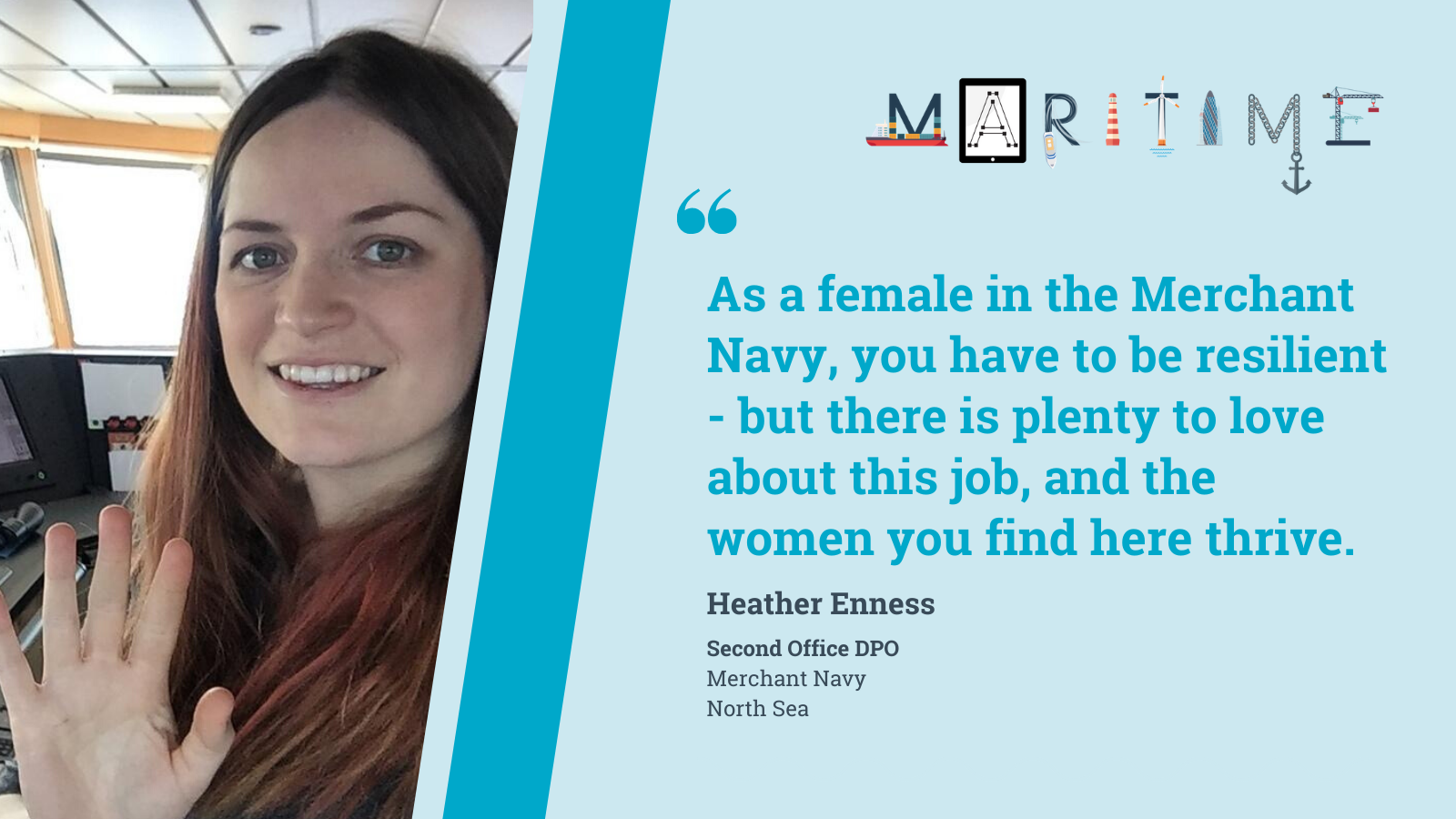 What do you do?
My extra duty on board ship is the safety maintenance officer, meaning that it is my responsibility to ensure that all the life-saving appliances on board are in good working order, and that I carry out remedial work should it be needed.
I am also a Dynamic Position Operator, utilising different reference systems to keep the vessel in a specific set point and on a precise heading, we could be working metres away from a rig or weather veining FPSO, so you definitely need yours wits about you when operating the DP desk. Ultimately the main objectives of any seafarer is the safety of the crew, the vessel and the environment.
There is plenty to love about this job, and they vary depending on which sector of the merchant navy you work in. I personally love working on for instance ROV vessels or Dive vessels where you have project crew on board as well as your own marine crew, there is always someone to talk to, work out with, play Uno with etc. I would be lying if I didn't admit to the time off and the pay being the things I most enjoy about my job. But then there is also the travel aspect, I have been to some crazy and wonderful places during my career to date, countries people haven't even heard of.
What does a typical day at work look like?
Typically my day might entail being on the bridge of the vessel when the ship is heading into port, relaying information to the captain, as we head through the breakwaters in to Peterhead harbour, giving distances of the vessel fwd and aft whilst coming alongside the berth, I will instruct the AB's to send the mooring lines to the linesmen.
When the vessel is alongside and the gangway has been put out, the vessel will start discharging deck cargo, and we may well start loading fresh water and fuel oil, whilst this is simultaneously happening I'll be on the bridge ballasting the vessel to make sure we try to maintain an even keel. After the cargo has been discharged, we'll be given a load list with any dangerous good notes, I have to take note of the cargo that comes on board ensuring that it is placed correctly on our deck and that no conflicting dangerous goods get placed next to each other.
Once cargo operations are complete then I'll be getting the departure paper work ready to depart the port and the necessary emails ready to send. I'll also start preparing the bridge for departure by carrying out tasks detailed on the pre-departure checklist.
Once the captain has taken the vessel back out to sea, then I will take over the watch ensuring the vessel stays on course to get to our next location, making sure that I comply with the collision regulations. 
How did you get to where you are?
I always wanted to join the Royal Navy as an Officer of Engineering, I'd never heard of the Merchant Navy, when applying for universities 5 out of my 6 choices were engineering degrees, and the 6th choice was Marine Studies (Navigation)at the university of Plymouth, it was on their preview day that they mentioned the Merchant Navy informing me that I could apply for sponsorship and get paid to do the Marine Studies (Merchant Shipping) course instead, which of course was very appealing to me, and I never looked back.
4 years of study including 12 months sea time amongst those 4 years, gaining the required sea time on a platform supply vessel, a RoRo General Cargo, a bulk carrier, an MOD contracted general cargo vessel and a tall ship, a graduation, passing several short courses, 2 NVQ's and an MCA Orals exam, and then 9 years later with all that experience served in the oil and gas sector. Oh how time flies.
It's hard to list all the captains who have inspired me along my journey, as pretty much every single one of those captains has taught me a lesson or two that I will take away with me, but it's safe to say that the captain of a ship is an inspiring person, as can the chief officers be. One chief officer in particular springs to mind for me, Jerry Ward, without him I don't think I would have progressed in my career and gone for my chief mates ticket.
And as much as it pains me to say this, and I won't name names, but I had a college lecturer tell me that I would never succeed in this industry and that I would fail. I did initially fail, my MCA Orals that is, and a few times at that, but I then had a point to prove, I wasn't going to fail, I was going to succeed, and I went on to pass my exam, and better it with passing my chief mates exam first time, so you could say that those negative words inspired me, he has since gone on to highly praise me funnily enough, so I can't be mad at him. In hindsight maybe he said that deliberately in order to give me the kick up my backside that I required.
What do you enjoy doing in your spare time?
The nature of this job means that on average you only work half the year as you would work away for instance for 5 weeks but then you get 5 weeks at home. 5 weeks at home allows you to do a lot in your spare time as that time is all yours. 
When I am home I volunteer as a careers at sea ambassador, spreading the word of the merchant navy to local schools, I also volunteer as a hospital radio presenter at Warwick Hospital for Radio Warneford. I've also joined a local community choir and have sung in a few concerts with them since joining. Mainly though, my spare time is taken up with looking after my two young daughters, taking them to various classes, and doing crafts with them.