Joanne Rawley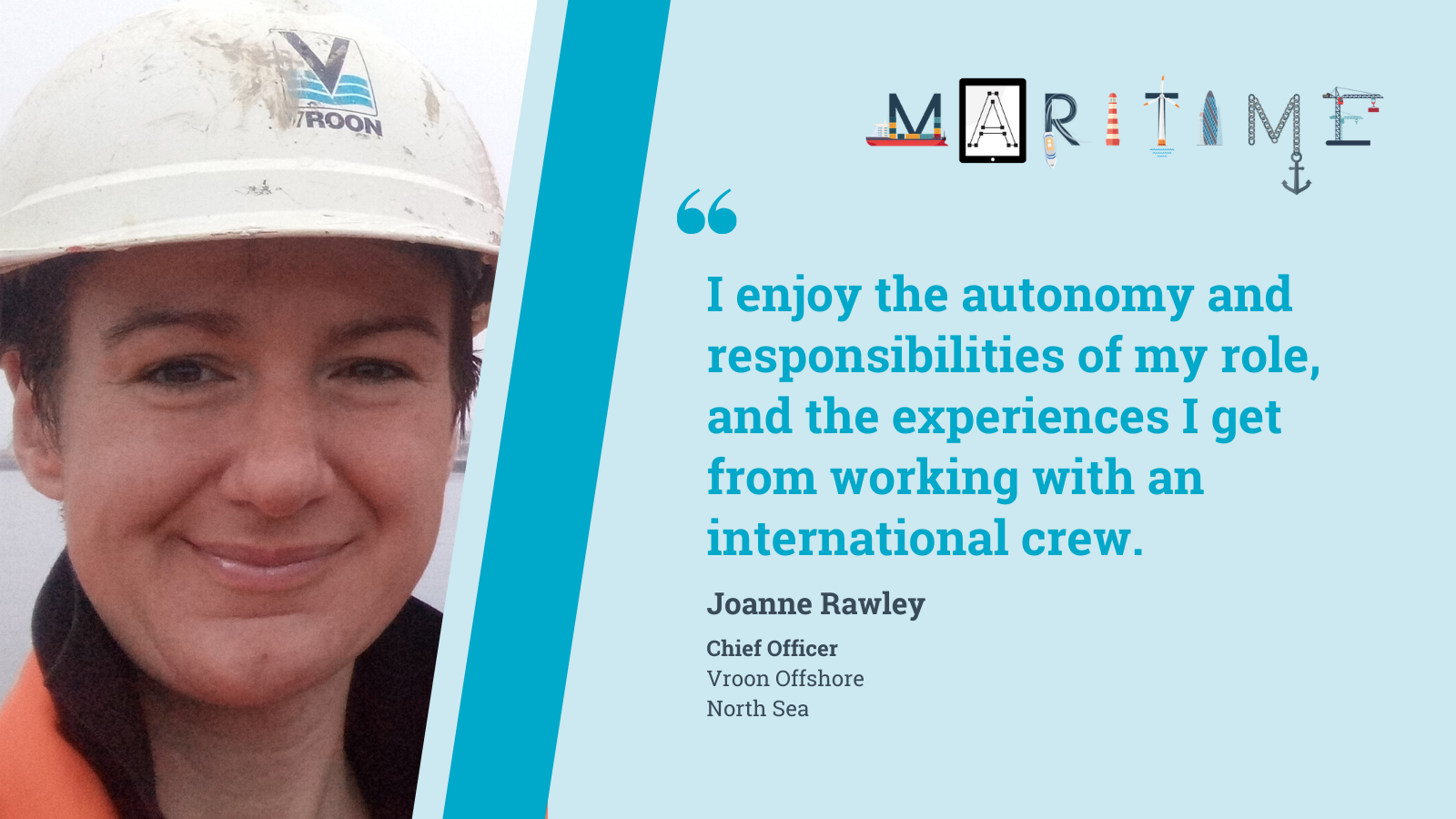 What do you do?
As a Chief Officer at Vroon Offshore, I sail vessels, and I am responsible for its safety, as well as the safety of all on board, I have safety officer duties such as checking paperwork, working on sites and maintenance, and keeping risk assessments up to date and ensuring the recommendations laid out are being followed. The vessel has to operate safely to meet the many international and UK requirements, client expectations and company standards. I enjoy the autonomy and responsibilities of my role, and I have previously also enjoyed the experiences that working in several countries and with a highly diverse crew has given me. 
What does a typical day at work look like?
A typical day at work starts with taking over the bridge watch from the 2nd officer at 4 am, and looking at how to ship is handling, our location, the location of other vessels, weather conditions, and our obligations to the relevant oil rig and other tasks that need addressing. These tasks include ordering stores, maintenance duties, training drills, fresh water sampling and chlorination, vessel safety inspections and reporting. I will hand over command of the vessel to the Captain at 8 am, and work on allocating duties and completing paperwork for a couple of hours. I resume the responsibility of the vessel at 4 pm, and conduct similar duties as in the morning until around 8pm. This pattern is repeated for 28 days. 
How did you get to where you are?
When I was 18, immediately following A-Levels, I joined the Royal Fleet Auxiliary for 8 years, working in logistics. During my time at the RFA, I completed many adventurous training courses, as well as an Honours Degree. Upon leaving the RFA, I worked on various diving boats for a year, before I started a 3-year Deck Officer Cadetship at the age of 30. On qualifying, I progressed further and passed exams as Chief Officer. 
What do you enjoy doing in your spare time?
I scuba-dive regularly at depths up to 100 metres in Scottish waters, trek glaciers in the Himalayas, drive the Karakorum Highway in Pakistan, and I hillwalk and camp as often as I can.