Karina Albers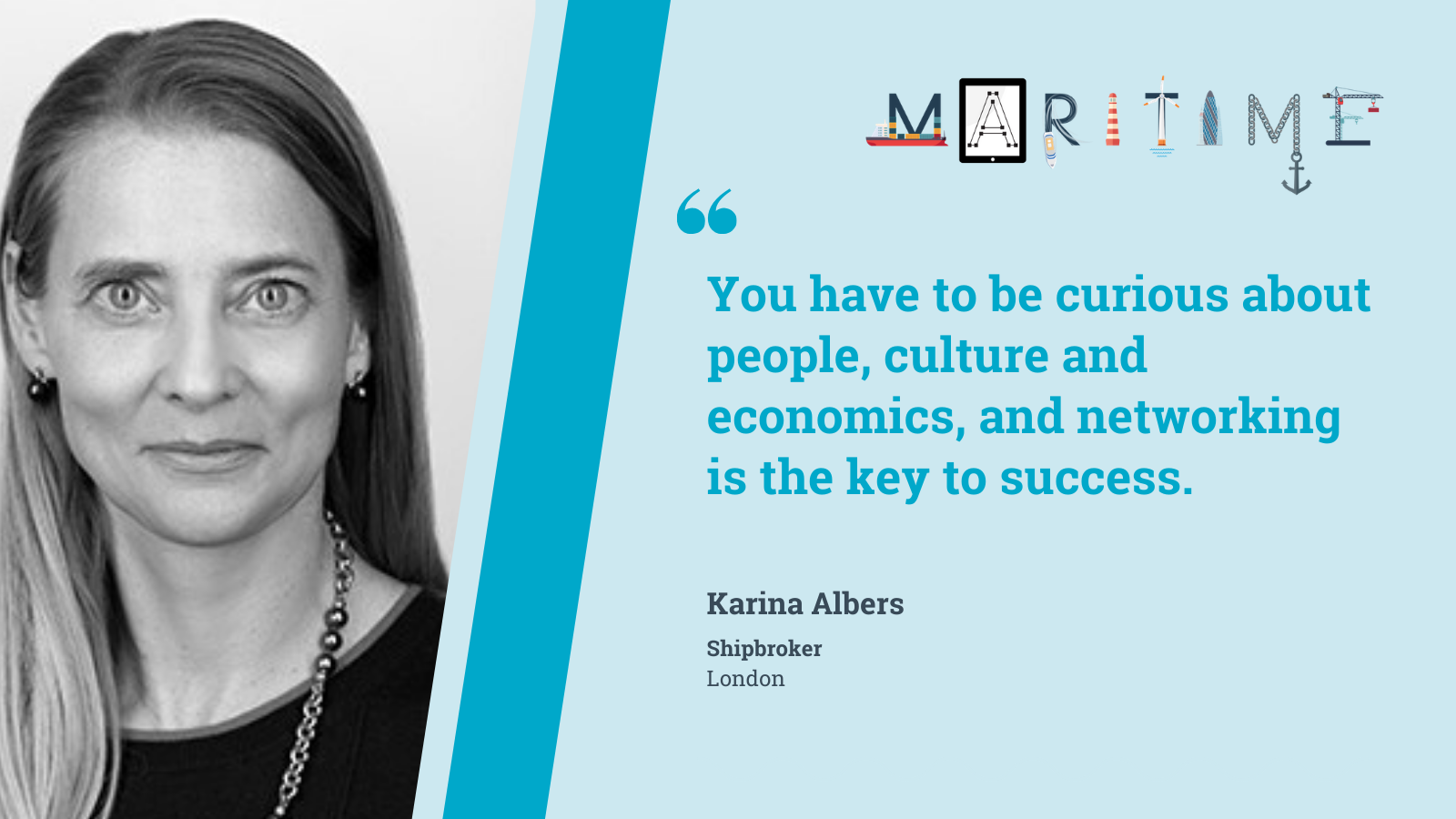 What do you do?
As a shipbroker, I spend my days communicating with people all over the world, I have to take in a lot of information that I get from emails and colleagues and process it fast in order to be the first to tell my clients. I have to run calculations in my head and either on paper or on the screen whilst I speak with people to be able to advise them whether the market level is good or whether they should wait before concluding a fixture. 
What does a typical day at work look like?
As a ship broker it is important to start the day with reading your emails and check international news. This happens quite often immediately when I get out of bed. Overnight there could be news that would influence markets and my work directly and I need to be on top of it. Information is currency for ship brokers.
On my way to work I would answer emails and get in touch with my clients via whatsapp or instant messenger. In the office, I identify which cargoes and ships match and negotiate with ship owners and cargo owners who are often located in different countries via whatsapp, email or telephone. This is why I travel abroad a lot too to visit existing clients and to meet new clients. Entertaining after hours is also required. Those are long days with a lot of perks.
How did you get to where you are?
I went to shipping college straight after my A-levels and got work practice. Once I secured my traineeship with a firm in London I was able to work alongside my senior colleagues and was rewarded with a membership at the Baltic Exchange within a few months. I have always had an eye on new developments and when freight derivatives were introduced after a number of years I spotted the trend and evolved from shipbroker to derivative broker changing roles and taking my Stock Exchange exams. Though many peers thought that I was silly to risk the change with hindsight they are now the envious ones who wish they had done the same at the time. After being one of the pioneers in freight derivatives I wanted to transition from being a broker to becoming a trader, who makes the decisions. I was then in charge of fertilizer derivative trading as well as being in charge of 14 gas carriers. This was a very diverse role where my knowledge and skill set grew exponentially. A very rewarding time for me. Building on that experience I was headhunted to become a managing director of a shipbroking firm. Eventually I set up my own consultancy business and act as expert witness in legal dispute assisting judges and arbitrators to understand shipping markets. Some solicitors and arbitrators encouraged me to become an arbitrator (a private judge outside court) which I thought was impossible without a law degree. However, I found out that taking the Fellowship of the Chartered Institute of Arbitrators gave me similar qualifications. Nowadays I spend most of my time as arbitrator and expert witness relying on the broad knowledge and skills that my shipbroking career as showered me with. 
What do you enjoy doing in your spare time?
In my spare time, I look after a number of mentees who are based in different countries. I like to travel and I like to read non-fiction books about economics, philosophy and our future way of work and technology. I love to cook and be outdoors.