Kate Tyrer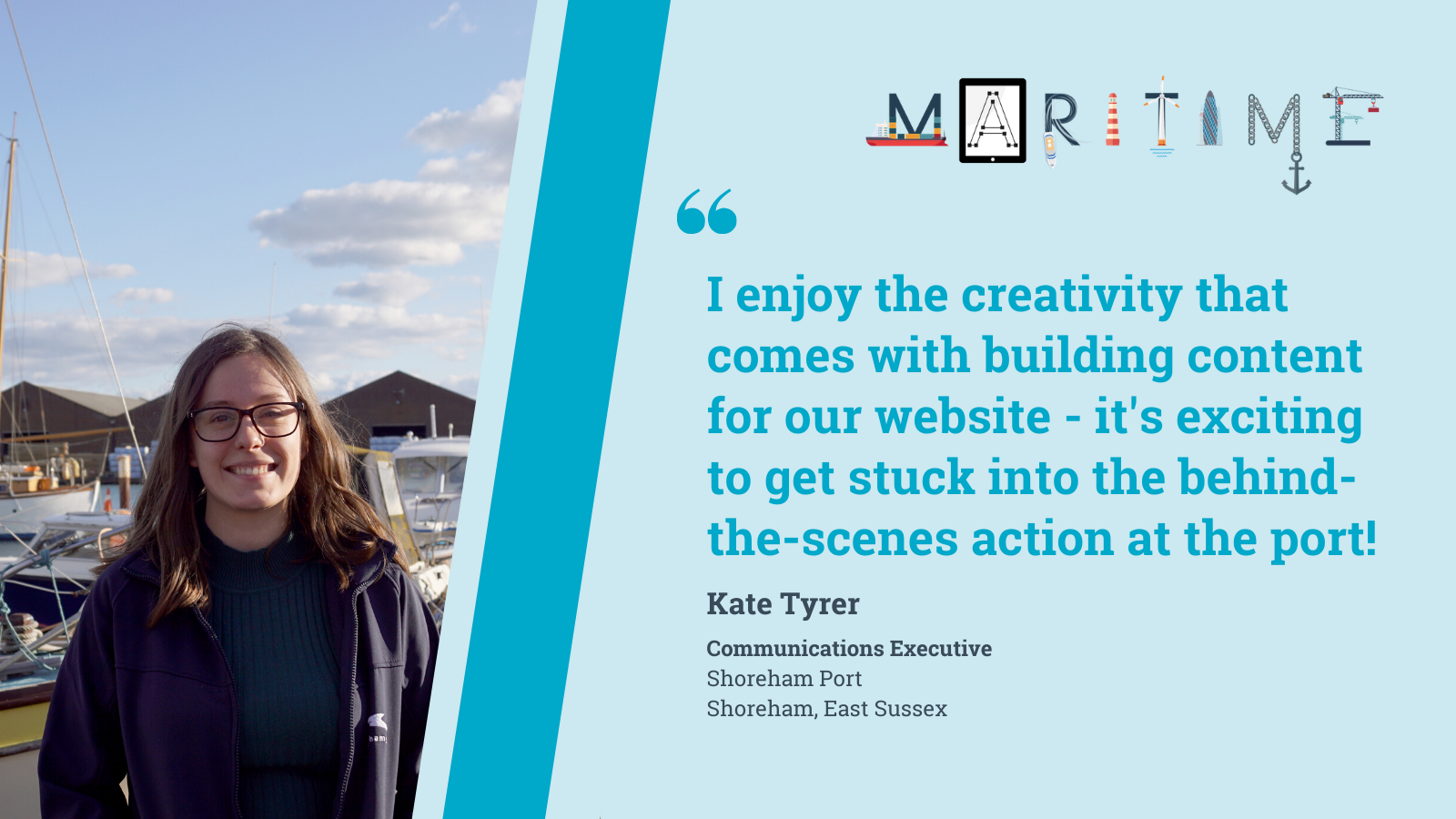 What do you do?
The key things that I do at work include updating and managing our social media channels (Facebook, Twitter, LinkedIn and Instagram), writing our weekly press releases, which are news stories that we send round to local news sites and other relevant places, writing content for our website and publications such as our digital newsletter, as well as capturing images, videos and recording our podcast, of which I am the host.
There are many things that I enjoy about my job, but the top thing has to be the creativity that comes with building content for our website, social media or newsletter. It is really exciting to get stuck into the behind-the-scenes action that happens at the Port and share it with our followers, and to see something from a simple storyboard, to a set of clips, to a full video or designed image, etc. I really enjoy making social media campaigns because we get to tell more of a story for our followers, such as a recent campaign that celebrated our Property portfolio, where we shared images of  the tenants in our business units with a quote from them about why they enjoyed having their business based at Shoreham Port. It really allowed us to dip into the vibrant tenant community we have at the Port.
What does a typical day at work look like?
My day-to-day at Shoreham Port is very varied. Sometimes I'll be heading over to our Operations department to get on an enormous boat and film some new incoming cargo, while other days I will be writing news stories or helping my colleagues to plan our events with the local community! Despite this, there are some things that I do every day, such as monitoring our social media. I regularly check our social media channels to monitor the interaction with our followers and reply to any comments or questions they may have. I also regularly update our website with important information, doing this via the 'back end' of our website editor which has been created for us by a web design company.
I have written one news story every single week since I started working at Shoreham Port. Sometimes one of my colleagues will tell us about something interesting they may be doing that week, such as doing maintenance on out lock gates, or I'll have to pop out and about to see if I can use my journalist experience to find a good story- one of my favourites was when one of our engineers found a message in a bottle within the Port's canal!
How did you get to where you are?
The role I am in now was my first job since graduating University. I chose Media and Communications because it was a broad course that would give me opportunities to explore both the practical sides of media work, such as photography, videography and design, as well as the theory of media, where we studied the principles of advertising, journalism and other forms of media consumption. What I found was that I wanted to maintain that mix- I love getting stuck in the action with a camera, but I also find that sitting down to write an essay can be very creative. I found a real passion for writing and so to explore this further I became a student journalist- there is no doubt that writing for my university news site vastly improved my writing skills and gave me a bit of an insight into the working world- I would say that this was equally as valuable as my degree itself!
What do you enjoy doing in your spare time?
In my spare time I love to grow plants- I've become a bit of a botanist! I really enjoy seeing them grow and change over time; planting something from a seed definitely challenges your patience but I actually find it very therapeutic and rewarding. I also really enjoy comedy and am usually either listening to a comedy podcast or looking to buy tickets to the next stand-up comedy show I can find- I enjoy the wit and clever building of jokes- how someone can find the funny in something we all experience every day, or shock an audience with an unexpected punchline!
I still continue to write in my spare time as well, whether it is something in my journal that no one will really see, or for a blog site etc. I think it can be easy to lose a passion for a hobby if it also seeps into your everyday tasks at work, but I make a real effort to take time to write for myself as well.