Lisa Lamont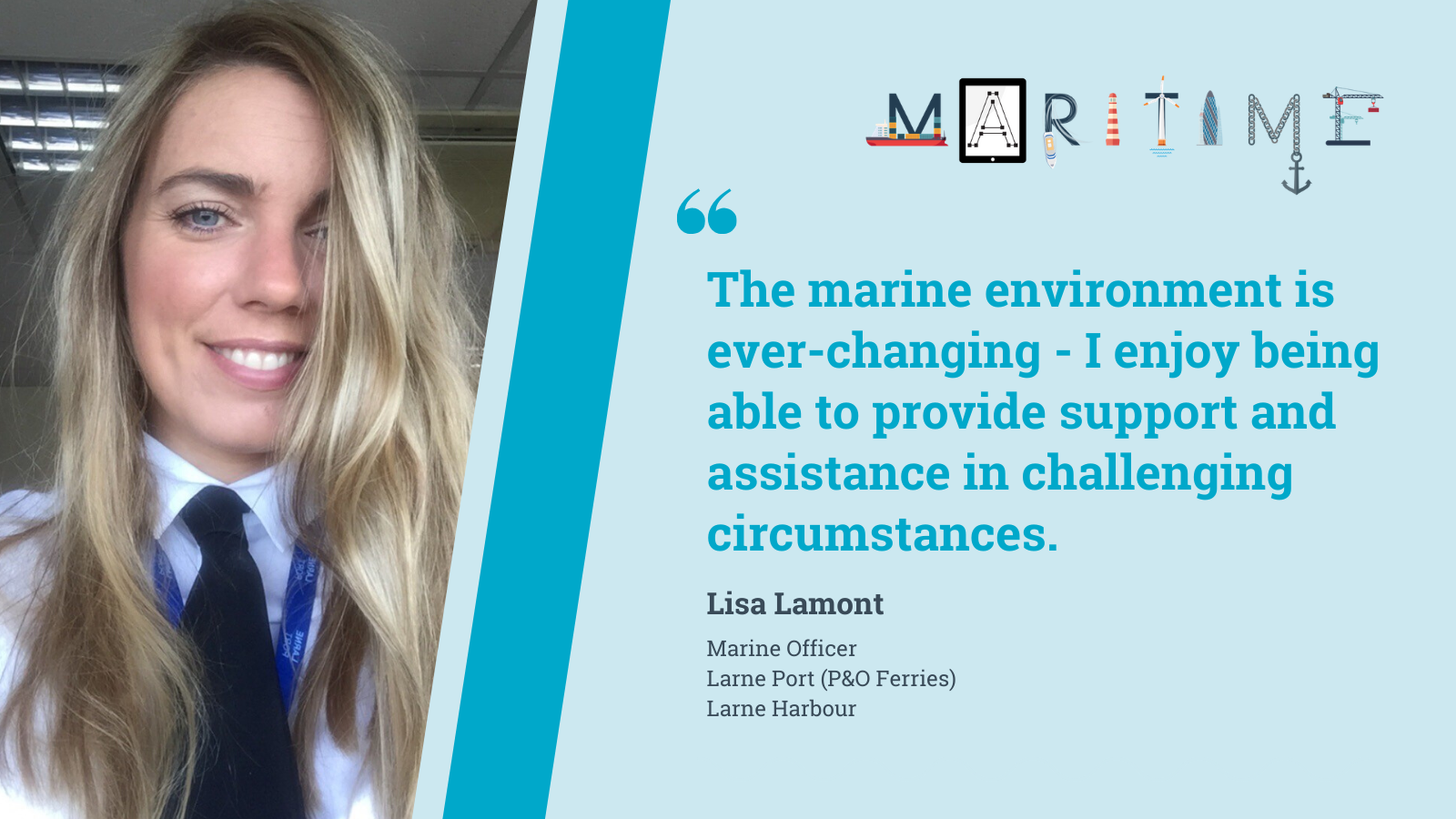 What do you do?
As a Marine Officer, the main responsibility of my job is to maintain good standards of marine safety within the port for all those who use Larne Port. Although we may be a small port we have regular ferries sailing every 3 hours and three local sailing/yacht clubs, all located within port limits. Larne Port can have 2-3kts of tide running in the narrow water shipping channel, so depending on weather/tide it can present challenging conditions. The marine environment is ever changing mostly due to environmental factors, something which we have little or no control over. What I most enjoy about my job is the ability to provide support and assistance, to help limit the impact of those uncontrollable factors on how we do business. Being able to provide immediate information or organise support services for marine traffic when faced with challenging weather conditions is very rewarding. No two days are ever the same, particularly in winter!
What does a typical day at work look like?
Larne Port has a team of five Marine Officers, which requires us to work 12 hour shifts between 7am and 7 pm, and 7pm and 7am. We are on solo watch and as soon as we sign on for shift we are on duty until the next Marine Officer reports for duty. We typically report for duty at least 30 minutes before our shift so we can have a debrief and handover. As a Marine Officer we provide a traffic organisational service (TOS) for Larne Port in Northern Ireland and an Information Service for Cairnryan Port in Scotland. As soon as I sign on I will check tidal and weather information for both ports. I will then check our Berthing Calendars for non-ferry arrivals expected in port; if we have something booked it is my responsibility to order the marine services –pilots, pilot boats, tugs and linesman. I will then check radar settings and make sure all my equipment is in good working order. We have two regular ferries which sail Larne to Cairnryan every 3 hours so it is important that I monitor the radar for any marine traffic in port limits. Throughout the day I will communicate via VHF with marine traffic within Port limits. We record all weather/ tidal data for both ports throughout the day. Other duties include maintaining a database of hazardous cargo shipping through the ports, managing port defect reports and answering telephone and email enquiries from shipping agents, as well as liaising with ferry service operations staff. 
How did you get to where you are?
After finishing my A levels I couldn't decide which career path I wanted to take between art and design or law so I decided to take a year out to decide. I had been working as a student customer service agent for P&O Ferries. A colleague who worked in the Freight department recommended that I apply for a freight marshal/loader position that had just been become vacant. Despite being told by just about everyone and possibly even their dog that I would not get the role as it was a male dominated role and not suited to a young girl. (Bearing in mind this was 20 years ago and attitudes were somewhat different!) The role was quay based, 12 hour shifts outdoor in our busy ferry terminal, responsible for the loading of freight ships. To everyone's surprise I got offered the job.
Now I've never believed that gender nor age should determine what you can and cannot do in life so I relished the challenge!  I consequently rolled up my 'oversized' sleeves (men's small as they didn't do female sizes) of my Hi-visibility Jacket and off I shuffled in my none too glamorous rigger boots, pink clipboard in hand.
I won't lie and say it was easy all the time but I loved it, the ever changing environment and the new challenges that came my way. I earned the respect, trust and friendship of my colleagues and peers.  A lot of these friendships have been invaluable in helping me learn and progress in my career, particularly when I started my new role as Marine Officer and had to go back to college to study the nautical knowledge module of my VTS operator's course; having that wealth of knowledge on the other end of a telephone was invaluable.
What do you enjoy doing in your spare time?
I'm really sporty and love being outdoors (preferably near the sea!) with my family and our dog Cole. I enjoy rowing, cycling and stand up paddle boarding. There's nothing better than on a hot summers day when I'm off duty and my son is on his summer holidays heading to the local beach with our SUP's and of course sending a few selfies to my husband who's in a 9-5 position.
The big advantage of working shifts is that it has gifted me the opportunity to train and compete in various sports and travel to competitions all over the world; I recently competed for Ireland at the World Coastal Rowing Championships in Hong Kong, China. My crew placed 11th in the world in our first ever world championships. The experience was amazing!