Lizzie Dykes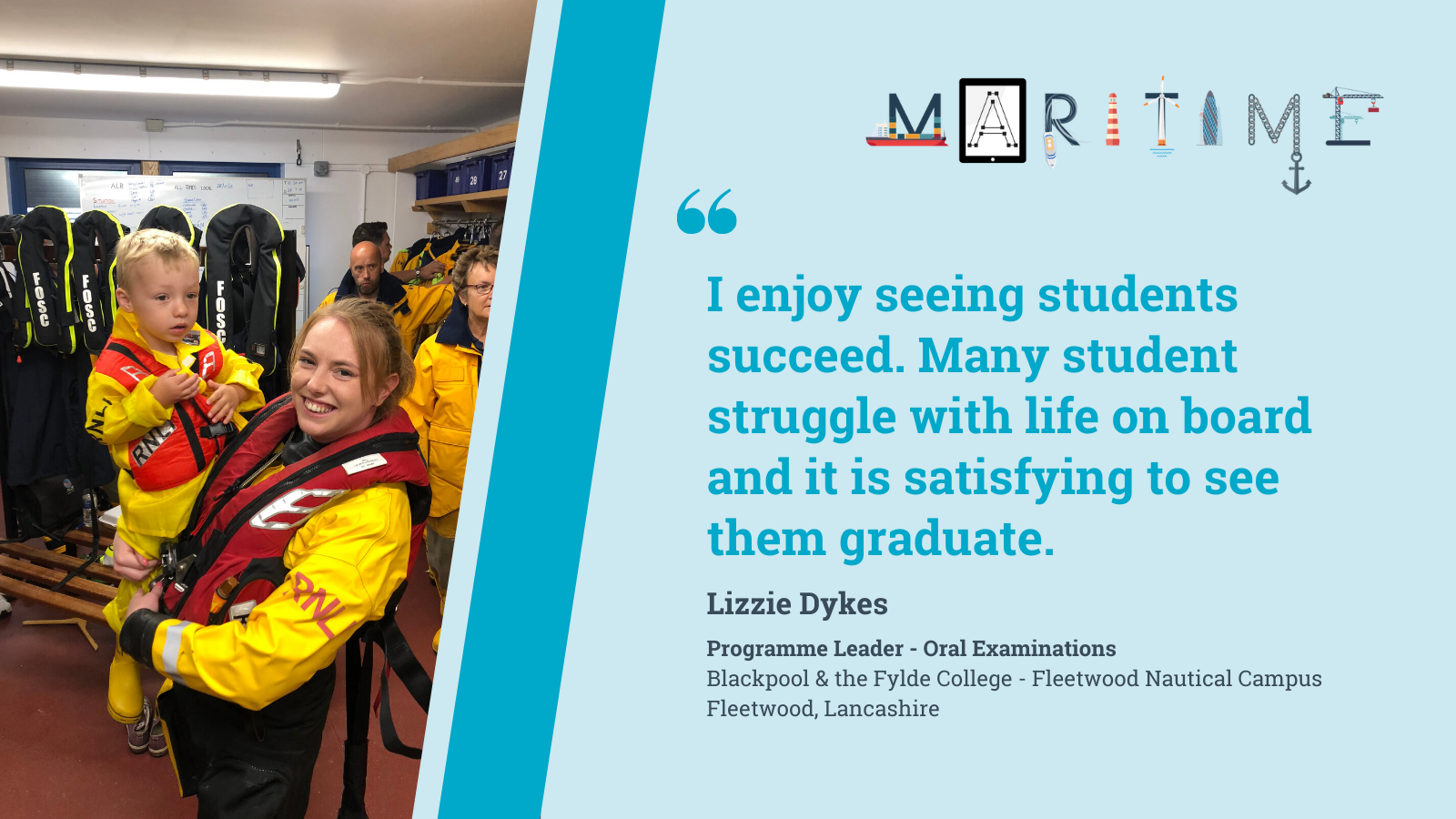 What do you do?
I enjoy seeing the students succeed. There are numerous students here who will struggle either with the academics or life on board. Due to me teaching from level 3 which is the level the start at when they arrive with us, all the way through to their Level 4 HNC, or level 5 FD and then onto their final assessments you get to watch the students develop into an officer and go on and graduate. It is very satisfying to watch someone who has struggled either academically or personally or both achieve their graduation scroll. 
What does a typical day at work look like?
I take my son to nursery and head to work. Log in and check there have been no changes to my timetable
Head to lesson or complete additional work required. I work closely with the MCA within my role as programme leader for oral examinations that might mean a meeting or contacting the MCA for information on student's paperwork or exam slots. I am also continuing work with the oral preparation course notes, which is a book covering all topics that may be asked in a final oral exam.
Another colleague of mine and I are also involved with the Women in Maritime forum we have at Fleetwood. This was set up many years ago and was originally called the female forum. When we became a pilot company for the Women in Maritime Charter we re-branded to sit under the same umbrella. The forum is mainly run by the students who will request different activities such as self-defence, management skills or CV writing. Myself and my colleague will assist the students in setting up the task and will support their choices.
During the day, if my pager goes off for a lifeboat job ("out on a shout"), if I am not teaching/imminently teaching then I will go down to the lifeboat station and return to work once the shout is finished. A lifeboat shout can range from a search and rescue for a missing person, a towing job for a vessel that has broken down or a medical assistance job for someone who is injured.
Lessons can change last minute at times due to staff sickness, so sometimes I may have to quickly prep for a cover lesson. Lessons I teach range from Level 3 to level 5 applied maths subjects (stability, navigation and celestial navigation) to preparation for final assessments both written and oral.
There can also be specific 1-2-1 support that students require, this might not always be in a teaching capacity but potentially organising courses, exams or schedules for the students. Once the work day is complete, head to pick up my son from nursery. 
How did you get to where you are?
I originally wanted to go and work on cruise ships in the children's entertainment department, a teacher of mine then gave me a book about life on board a cruise ships which discussed the role of an officer. From that point that was what I wanted to do.
I came and looked round the nautical colleges and spoke with different companies and once I had finished my A levels I completed the cadetship application forms and waited. I received offers from 3 companies and accepted one from a small coastal tanker company that trades around the UK. I completed my first certificate of competency with them and worked for them for a period of time. I then progressed to work for a larger company that traded worldwide. Once I had enough sea time I came back to Fleetwood to complete my Chief Mates certificate of competency. I then applied for a job as a lecturer here at Fleetwood as I had my son.
After working at Fleetwood for 18 moths I was promoted to programme leader for oral examinations, I was also given a temporary role as Senior Tutor for Support and Guidance. I am now looking after all oral examinations across all 3 department (Deck, Engine and Electro-technical) that we teach here at Fleetwood.
My RNLI career started after I qualified with my first certificate of competency from Fleetwood. I joined as a shore crew member, assisting in launching and recovery of our two lifeboats. I was quickly moved onto seagoing crew. I am now an All Weather Lifeboat (ALB) Navigator on our new Shannon Class lifeboat and a trainee Helm in our Inshore Lifeboat (ILB) in our D-class lifeboat. 
What do you enjoy doing in your spare time?
I can be a bit of a work-aholic, so I don't have too much spare time between a full-time job, being mum to a three-year-old, volunteering as a lifeboat crew member and being the landlord for a small house I rent out. I do enjoy catching up with friends, and spending time outside when possible, especially if there is a lot going on at work - there is nothing like a quick 20-minute walk around the campus or offsite to help fix it.