Marietta Welburn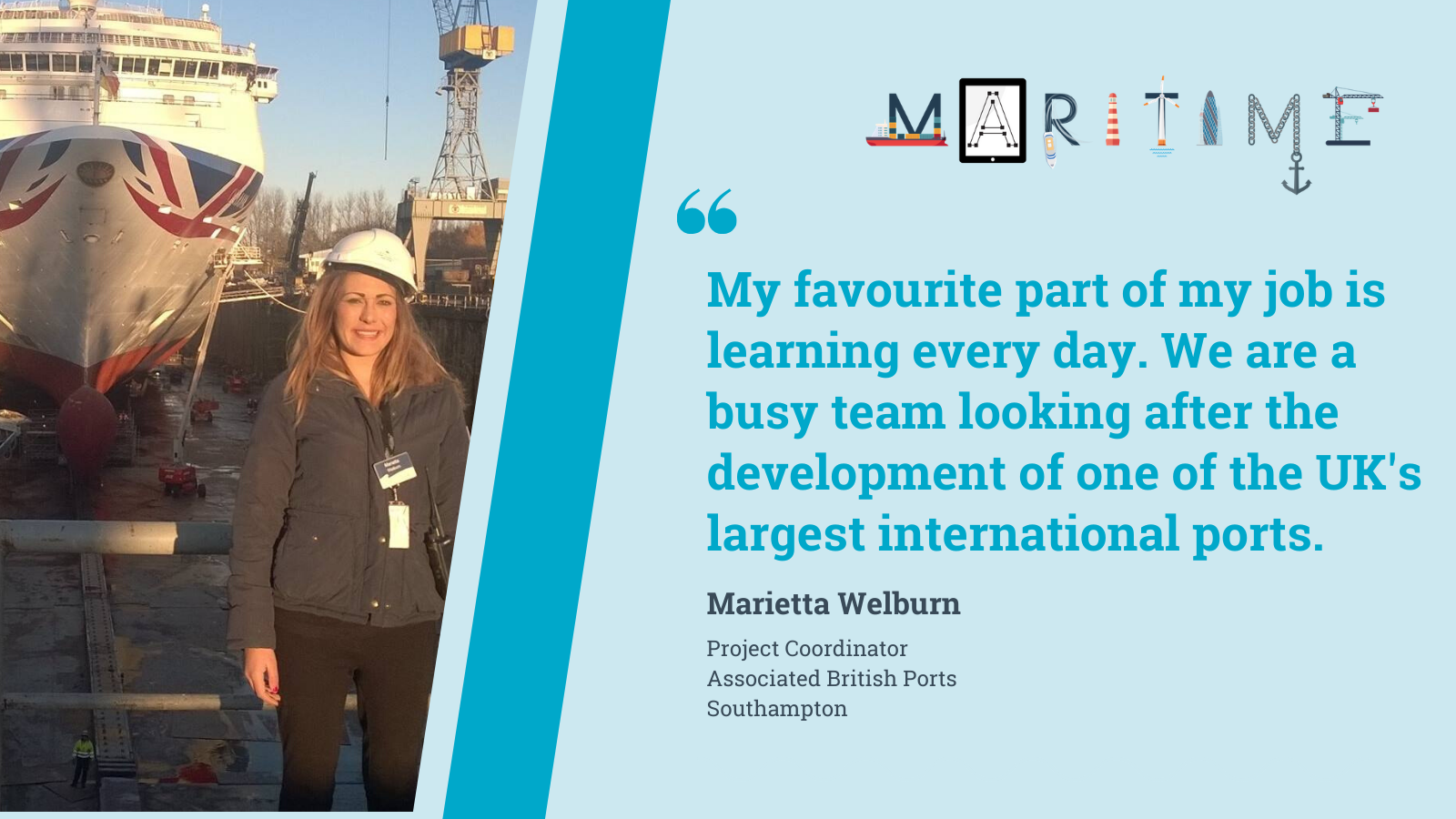 What do you do?
As a Project Coordinator, the main thing I do is help the rest of my team to be coordinated. We are a busy team who look at planning the future development for one of the UKs' biggest international Ports. My daily tasks include scheduling meetings, reviewing documents and chasing up consultants for their work. My favourite part of my role is learning every day. 
What does a typical day at work look like?
I spend a lot of my day in meetings, getting updates from our external consultants. I gather updates from the team, to complete our shared Action Tracker. I make process maps, which help us improve our ways of working. I schedule meetings and prepare briefing notes for these meetings. I build PowerPoint presentations to update internal management. 
How did you get to where you are?
I left school at 16 and started working in Retail and Volunteering at an Oxfam Shop. I eventually wanted to gain a more professional role; but I didn't have the correct qualifications. I needed to increase my employability and started an NVQ Level 2 in Information Technology through my local Job Centre. Once I finished the course, I applied to a Recruitment Agency. They found me a job working for Estee Lauder Companies Head Office. I started in the parcel tracking department and worked hard to move to Corporate Sales. Eventually I was part of the team who launched a new Makeup Artist Membership to the UK Market. I then decided to retrain. I left my job and went to Study an Access to Higher Education at Bournemouth and Poole College. Once I finished college, I then began a Law Degree at Glasgow University. I really enjoyed Glasgow and the Degree course. Unfortunately I became very unwell and had to leave University after one year. Whilst at home recovering, I managed to get a part time job as a Receptionist. As my health improved, I wanted to get back to full time work. I started working for a Cruise Company, helping to run and build the database for a new Cruise Ship. Once the Vessel was built, I applied to work in the Facilities Maintenance Department. During this time, I had the opportunity to travel to Germany, to supervise the Carpet Replacement on the Queen Mary 2. Whilst onboard the Ship, I was asked to shadow the Logistics Manager. When she resigned, I was asked if I wanted to take her role. I said yes. I then managed the Shipyard Logistics for the Refurbishment of 4 Cruise Ships and I really enjoyed it! I travelled all around the world. I then went on Maternity leave and had a lovely baby boy. When I returned from Maternity Leave I decided it was time to learn something new. I applied to work for Associated British Ports. I am really enjoying working for ABP and am learning every day.
What do you enjoy doing in your spare time?
I love spending time with my family and going on day trips. I have a real love for animals, so we often go to the Zoo or the local farm. I am really in to my exercise and enjoy swimming, paddle boarding and being outside. I'm quite spiritual and am grateful for everything positive in my life. I just try to enjoy life and the things which are important to me – don't take life too serious, you can spend too much time worrying about things that really don't matter.