Nathalie Mitchell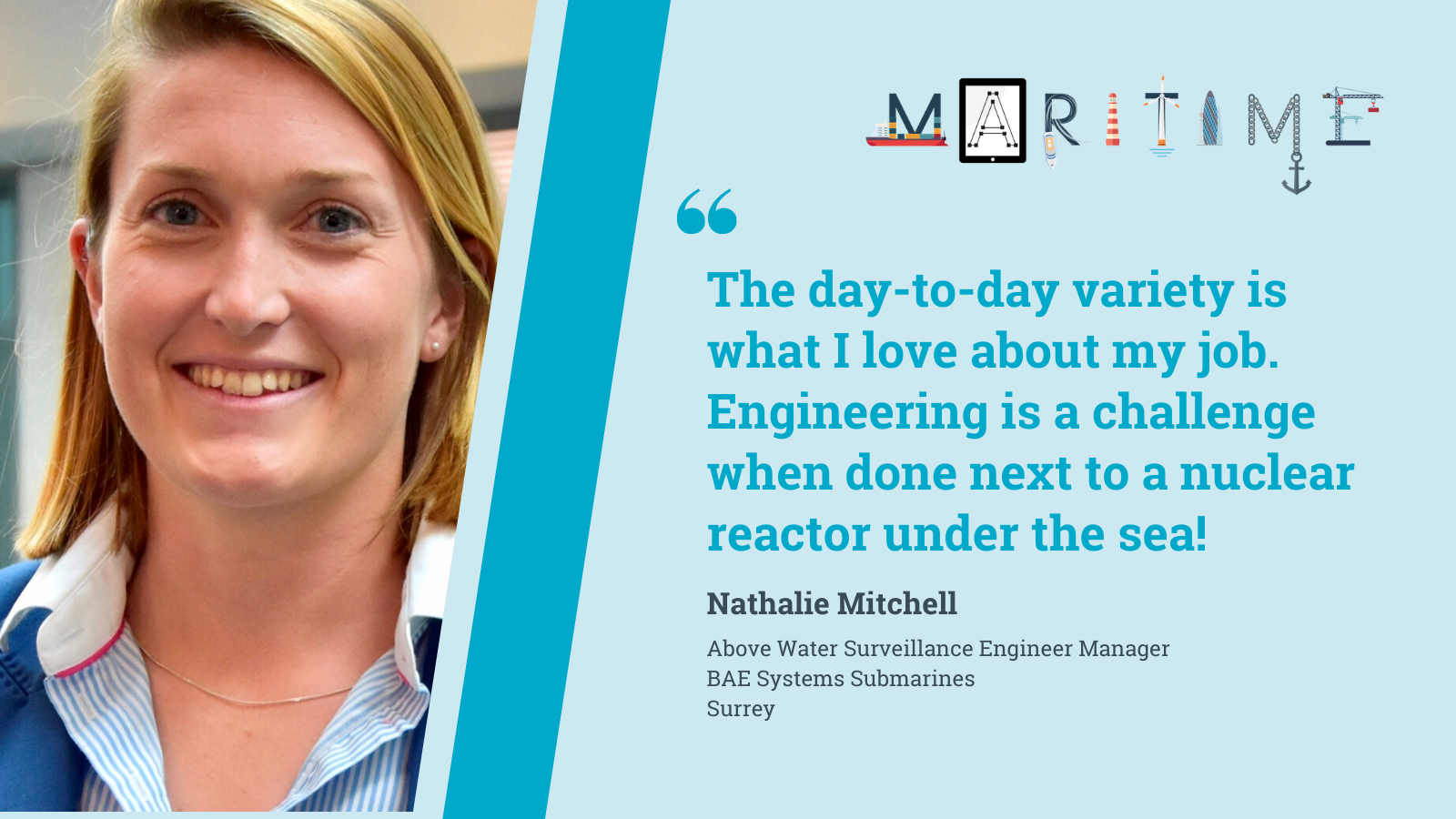 What do you do?
I am responsible for the Above Water Surveillance and Command and Control equipment on 2 different classes (types) of submarines - my role focuses on ensuring the engineering behind these systems is to the correct level, completed on time and results in the correct solution for the customer.  My work contributes to the Continuous At Sea Deterrent - a protection mechanism for the UK that has been running non-stop for the past 50 years. I am extremely proud to contribute to the safety of our country and to be involved in ensuring our Royal Navy is the most advanced Navy in the world. The day-to-day variety and challenge is what I enjoy most about my job, I am constantly learning - engineering is a challenge and it only gets harder when you do engineering next to a nuclear reactor under the sea!
What does a typical day at work look like?
My days at work range from spending time sat at my desk answering questions from around the business on behalf of my team or solving the urgent issues that need to be resolved to wondering around the Shipyard in my overalls. I also spend lots of time at suppliers' sites, ensuring they are designing and building their product to the standards necessary. My favourite days are when I'm in the shipyard and on the boat, solving equipment defects by fault finding or looking back on the original designs. Being a manager, I am also responsible for those within my team, therefore a portion of my day is spent doing management admin (approving timesheets, holidays, expenses) but also speaking to the team on a one-to-one basis and ensuring they are happy, enjoy their job and are getting the adequate amount of training and development to help them succeed in their individual roles. 
How did you get to where you are?
Upon leaving school I liked Science and wanted to become a research scientist and therefore went to study Chemistry and Physics at University. Whilst at University I did 2 internships in Engineering over the summer breaks - I really enjoyed these as they allowed me to practically apply the knowledge I had learnt at school and university to real-world equipment.  
What do you enjoy doing in your spare time?
I love being outdoors - I have done sport for as long as I can remember, representing Great Britain at both rowing and triathlon. Outside work, you'll find me cycling around muddy trials or exploring country lanes. In the winter I love to ski - making use of all my holiday to be on the slopes! Whilst I was on the graduate scheme I set up my own sports accessories company, which has taught me a lot in how to develop products from scratch and how a business runs, both of which I can apply to my day to day job.