Nicky Goldsbrough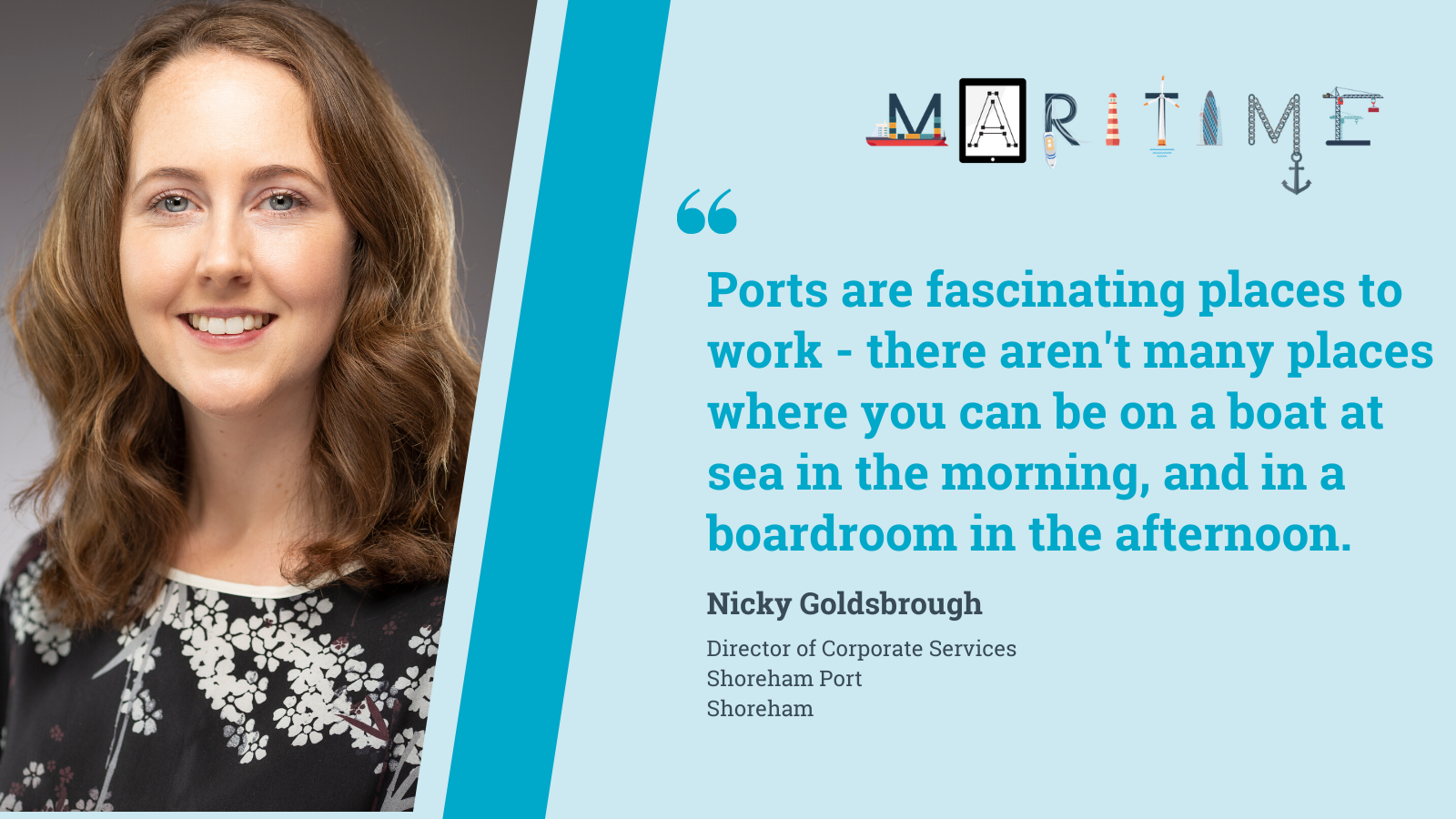 What do you do?
As the Director of Corporate Services, my role includes many responsibilities. The human resources aspect of my roles includes interviewing, all aspects of recruitment, inducting new employees, pay and benefits, payroll and learning and development – for example designing and delivering training. The aim is to ensure that we have the right staff in the right roles, that they are fired up and motivated to do a good job and that they fit in with the Ports values/culture.The communications work is largely digital, ensuring that key messages are interesting, engaging and up to date for a vast range of audiences. This includes working on website copy, on social media and delivering a varied range of events for stakeholders.
 Outside of the day to day tasks, I spend time working on projects at a National level that are important to the port and the industry as a whole. For example, tackling gender equality within the maritime sector, encouraging businesses in the sector to build employment cultures that are inclusive and celebrate gender diversity, at all levels. This work involves public speaking all around the UK, including large conferences. My role is very varied, and it is the variety that I thrive on. I work with great people who are all very passionate and enthusiastic. Ports are fascinating places with lots going on which makes for a great working environment. There aren't many places of work where you can find yourself on a boat at sea in the morning and in the board room by the afternoon. 
What does a typical day at work look like?
My role covers human resources and communications and it's safe to say that no two days are ever the same! It's a broad remit which means maximum variety of tasks and projects. Being organised is essential for juggling a varied role, which involves time planning and strict diary management. A proportion of each week goes on replying to emails – keeping in touch with key people and keeping up to date on what is happening in and out of the organisation. I use a variety of systems in my role such as an HR information system and the back end of our website. Reasonable computer literacy is necessary to navigate these systems. Given the diversity and amount of work, I rely heavily on an excellent team and therefore some of my time goes on developing them, working out what support they need and what opportunities matter to them. We have one to one meetings and team meetings to keep each other up to date. Throughout the week I will have a mix of meetings, time working on my own and working with my direct team and other colleagues. 
How did you get to where you are?
I thoroughly enjoyed my time at University, but this was not essential for the role I am in now. Vocational training and learning on the job have been just as valuable, if not more. Prior to working in the maritime sector, I worked in the agriculture sector, which I also really enjoyed. Every job and piece of work experience/volunteering has helped me get to where I am now. I would encourage everyone to have an open mind and grab every opportunity that comes their way. Working with a great team inspires and motivates me. You spend a lot of time at work, so it's important to enjoy it – for me that's working with great people and for a company where I believe in their vision.  
What do you enjoy doing in your spare time?
I enjoy being in the great outdoors and spend a lot of time camping, cycling and walking. I also love sea swimming – but not at the Port!