Pressiana Naydenova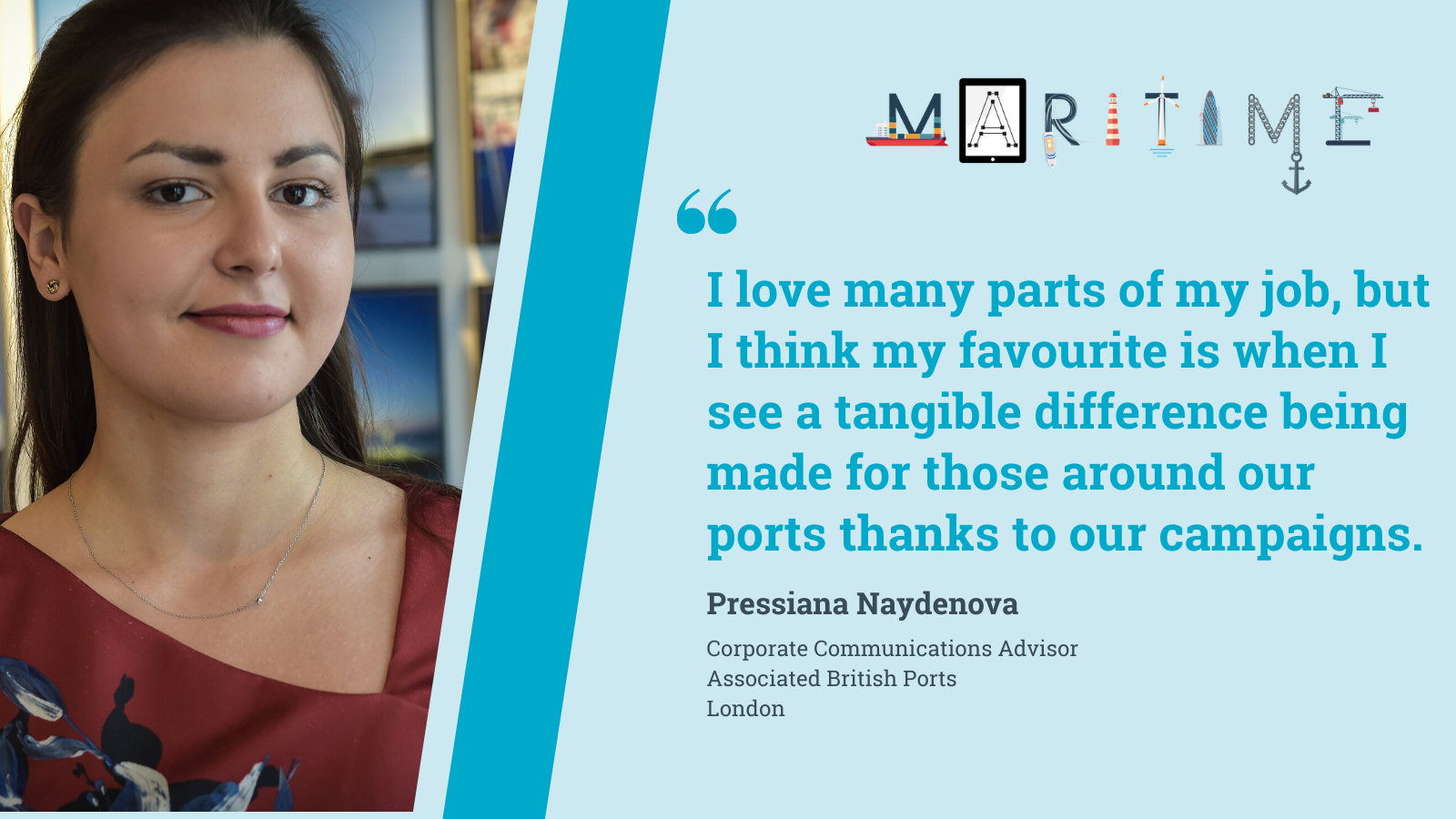 What do you do?
My primary role at ABP is reputation management, or in other words, making sure that all internal and external stakeholders (from customers and local community members, to the media and the government) have a positive opinion of ABP. I enjoy a lot of elements of my job, from research to writing and conceptualising designs but I think my favourite moments are those, when I can see a tangible difference being made to the lives of people living in and around ABP's ports, thanks to a campaign organised by my team. A good example of this is a short story competition we ran to mark the 150th anniversary of the Port of King's Lynn in 2019. This was organised in partnership with the local newspaper, Lynn News, and True's Yard Fisherfolk museum and was open to schools in the area. The competition encouraged school pupils to write excellent stories about the sea and seafarers, thus raising awareness around maritime and building positive relationships between important community partners and ABP. It was really rewarding seeing how happy the winners were to be involved and it was fantastic to see the regional team and port manager taking the lead and really making this project a great success.    
What does a typical day at work look like?
My typical day involves many varied activities, which makes a career in corporate communications a great choice for people who enjoy performing a wide range of tasks as part of their work using a wide range of their skills. It could start off with planning communications and marketing campaigns in Excel, and take a sharp turn if a press enquiry that requires an urgent response, comes in. I also often draft copy for press releases and thought leadership articles, edit ABP's thought leadership magazine, Report, plan events with partner organisations and manage the company's social media channels. There is also the hands-on element, which involves travelling to different locations for photoshoots and filming. Overall, there is rarely any repetition day to day, which makes for an exciting and intellectually stimulating career journey. 
How did you get to where you are?
My route hasn't necessarily been a classic one when it comes to how people start working in PR. While I have always enjoyed writing and creative activities such as drawing, photography and visiting art galleries, for a long time growing up, I wanted to be a journalist. I wrote for the school newspaper and was in awe of investigative reporters, in particular their power to expose injustices and affect positive social change. When I chose to study politics at University, I did so because at that point I dreamt of becoming a globe-trotting foreign correspondent. Indeed, I learned a lot about the world and quality research during my studies, which now helps me in my role in corporate communications. After that, I worked at a couple of different places and was exposed to the world of PR and it really inspired me, as it provided the perfect mix between planning, writing and coordinating. At that point I still wasn't sure whether I wanted to specialise in media relations or public affairs, which is why I completed an MSc in Politics and Communication at the LSE. There I learned more about both disciplines and found my happy medium – corporate communications. By working for a business, I realised that positive social change doesn't necessarily have to come from the pressures of public opinion – it can also come from within the organisation, which often has resources necessary to be able to support very worthwhile causes. 
What do you enjoy doing in your spare time?
I like to watch independent films and read books that make you see the world from a different perspective. The more different from my own and the more thought-provoking – the better. I also like reading biographies and memoirs because they contain a lot of lessons about life and how others choose to live. They are a reminder that we all have a unique style and understanding of our surroundings. 
Other than that, I enjoy spending time with my wonderful husband, friends and family, whether it's on the couch watching a film, sightseeing, skiing or swimming.