Rachel Nicholls-Lee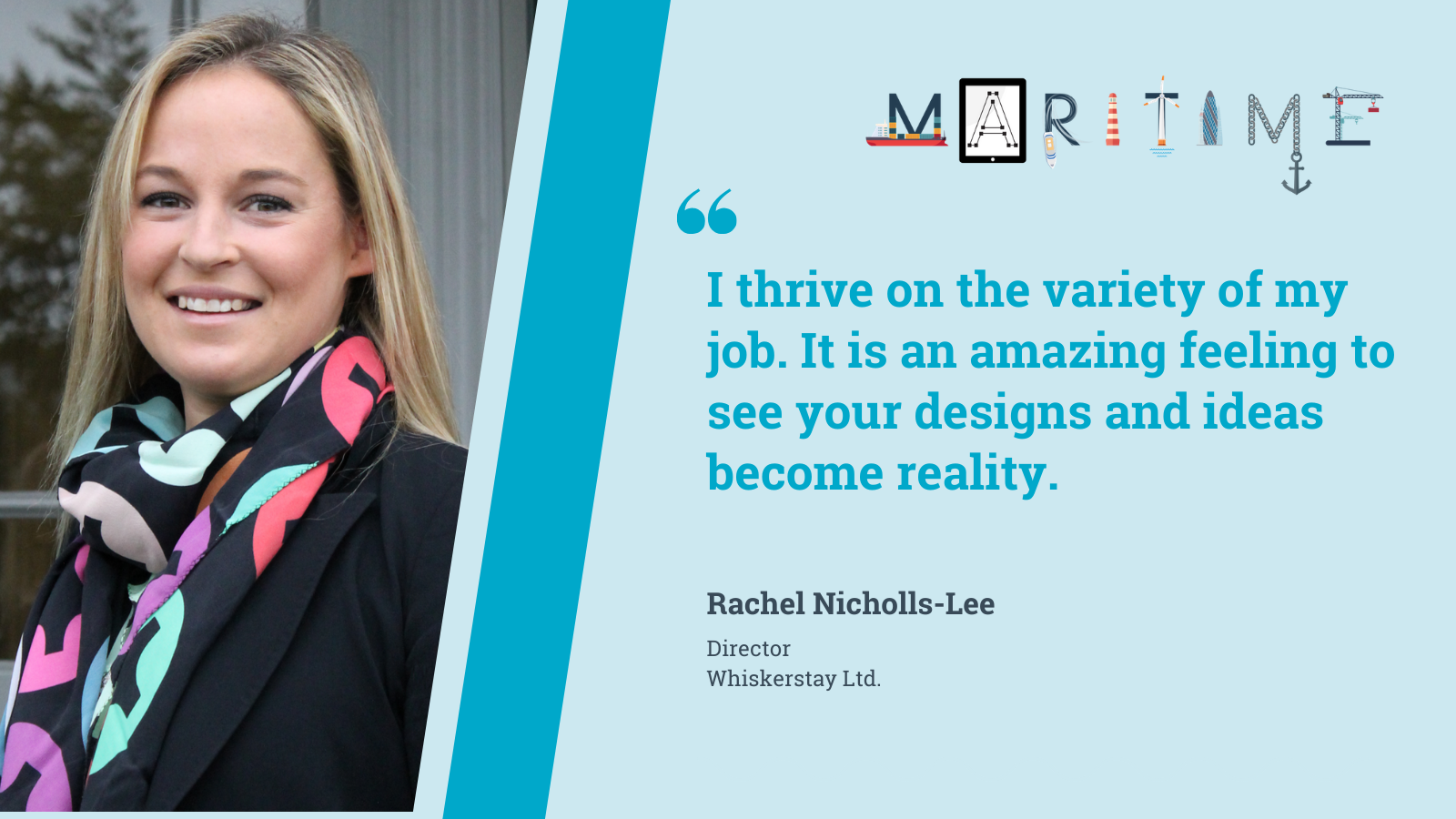 What do you do?
I'm the owner of my own naval architecture consultancy company. I work either from my office at home or travel to different companies and work in house where required. The work varies from day to day, with design projects using 3D design software, and maths and physics skills one day to project management the next. Jobs can be anything from a stability analysis of a vessel to ensure it will float upright and level with the load and planned work schedule, through experimental tank testing and analysis of a wave energy converter, to the full design of a novel vessel. I thrive on the variety of jobs and it keeps me focused. It's an amazing feeling seeing my designs and ideas become a reality. I also undertake a variety of voluntary roles and am on the Board of two companies, Cornwall Marine Network and the Institute of Marine Engineering Science and Technology, where I work as part of a team to help the core workforce at each company with policy making and planning decisions. I am an active member of the Devon & Cornwall Joint Branch of the Royal Institution of Naval Architects and Institute of Marine Engineering Science and Technology where I work with a team to organise talks and events across both counties to promote marine and maritime awareness. As part of this I am also a professional review interviewer for both institutions and I undertake interviews for candidates applying to become Chartered or Incorporated Engineers to assess their experience and professional competence. I also do quite a bit of outreach work with local schools and at events undertaking talks and also activity days, for example designing and building radio controlled cargo ships and racing in them in the school swimming pool with Year 8s as part of International Women in Engineering Day.
What does a typical day at work look like?
A day for me varies as I take on a huge variety of different projects. One day I could be project managing and the next day I could be making model boats in a school to promote engineering to the next generation, the next I could be testing model scale renewable energy devices in an experimental facility, or even offshore on a big vessel helping install 250,000kg of tidal turbine in the ocean! Typically, when I'm in the office, my day starts with checking emails – making sure I'm up to date with clients and projects and then compiling a to do list for the day. I usually then do a bit of company admin, this could be inputting financial information into my accounting software or updating the website or even just filing! It all needs doing and is a good tick off the to do list. Then I get stuck in to a project for the morning – this could be design work for a new vessel, or using my maths and physics skills to analyse some tank test data for a new device, or doing CAD drawings to send to a shipyard for construction of a new boat. At lunchtime I will usually take my border collie for a good run on the beach, which gets me out and about too, and then it's back for a quick bite to eat and another check of my emails and updating the morning client on progress. Then it's into the afternoon project. This may be a continuation of the morning work, though will depend on deadlines and also management of the various project time frames. Towards the end of the day I will check my emails again, and probably have a look through the news on LinkedIn and Twitter and if I see a really interesting article, I will share that with my peers. I try to work 'normal' hours as a rule (9-5) though sometimes deadlines will loom and I will need to do a few more hours. Though, as I run my own company, this also goes the other way and some days I can knock off early in the middle of the week if I'm on top of all my projects and head over to the north coast of Cornwall and go surfing!
How did you get to where you are?
I have loved being on and in the water ever since I can remember and when my careers advisor at school suggested naval architecture I thought it would be great as it combined the subjects I was good at and enjoyed (maths, physics and art) with my love of the sea. When I left school, I went to the University of Southampton and did a degree in Ship Science, where I learnt all about designing boats. I worked as a junior naval architect in two yacht design offices after leaving university, one specialising in superyachts and the second in smaller craft. I got to work on aspects of superyacht, racing yacht and leisure boat design. I also got to assist with the refit of one of the little ships of Dunkirk which had a fascinating history and one I'm proud to be able to say I've now played a part in. In 2006 I returned to University to do a PhD looking into developing a shape changing blade for tidal turbines to enable them to capture more power. This involved computational modelling and experimental testing both in the laboratory and open water. I then did a Research Assistantship as part of team developing a novel deep sea heavy lift system. After a trip to New Zealand as part of the 2012 Marine Energy Mission, I left academia and moved to Cornwall to join a company specialising in developing, testing and installing offshore wind, wave and tidal energy devices of all sizes and stages of development. It was really exciting to be part of pushing the boundaries of the renewable energy world and see massive tidal turbines being installed in the ocean, plugged in and generating electricity. After 3 years I then left and started my own naval architecture consultancy, Whiskerstay. This has enabled me to combine the skills I learnt through both marine renewable energy and yacht design to produce novel solutions to problems in the maritime industry and also design some really cool boats – not least an autonomous (unmanned) trimaran to cross the Atlantic!
What do you enjoy doing in your spare time?
I am a very active person and love getting outside doing a range of sports and activities. I am often found surfing, windsurfing, sailing and stand up paddleboarding around the coast of Cornwall When I'm not on the water I'm usually off adventuring with my dog, Roo, who is a border collie and therefore super active and intelligent – we travel around the UK climbing hills, swimming in the sea, walking the coast path, sailing on my yacht and generally having a great time. She has been known to come out surfing and paddleboarding with me too! I also love rock climbing and mountaineering, and my main ambition at the moment is to climb each of the seven summits of the world – Kilimanjaro, Elbrus, Aconcagua, Vinson, Carstensz Pyramid, Denali and Everest. I travel the world quite often for both work and pleasure but always try and incorporate my hobbies into work trips too. I've been to New Zealand, South Korea, Hong Kong, Hawaii, Russia, France, Germany, the Netherlands, Tanzania, Brazil and Belgium to name but a few places that my work and hobbies take me. On quieter days I enjoy reading, painting and playing the piano. I also do nearly all my own DIY so have recently installed decking in my garden and a new kitchen. It definitely provides a great sense of achievement to be cooking in a kitchen I installed.