Sam Belfitt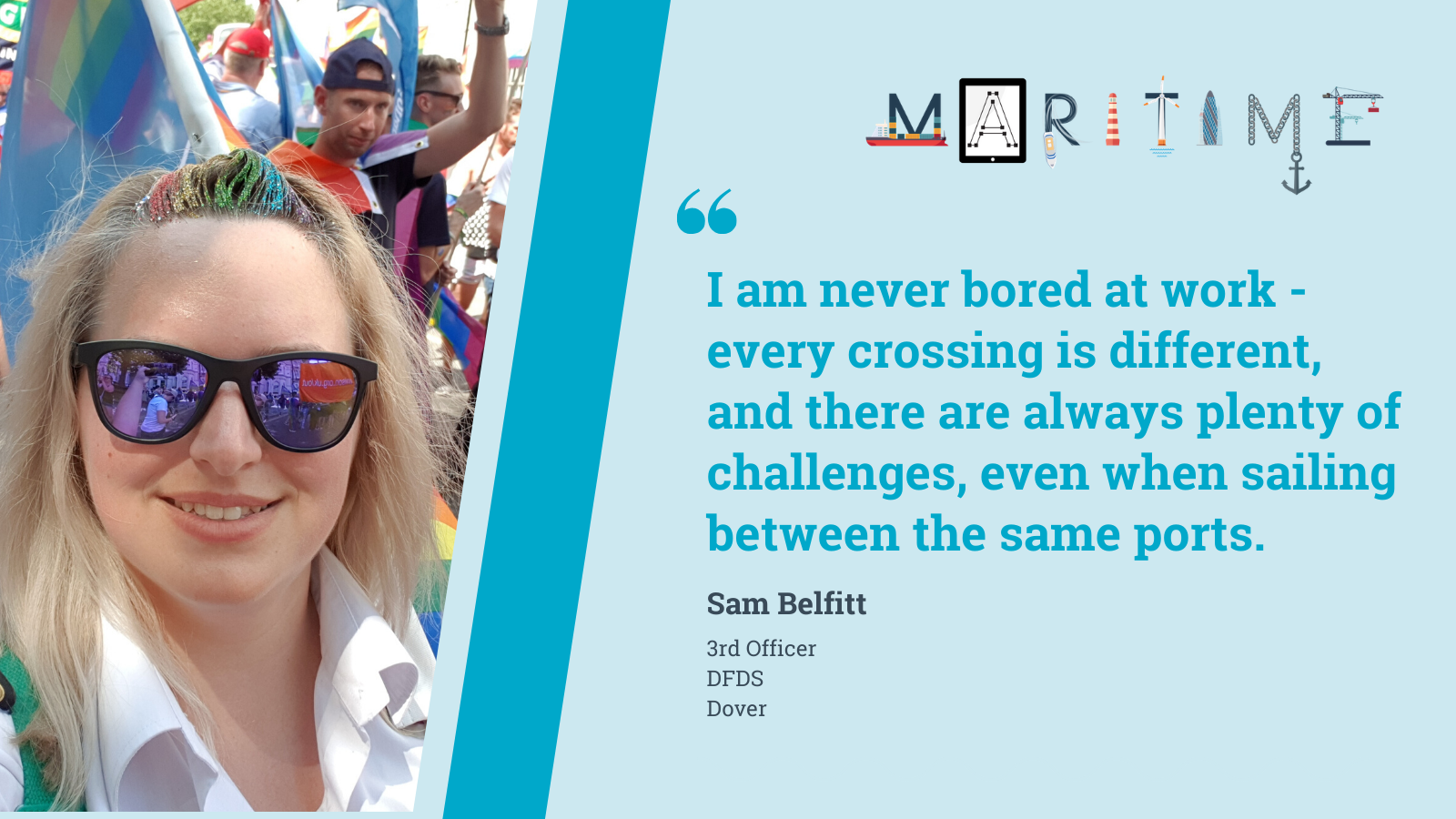 What do you do?
My main duties consist of the navigation of the vessel between ports, loading officer in port, maintenance of vital ships equipment relating to safety, emergency equipment and training. I love the variety my work brings. I am someone who gets bored very easily and I really like how I am constantly doing something different every day. Every crossing is different even though we go between the same ports and there are always plenty of challenges. Much of my work is hands on and the other great thing is that while there are deadlines and certain things I have to do at certain times, much of my ancillary jobs I can manage myself and do in my own time and order. 
What does a typical day at work look like?
We work 12 hour shifts and this can be 6am-6pm, 6pm-6am or 10am-10pm. A typical day as any other, I get up, shower, iron a shirt and get my breakfast, which is prepared as a buffet in the crew mess. I then find my colleague to catch up with what has happened on his/ her shift, usually with a cup of tea. Depending on where we are, I will the start, my shift with either driving the ship or loading if we are in port. This week I start with Loading in Dunkirk. I am the Loading Officer in charge of loading freight and cars across 2 decks. I am the person who points at what lane I want the car to go in on the car deck. I have to liaise with my crew, my Chief Officer and the shore staff with 2 radios and it can get confusing! Although it probably doesn't look like it, there is a method to the loading as I have to ensure the ship is stable at all times and when we sail. Once loading is completed, we sail and I head up to the Bridge where I take over from the Captain and drive the crossing to Dover. It can be difficult as the Dover straights are some of the busiest waters in the world. During the crossing, I have to assess the traffic situation and apply the 'rule of the road' but also maintaining the ETA and doing all the communications to the port control. On the Bridge, it is just me and the Quartermaster to assist me. The crossing take approximately 2 hours and just before arrival, the Captain takes over and I go down to the mooring station to give distances while the Captain berths the ship. I am in charge of the mooring station during the mooring operations but I perform more of a supervisory role and communications while the crew do the physical work. I then do the Loading as before but the ship is now the opposite way round. After 4 hours watchkeeping (driving and loading), I then get relived by a colleague and I have 4 hours to complete my Planned Maintenance. Each of us 3 Officers have a sphere of responsibility: Life Saving Appliances (LSA), Fire Fighting Appliances (FFA) or Navigation (Nav). My sphere is LSA which includes lifebuoys, lifejackets, lifeboats, liferafts and rescue boats. I have weekly and monthly checks, inspections and maintenance to perform. Our lifeboat and rescue boat engines need to be run weekly and we have 4 boats to do this on. I also need to check all the davits and grease if necessary. Currently I am in a process of refurbishing all the lifebuoys as they were starting to look a bit dirty and old on top of my usual checks. After 4 hours, I then relieve my colleague and do another 4 hours watchkeeping. It is very tiring, especially if the weather is bad or like today when it was raining and I got soaking wet loading the cars in the rain.
How did you get to where you are?
My current role at DFDS I got through a friend I met on a career development course when I was taking my next set of examination to upgrade my licence. I have worked as a 3rd Officer, 2nd Officer and 1st Officer of various different vessels including cruise, ferry, cargo, container and even a hovercraft! But almost everyone starts this career doing a cadetship which is similar to an apprenticeship where you study in college for your Certificate of Competency and also do on the job training. This training course is fully sponsored by a company. I did mine deep sea on large container ships and I visited some amazing places! This is a career I really enjoy but I hadn't even considered doing it in the first place. I wanted to be a pilot and I studied Aviation at university. When I graduated it was the slump of the economic crash and it was difficult to even get a job in a supermarket stacking shelves. My dad suggested it and even filled in the application for me. The next thing I know, I was at the interview for my cadetship and just a few months later I started at ship school. I figured worst case was that it would tie me over for the next 3 years while the job market got better. Little did I know, I love the job and the industry.
What do you enjoy doing in your spare time?
My job is great as I only work for half the year. I currently work 2 weeks on/off so I have a lot of time to hang out with friends and family. Since I spend time away, I like to use my time to catch up with friends even if it is just staying in with a take away and a movie. I also do a lot of volunteering as I am a Careers at Sea Ambassador which involves talking to schools and groups about careers in the Merchant Navy. More recently I have also taken more responsibility within my trade union where I have been the Chairman of the Young Maritime Professionals Forum and I was recently elected to the council. When I am not doing any of these speeches and attending meetings, I love to just relax at home with my boyfriend and our cat and watch Netflix or play video games.