Santa Tetere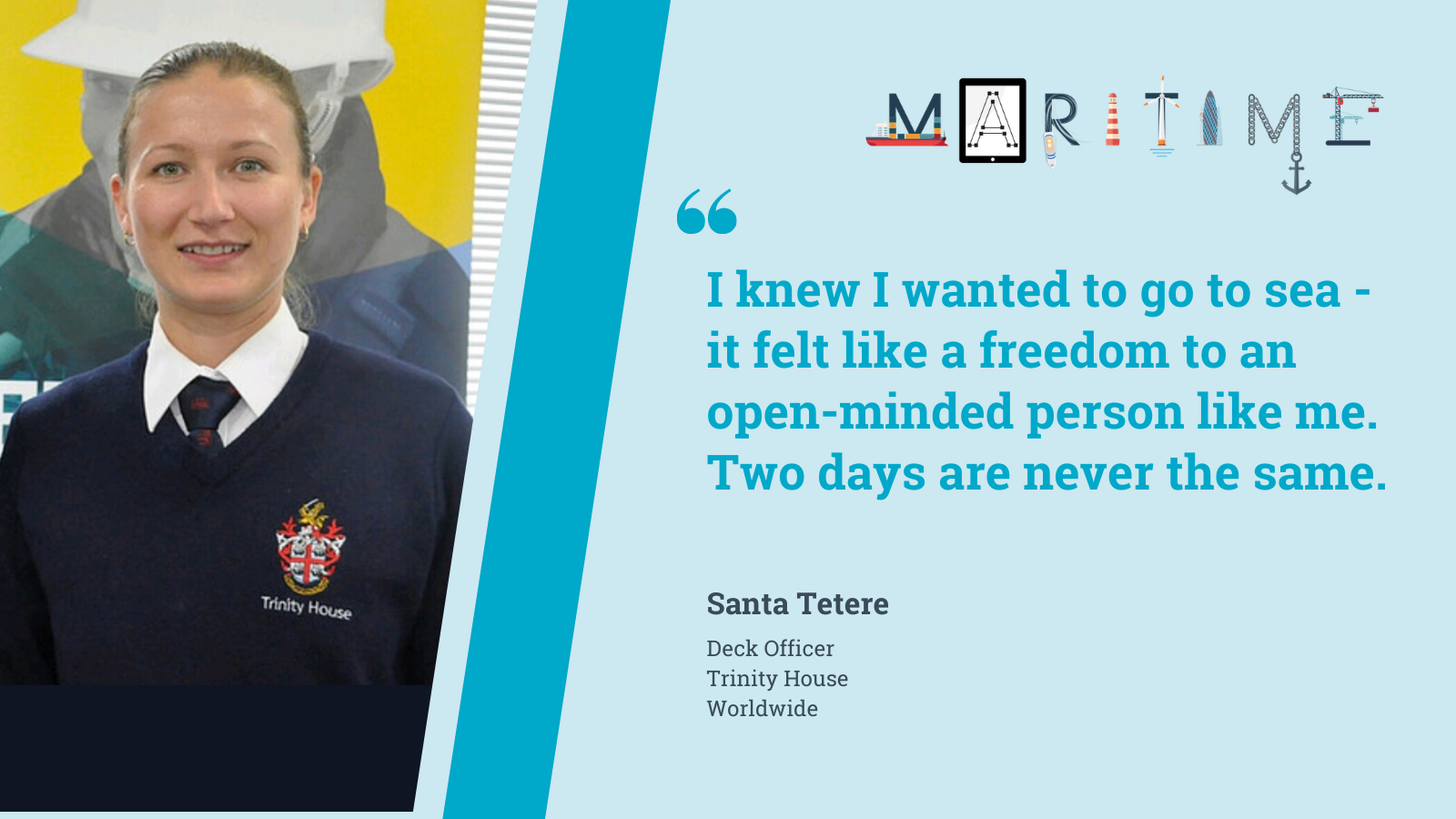 What do you do?
As a Deck Officer, two days are never the same. The tasks you have and how colourful the day depends on the vessels operations, whether it is in port loading or discharging, or at sea, where you can observe spectaculat sunsets and sunrises and looking at the stars while completing your tasks.
What does a typical day at work look like?
The working day consists of two four-hour watches of navigation on The Bridge, following the international collision regulations and making sure that the vessel, crew and the cargo are safe, avoiding collisions, groundings and maintaining the safe distances from navigational dangers. My work also includes Life saving appliances and fire fighting equipment inspections and maintenance to make sure that the vessel complies with all the necessary regulations.
How did you get to where you are?
I knew, I wanted to go to sea, it felt like a freedom for open minded person like me, not sitting in the office. I started my time at sea as a stewardess on different ferries, where I grew significantly, being ambitious and constantly striving for new targets to complete and to improve my knowledge and the work culture. I always wondered how it is to be on The Bridge, to be in charge of the vessel's navigation, to be a bigger part of day to day life on the vessel. Nearly 8 years later I took a chance and I do not regret a day throughout my study years, where I met some incredible, like minded people of whom some is the friends for life. The industry is full of opportunities if we want to risk and be a part of it, it's rewarding, seeing that a women can be in the industry which for decades been considered as men only opportunities.
What do you enjoy doing in your spare time?
Travelling is a very big part of my life. I always liked travelling and now, I'm lucky enough to achieve it through my work as well as in my free time. I'm due to work for four months and have three months completely free. I only have few more countries to visit before I tick my travelling bucket list off. On the time off work I do spend quality time with family and friends visit theatres, concerts, festivals.