Sarah Crawford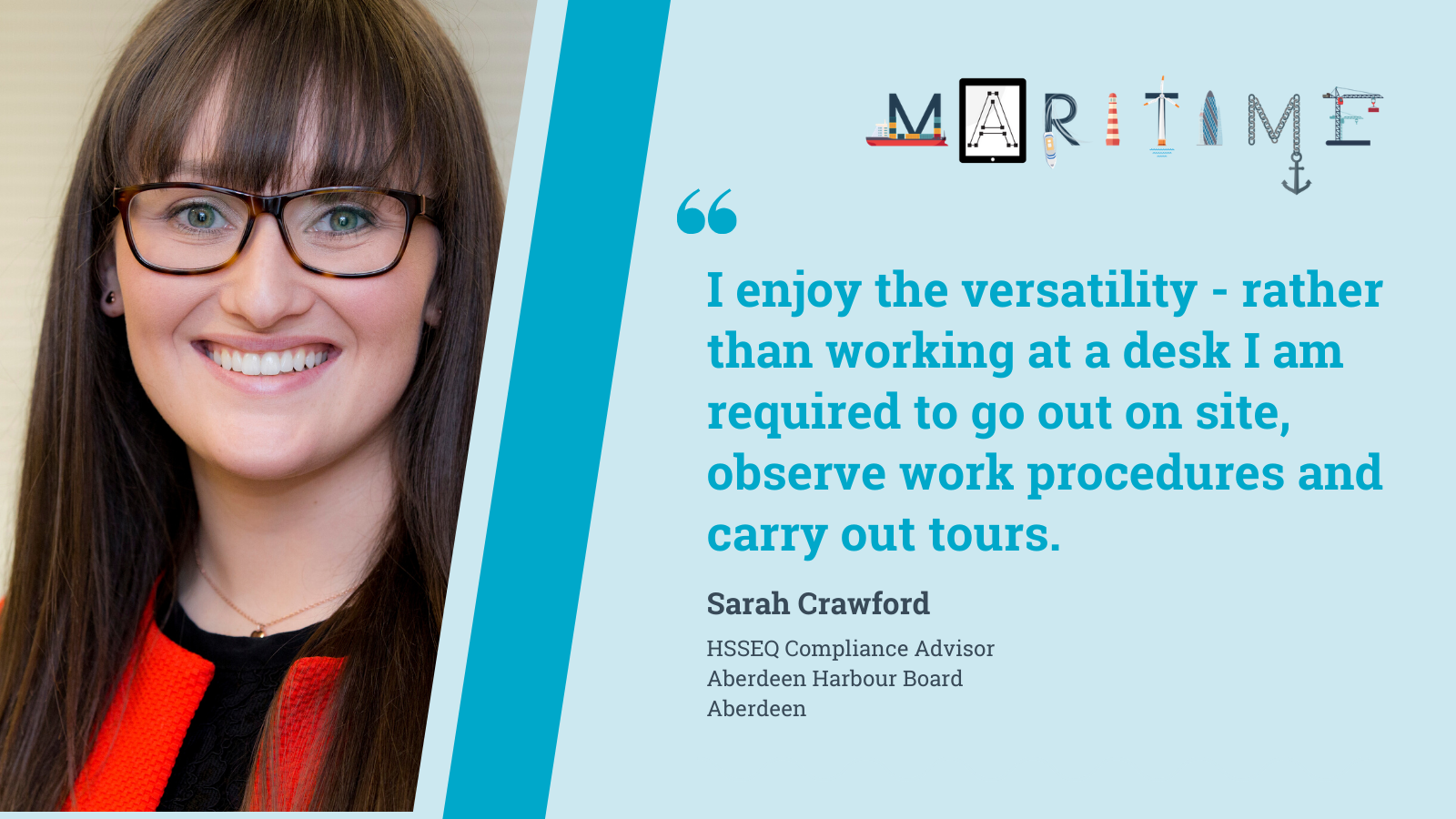 What do you do?
The thing I enjoy the most about my role is that its very versatile. Instead of being only a desk job, HSSEQ Compliance requires for me to get up and about on site, observe and analysis works procedures and carry out tours. This means that I can carry out a variety of tasks all in a working day. It also means that I get to work with many colleagues from different disciplines within the organisation, it may be that I need to communicate with the Marine Department, Operations Department, Finance Department or Engineering Department (to name a few) therefore I am always learning and understanding how the different departments liaise to ensure the success of the company as a whole. I am very lucky to have great relationships with colleagues who are all very friendly and helpful which makes coming to work more enjoyable.
I think having complete my degree then going on to start a career with growth prospects is very rewarding in itself but I'm a great believer in only striving for a career in something you enjoy and I enjoy knowing that with my hard work I am helping to ensure my colleagues can go home to their families at the end of their working day safe and well.  
What does a typical day at work look like?
Day to day activities vary dramatically depending on operational requirements. I am responsible for updating our Integrated Management System with documentation as and when required. This includes liaising with contractors, coordinate and manage safety tours, hosting meetings, carrying out compliance reviews and completing Risk/COSHH assessments. It may be a risk assessment for something small such as loading the printer with paper, to something more hazardous such as working at height or confined spaces.
Sometimes accident investigations may be required. Such investigations are carried out to establish a root cause for the accident/incident in question. This involves producing a report which provides a description of the accident/incident/ relevant images, training certificates, witness statements and root cause analysis before ending with conclusions and recommendations for mitigation.
In addition, my role requires me to assess the company training matrix to ensure we have competent personnel carrying out all task safely and in line with recommended legislation, guidance or best practise this means that I may need to book refresher training with reputable companies or carry out in house training for things like defib familiarisation training and toolbox talks.
Also included in the responsibility of being a HSSEQ Compliance Advisor is the sharing of safety flashes/guidance/information that may be beneficial to port users. This is in line with our commitment to the Port Skills and Safety Sector Plan. These are normally communicated via email therefore a key understanding of the importance of tone and language when sending an email is essential.
Furthermore, I am responsible for collecting and analysis the safety, health, and environmental data we receive through our safety observations reporting cards. These cards are filled in by employees and reported back to the compliance department daily. The data we receive is used to identify trends, weaknesses, and strongpoints in and around the harbour estate and they cover categories including but not limited to behaviour, noise, waste, pollution, slips trips and falls and PPE. I analysis the report card, escalate it if need be or assign actions if required. My main daily duty is to maintain ISO 14001 and 45001 accreditation thorough leadership and continual improvement. 
How did you get to where you are?
Whilst at university I was keen to gain hands on experience in the working environment. I was advised that employers look for experience therefore, during my summers I carried out 3 workplace placements.
The first was for Marathon Oil gaining valuable experience in the oil industry dealing with commercial agreements. This gave me confidence working in an office environment. The second placement was with Centrica Energy where I was part of a student programme and in my third year at university I had developed an interest for employment law and so I become an employment law assistant at Arch Henderson where I was responsible for the reconstruction of the company employee handbook ensuring it was up to date and in line with current legislation. This allowed me to put university knowledge into practise.
Following on from this I then gained a job opportunity with Aberdeen Harbour Board carrying out general administrative duties whilst completing my honours year at university. I worked two days a week carrying out general office activities. This position gave me a great steppingstone for when I graduated from university.
My initial intention was to try and get a position in the Oil and Gas industry however at the time when I graduated it was right in the middle of the oil and gas down turn and no job opportunities were available in the Aberdeen area. I had however taken an interest in safety during my Health and Safety honours module. It was therefore perfect timing when a position for a Compliance Coordinator at Aberdeen Harbour become available. The initial position was to help the compliance manager coordinate SHE tours, safety meetings and help maintain the ISO accreditations. My university knowledge was extremely helpful in transitioning to the real work environment, but I was still keen to complete my NEBOSH General Certificate and IEMA Associate qualifications to give me a better understanding of safety. This was fully supported by the Harbour Board and upon completion of these qualifications I was given more responsibilities and soon gained a promotion to HSSEQ Compliance Advisor. I am still very passionate about continual improvement and I am currently trying to further my education by completing my Diploma in Applied Health and Safety. 
What do you enjoy doing in your spare time?
In my spare time I play football for Deveronvale Girls and Ladies FC competing in the SWFL Division 1 North League. I also instruct a Highland Hustle class which is a dance-based fitness class incorporating Highland and Ceilidh Steps to modern music. Its fun and energetic and something I am very passionate about.