Sophie Appleby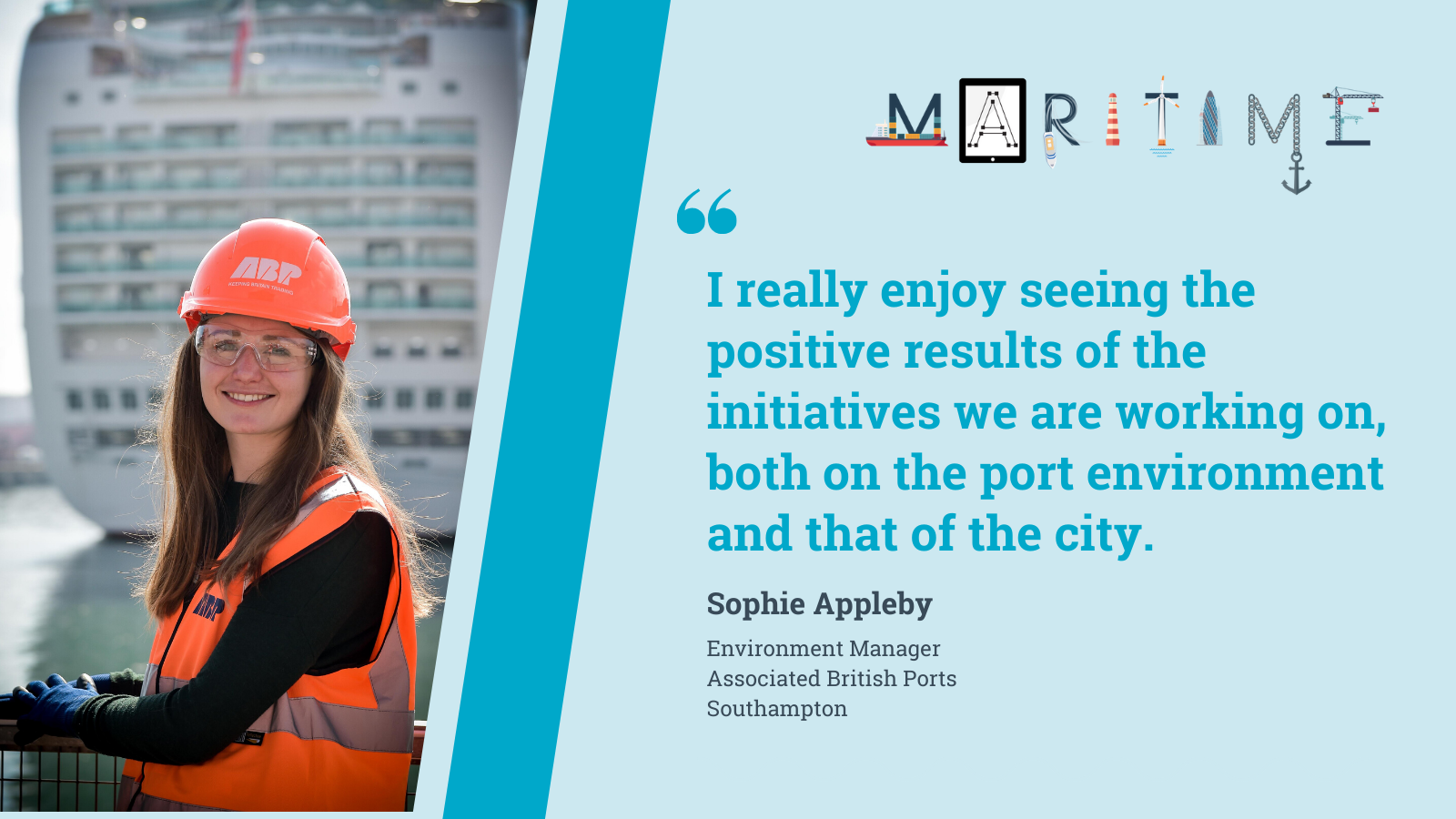 What do you do?
As Environment Manager I work alongside Health and Safety and Security, to form the Compliance Team. It is our job to make sure we are working responsibly and most importantly looking after people and the environment. The main outcomes of my work are to measure our environmental performance and put in place plans to improve this. It could be a project to improve air quality or delivering environmental training when we have new members of staff.  I really enjoy seeing the positive results from initiatives that we're working on. For example, through monitoring our energy management processes and implementing changes, we managed to reduce the electricity used in our cruise terminals by more than 10% last year. We've also installed solar panels across the port buildings and in total we generate enough renewable energy to power 400 homes!  Knowing the work we do has an impact on improving the environment for the port as well as the city is really rewarding. 
What does a typical day at work look like?
There really is no typical day! My day to day priorities are focused around ensuring that operations are being carried out in an environmentally responsible way – from waste management, to delivering air quality initiatives and monitoring our port energy management system.  I help to provide advice to colleagues to make sure we are working as sustainably as possible. This might mean carrying out site inspections to check that we are storing oil and waste appropriately or it could be preparing data on our fuel usage.  On other days I might be reviewing our procedures and delivering training, it really is very dynamic.
How did you get to where you are?
I joined Associated British Ports on the Graduate Management Scheme in 2015 and spent one year gaining operational port experience in ABP's Humber ports.  In 2016 I worked on the Green Port Hull development project, which is a new port development for the manufacturing and export of offshore wind turbine blades. This gave me an introduction to environmental management and stakeholder engagement and was my first management position. I was responsible for managing all of the environmental surveys – everything from birds to water quality to the construction waste – and reporting back to regulators such as the Environment Agency and the Council to demonstrate that we had met our obligations. On completion of the project in 2017, I joined ABPmer, which is a marine environmental consultancy owned by ABP, as an environmental consultant. I continued to manage a portfolio of environmental survey work that I had started in Hull as well as picking up new projects to increase my knowledge and skills – from biosecurity assessments to environmental permitting.   In 2018 I joined the Port of Southampton as an Environment Manager on secondment and have continued to develop this role over the past 18 months.
What do you enjoy doing in your spare time?
In my spare time I love being outdoors and seeing new places, and for me there's nothing more relaxing than taking my dog out for a long walk or joining friends for a cycle in the fresh air. When I take a holiday it tends to be something active – skiing in winter and sailing in summer.  I've been able to bring some of my interests at home in to work, for example working with the Council on sustainable travel initiatives, promoting workplace cycling and organising local beach cleans.