Zuzanna Feline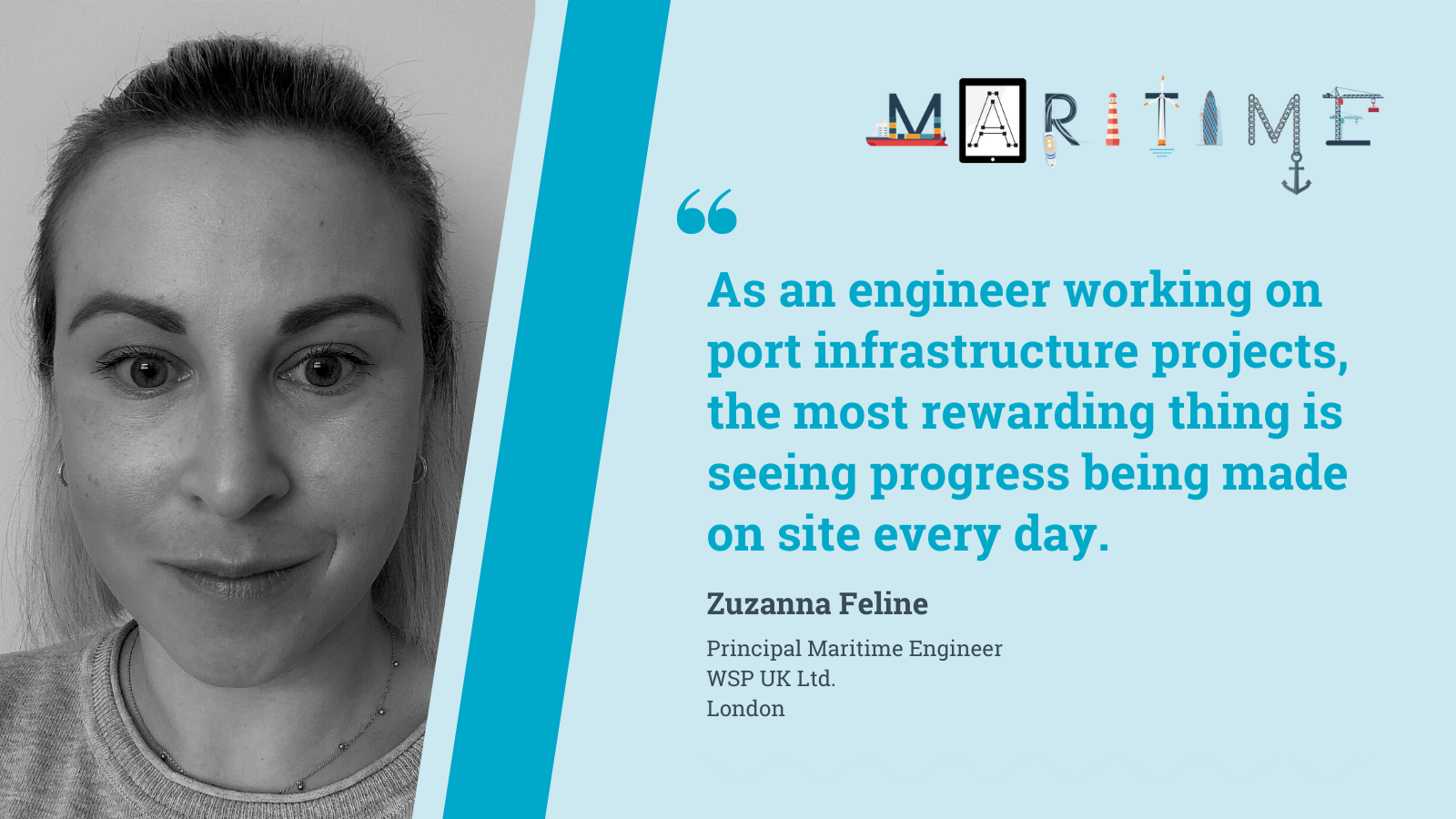 What do you do?
I am a maritime principal engineer and my job is advising the clients during all stages of delivering port infrastructure projects. This means I get involved in projects from as early as feasibility studies and concept designs to overviewing construction on site and commissioning of work. It is also crucial for me to understand how ports work and the equipment they operate. I love how varied my career is – I get involved in preparing proposals for our clients, site visits, preparation of tender documents for construction work, assessment of tenders, selection of contractors, cost estimates, detailed design, site surveys, assessment of contract variations, health and safety and environmental aspects of the projects, permitting, and liaison with authorities and local communities. However, my favourite aspect of the job is providing site support during the construction phase – answering questions from the contractors as they are building the port – this part of the project is very dynamic, answers are required fast and each decision bears financial implications for our clients. In return I witness the progress being made on site every day and that's the most rewarding. 
What does a typical day at work look like?
I feel that the personality types from the quiz describe me very well – coach, manager and quality controller. In my role I lead teams of engineers and guide them through various tasks, and I find it really satisfying to watch them grow and gain confidence. I have recently become chartered and will now mentor my younger colleagues on their chartership journey too. I am a very well organised person which is necessary for a project manager to keep track of all project deadlines and demands. And lastly, I deploy my quality controller qualities every day making sure the projects are delivered to the highest standards.
How did you get to where you are?
I chose to study civil engineering as I felt that my appreciation of logical thinking and organisation skills would suit this career really well. Additionally, I have always enjoyed the STEM subjects at school so it was a natural choice for me. I completed my undergraduate degree full time and started working as a graduate engineer shortly afterwards. I then chose to further my education by doing a masters degree in a distance learning mode while working full time. It was very challenging but it allowed me to become chartered with the Institution of Civil Engineers so it was worth the efforts. 
What do you enjoy doing in your spare time?
In my spare time I used to do sports such as running and triathlon, as well as travelling, or combining both hobbies. This has changed 2 years ago when my son was born. Now the priorities are to keep him happy so I visit soft plays, farms and play grounds as well as seeing other mum friends for play dates. I still try to stay active by visiting the gym on my non-working days while leaving my son at a creche. I find it exciting and rewarding to watch my son explore the world and learn something new every day and I'm looking forward to showing him more of the world as he grows up.