Financial Support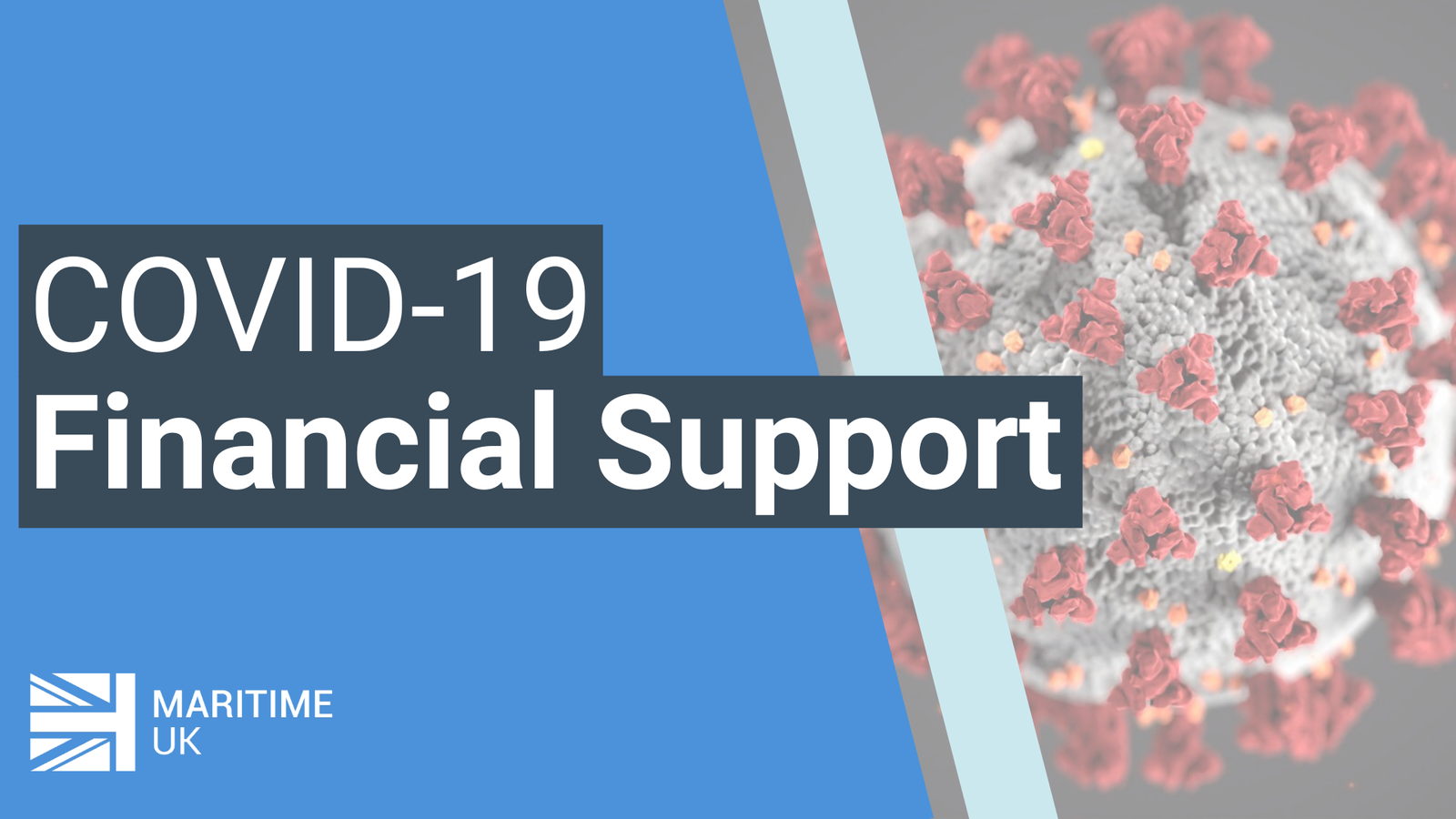 Webinar for Maritime UK companies on accessing support
Maritime UK, together with Maritime London and BDO, recently hosted a webinar to help maritime businesses access government support schemes. The recording of the webinar can be accessed below.

What coronavirus support schemes suit your business?
 A new 'support finder' tool helps businesses and self-employed across the UK determine what financial support is available to them during the coronavirus pandemic:
Future Fund
The Future Fund will provide UK Government loans to UK-businesses UK-based companies ranging from £125,000 to £5 million, subject to at least equal match funding from private investors. The fund will be open for applications from Wednesday 20 May 2020. 
These convertible loans may be a suitable option for businesses that typically rely on equity investment and are unable to access other government business support programmes because they are either pre-revenue or pre-profit. 
Coronavirus Statutory Sick Pay Rebate Scheme
From Tuesday 26 May 2020, small and medium-sized employers, with fewer than 250 employees, will be able to apply to recover the costs of paying coronavirus-related Statutory Sick Pay (SSP) payments they have made to their employees.  
Employers will be able to make claims to the Coronavirus Statutory Sick Pay Rebate Scheme through a new online service. Employers will receive repayments at the relevant rate of SSP that they have paid to current or former employees for eligible periods of sickness starting on or after 13 March 2020. 
Coronavirus Business Interruption Loan Scheme (CBILS)

At Budget 2020 on Wednesday 11 March, the Chancellor announced a 'Coronavirus Business Interruption Loan Scheme', and that it would become available 'over the coming weeks'. This has been brought forward, and we now expect the new scheme to become available in week commencing 23 March 2020. The scheme was updated on 2 April - see summary of changes in document below.

Coronavirus Large Business Interruption Loan Scheme (CLBILS)
The recently announced Coronavirus Large Business Interruption Loan Scheme (CLBILS) is expected to launch before the end of April. If your business is planning to apply for the scheme, preparations should begin now. The scheme is now open for applications.
Bounce Back Loan
The Bounce Back Loan scheme helps small and medium-sized businesses to borrow between £2,000 and £50,000. The Government guarantees 100% of the loan and there will not be any fees or interest to pay for the first 12 months. Businesses based in the UK that have been negatively affected by coronavirus will be eligible. 
Covid Corporate Financing Facility (CCFF)
Coronavirus Job Retention Scheme (CRJS)
The Coronavirus Job Retention Scheme is now open for applications. Employers can claim online for a grant for 80% of their furloughed employee's salaries, up to a maximum of £2,500 per employee. Employees should receive the money within 6 working days of making an application. The scheme has been extended, and will now be open in its current form until July, and then provide increased flexibility into the autumn.
Self-employment Income Support Scheme (SEISS)

The Self-employment Income Support Scheme (SEISS) will support self-employed individuals (including members of partnerships) whose income has been negatively impacted by COVID-19. The scheme will provide a grant to self-employed individuals or partnerships, worth 80% of their profits up to a cap of £2,500 per month.

HMRC will use the average profits from tax returns in 2016-17, 2017-18 and 2018-19 to calculate the size of the grant. The scheme will be open to those where the majority of their income comes from self-employment and who have profits of less than £50,000. The scheme is now open.
Download
Download