Introducing the new Maritime Capability Campaign Office
Published:22 Mar 2022
Last updated:1 Apr 2022

Address
Webinar
UK


Date
26 Apr 2022

Time
3 p.m. - 4 p.m.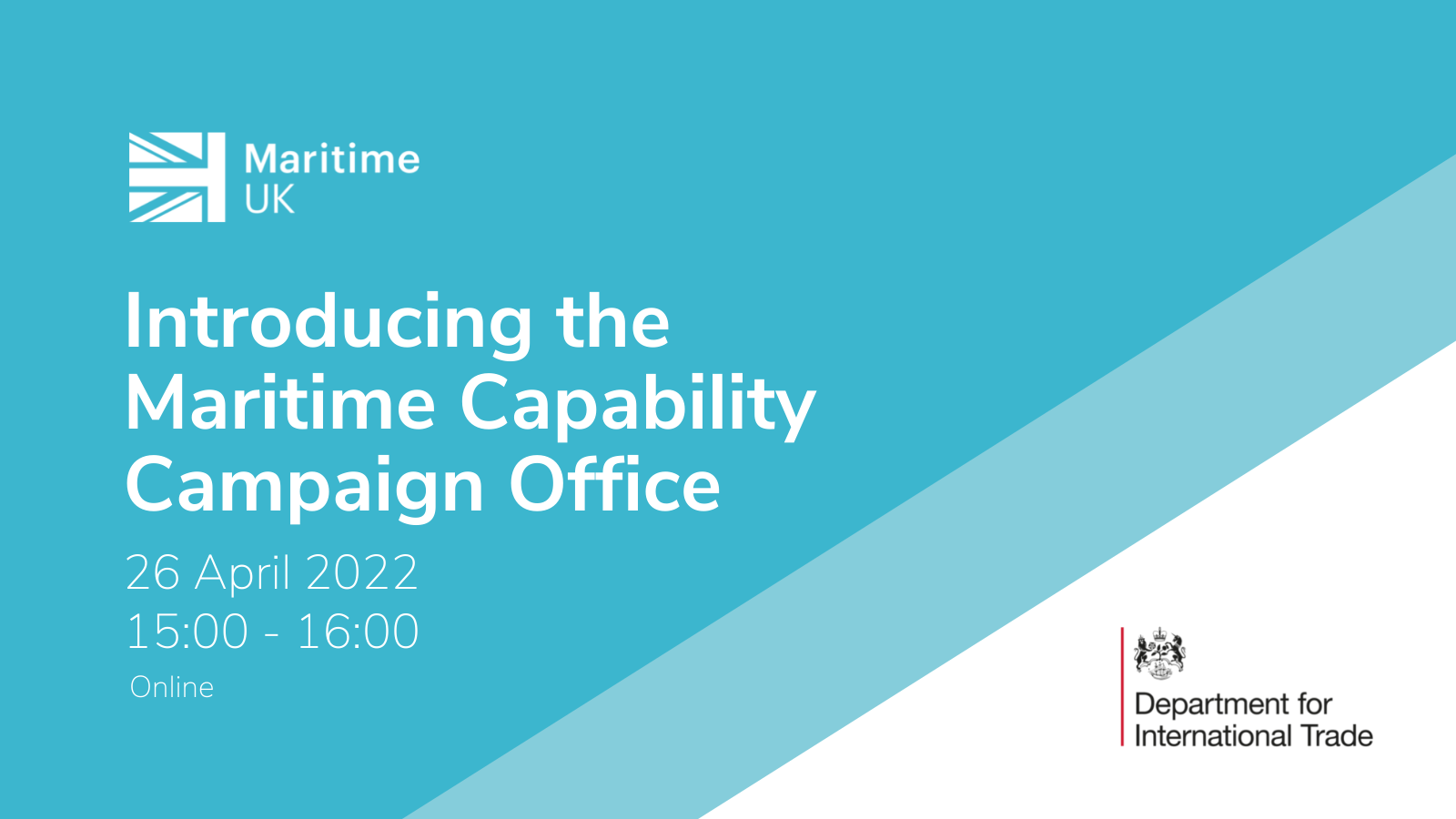 Maritime UK invites you to a webinar to introduce the Department for International Trade's new Maritime Capability Campaign Office (MCCO).  
As part of the refreshed National Shipbuilding Strategy, the MCCO, as the trade and investment arm of the National Shipbuilding Office, will champion exports and investments in this sector, unlocking opportunities for our maritime industries to export their innovative technologies, services, and designs around the world. It will work in lockstep with business, to build on our world-leading maritime capabilities, strengthening our global reputation as a thriving maritime industrial base and leveraging our strengths in areas like technology, defence, design and manufacturing and professional services.
Set up with £12.5m funding, the MCCO will support the NSO to build on the Export Strategy by pursing maritime export opportunities and capturing significant global market share in the Government's challenge of achieving £1 trillion worth of exports by the end of the decade. It will collaborate with industry and across Government to coordinate export development and delivery activity from platforms to sub-systems, to supply chains. Additionally, it will support foreign direct investment into the maritime sector to accelerate opportunities, foster innovation and strengthen the capabilities of the UK's supply chain. 
This webinar will introduce maritime businesses to the new team, its plans and explain how individual companies can benefit, including key international events and activity being supported by the team. The session will also ask maritime businesses where their priorities lie, and how best the new team can support the sector. The MCCO team are committed to engaging regularly with industry to gain insight and ensure their plans reflect the sector's needs.
The MCCO will work closely with Maritime UK and its members, particularly where trade bodies deliver the UK's presence at key trade shows across the world.
The webinar will be held on MS Teams, with the opportunity to ask questions of the panel.
Agenda
Welcome and background
The MCCO
Headline plans
How the MCCO can support you
Your priorities for government support
Registration