Events /
London International Shipping Week 2021 Parliamentary Cruise
London International Shipping Week 2021 Parliamentary Cruise
Published:16 Jul 2021
Last updated:14 Sep 2021

Address
Westminster Millennium Pier
UK


Date
14 Sep 2021

Time
1 p.m. - 2:30 p.m.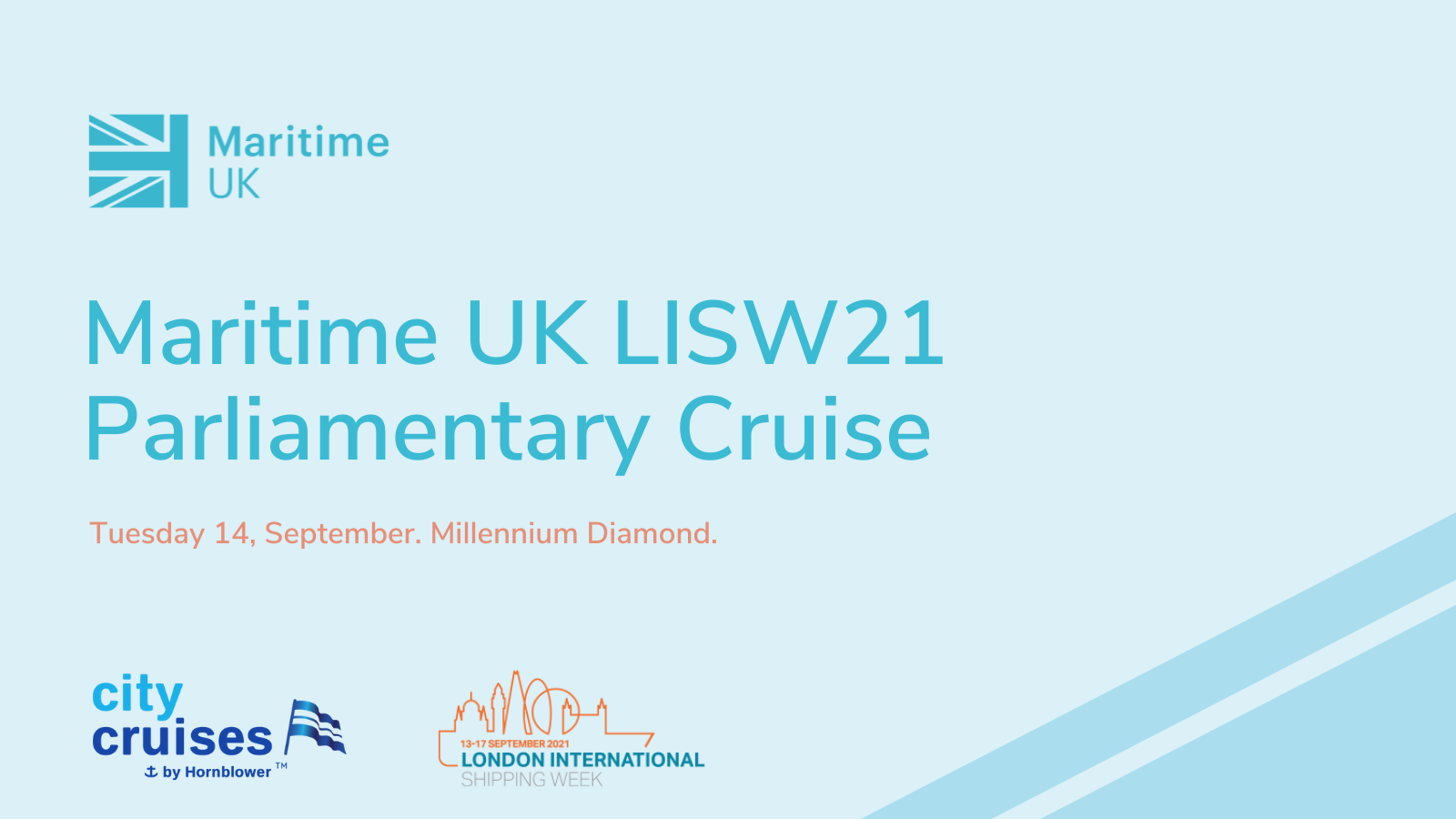 The Maritime UK London International Shipping Week Parliamentary Cruise, hosted aboard City Cruises' Millennium Diamond, will launch Maritime UK's new economic impact study. This biannual report identifies the value of the maritime sector to the UK economy. The report was last published in 2019, showing that maritime added more to the UK economy than both rail and air combined. 
As an island nation the UK relies on the sea and the coast for the vast majority of the trade that businesses and all of us as individuals benefit from every day. But maritime businesses operating all around the coast offer so much more than that. They are catalysts for investment, jobs and prosperity for coastal communities – communities that can often be amongst the poorest in the UK. The maritime industries are also vital foundations for a more sustainable, net zero future for the UK. 

Recent government activity on maritime:
The Prime Minister's Ten Point Plan for a Green Industrial Revolution included £20 million for a competition to develop clean maritime technology.
The Government has announced its plan to publish a refreshed National Shipbuilding Strategy in the coming months.
International shipping emissions have been included as part of the UK's national emissions targets for the first time.
The Prime Minister announced his intention for the UK to become a 'shipbuilding superpower', including for green shipping.
The Government has announced plans for the building of a new Royal Yacht. 
About Maritime UK
Maritime UK is the umbrella body for the maritime sector, bringing together the shipping, ports, services, engineering and leisure marine industries. Our purpose is to champion and enable a thriving maritime sector. 
Supporting over 1 million jobs and adding £46.1bn to our economy, maritime is responsible for facilitating 95% of UK global trade, worth over £500bn per year. The UK maritime workforce is 42% more productive than the average UK worker. Maritime makes a greater contribution to the UK economy than both rail and air combined. 
The sector is the fundamental enabler of British global trade and exports its own innovative products and services. With cutting-edge technology, high-quality design & manufacturing, unparalleled expertise in services and major investment opportunities, the UK is the natural home for global maritime business.
Our members are: Belfast Maritime Consortium, British Marine, British Ports Association, CLIA UK & Ireland, Institute of Chartered Shipbrokers, Maritime London, Maritime UK South West, Mersey Maritime, Nautilus International, Shipping Innovation, Society of Maritime Industries, Solent LEP, The Baltic Exchange, The Seafarers' Charity, The Workboat Association, Trinity House, UK Chamber of Shipping and the UK Major Ports Group.
Registration Closed