Media /
News: Big Careers! Big Opportunities! Maritime UK celebrates International Women's Day by launching new resource for schools and industry ambassadors
News: Big Careers! Big Opportunities! Maritime UK celebrates International Women's Day by launching new resource for schools and industry ambassadors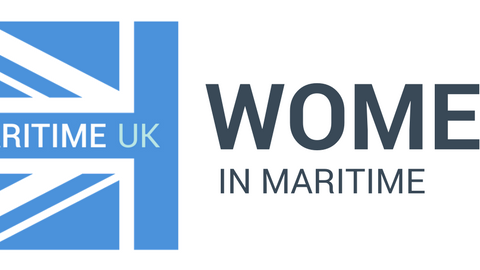 Government-funded outreach resource for schools and industry ambassadors, to inspire the next generation of young women.
New suite of case studies featuring women working in the maritime sector.
Hutchison Ports UK starting their Charter journey.
Maritime UK, the industry body for the maritime sector, and its Women in Maritime Taskforce will be celebrating International Women's Day by launching its new resource for schools and industry ambassadors.
This resource has been developed to respond to specific challenges identified by the Women in Maritime Taskforce -  to help educate and inspire girls about STEM and maritime careers, and to provide more visible female role models of women working in the sector for schoolchildren and young women.
Maritime UK is delighted to be working with 'Women in Science and Engineering' (WISE) to deliver a bespoke training and teaching resource for maritime. The WISE MySkillsMyLife online training platform has been expanded to include maritime case studies. The quiz is used by schools and other youth groups to show girls and young women what personality types they are, and what areas of work they may find interesting. When a user completes the quiz, case studies of suitable roles in various sectors are displayed - these case studies will now include individuals from the maritime sector.
To accompany this, an online resource pack tailored specifically for the maritime sector has been produced and will be freely available to schools and those involved in outreach programmes. We call upon the sector to provide ambassadors to promote and share these resources in schools. More information about the programme and on how to become an ambassador can be found here.
These are the first outputs from the 'Maritime and Me' public facing campaign which is funded by the Department for Transport and aims to showcase the many career opportunities that exist in the maritime sector.
For International Women's Day, Maritime UK are issuing a renewed call for case studies to be submitted to the 'Maritime and Me' campaign. With the intention to highlight the diverse range of careers available across the maritime sector, case studies of all roles and all levels of seniority are welcome. Case studies can be submitted through this online form.
The Women in Maritime Taskforce brings together leaders from across the maritime sector to identify practical steps to increase the number of women in maritime, and crucially within senior roles across its shipping, ports, services, engineering and leisure marine industries. We believe achieving a balanced workforce at all levels in the maritime sector will undoubtedly improve culture, behaviour, outcomes, profitability and productivity.
Since establishing the Taskforce in January 2018, Maritime UK has created bespoke resources to respond to the barriers identified by the Taskforce to getting more women into the sector and into senior positions. Those resources launched last year include:
A 'Speaker Bank' highlighting women speakers able to join panels and speak at conferences
An 'Interview Pool' to facilitate the loaning of women industry personnel to other companies for their own interviews
A series of public speaking workshops which have now been held in London, Glasgow and Liverpool, with others planned in Southampton, Cornwall and Hull
The Women in Maritime Charter, which offers individual companies a framework to agree an 'action plan' comprising targets and new projects agreed with the Taskforce.
Sue Terpilowski, OBE, Chair of the Taskforce, says: "Maritime UK's Women in Maritime Charter is at the pinnacle of its work to tackle gender diversity across the UK maritime sector. Companies applying for Charter Certification must share their baseline data and commit to an action plan to set and meet short, medium and long term targets to address gender diversity by tackling fairness, equality and inclusion at all levels throughout their business and the sector. Companies who apply to become Charter Certified are supported by the Women in Maritime Taskforce by being provided with toolkits comprising best practice as well as access to workshops and mentoring. To date five companies have become Charter Certificate. On Friday 6 March we were delighted to celebrate Hutchison Ports UK (Harwich International, Port of Felixstowe and London Thamesport) becoming the sixth. We hope others will follow by taking the Pledge and apply to become Charter Certified."
For those companies not ready to become Charter Certified, we encourage them to sign the Women in Maritime Pledge. The Pledge, which has been signed by over 150 companies to date, states: "We are committed to building an employment culture that actively supports and celebrates gender diversity, at all levels, throughout our organisation and our industry". These companies are all committing to take practical steps and set measurable, ambitious goals."
"Women's equality cannot wait. We ask that this International Women's Day you consider signing the Pledge or apply to become Charter Certified. #EachforEqual #IWD2020 #womeninmaritime"
Maritime Minister, Kelly Tolhurst, said:
"The Maritime and Me campaign will help build the maritime workforce of tomorrow, inspiring and educating young people about the exciting opportunities a career in this sector brings.
"Building on these initiatives will ensure this fantastic industry is stocked with the best emerging talent, by investing in the potential of our diverse society and increasing the number of women working in maritime."

Harry Theochari, Chair of Maritime UK said:
"We are delighted to share the new 'MySkillsMyLife' digital resource, part of the Maritime and Me campaign, in collaboration with WISE and supported by the Department of Transport this International Women's Day. The resource highlights that UK industry will be needing numbers of new engineers in order to compete in the global economy. It cannot expect to meet this demand if only recruiting from parts of the talent pool. Diversity is incredibly important to our sector and we recognise that women's equality cannot wait. Through our Maritime UK 'Women in Maritime Taskforce' we are taking tangible steps forward to ensure we don't miss out on huge talent and diversity of thought, which are essential to the future success of our £46.1bn sector."
We ask that this International Women's Day you consider signing the Pledge or apply to become Charter Certified. #EachforEqual #IWD2020 #womeninmaritime"