Media /
News: HMS Queen Elizabeth Enters Portsmouth
News: HMS Queen Elizabeth Enters Portsmouth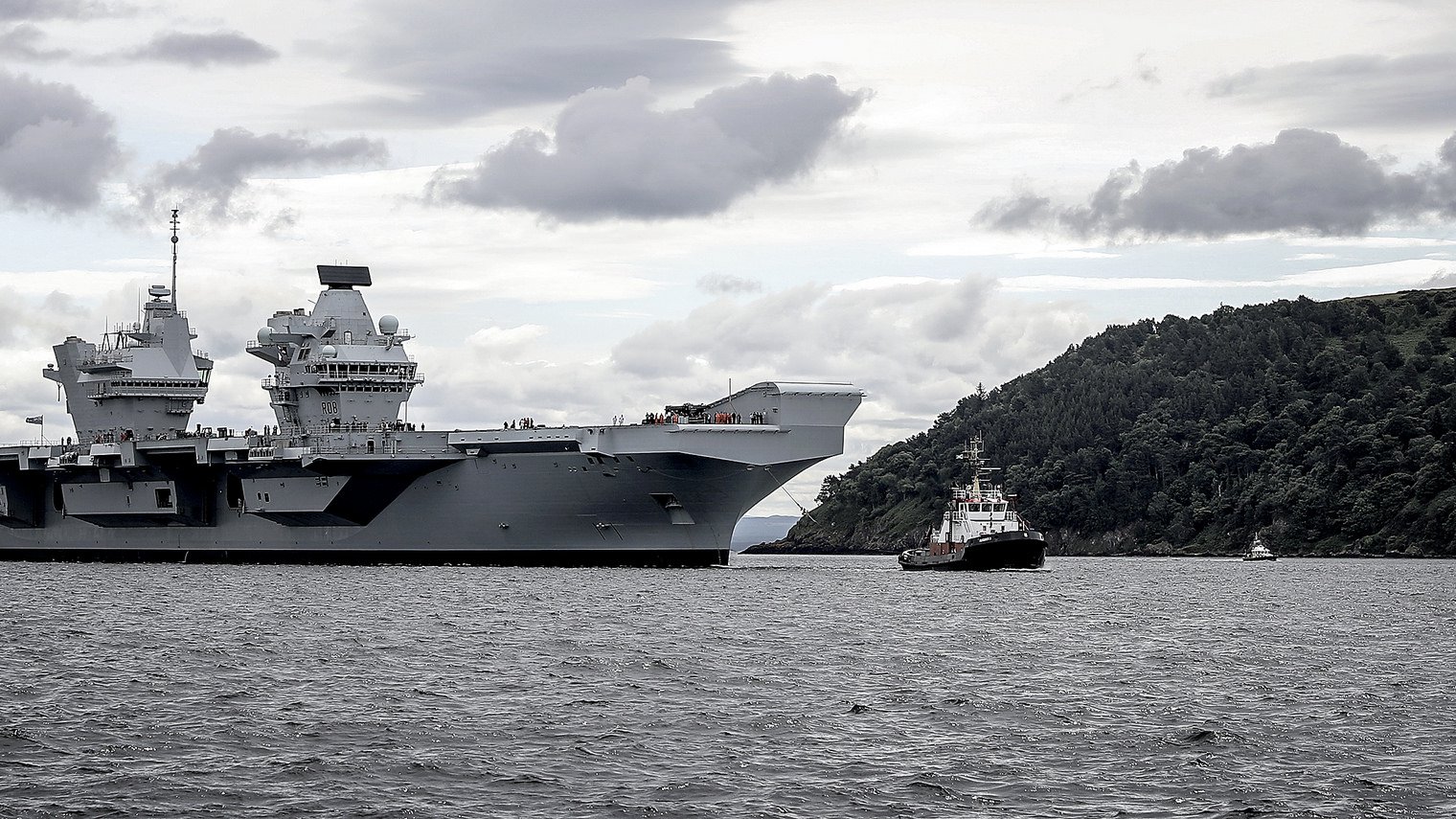 Britain's future flagship HMS Queen Elizabeth sailed into her home port of Portsmouth for the first time today.

Greeted by thousands of people lining the Portsmouth seafront, the 65,000-tonne carrier was met with the warmest of welcomes as she arrived in her home port just after 7am.
Royal Navy sailors lined up in ceremonial procedure on the flight deck of the mammoth ship, standing alongside civilian colleagues from the Aircraft Carrier Alliance, as she passed the Round Tower.
HMS Queen Elizabeth was also greeted with a flypast of helicopters from the Fleet Air Arm, including Wildcat and Merlin helicopters and Hawk jets.
Captain Jerry Kyd, the Commanding Officer of HMS Queen Elizabeth, said: 
"HMS Queen Elizabeth's first entry into her home port of Portsmouth is an historic, proud and exciting occasion, not only for those of us serving in her, but also for the wider Royal Navy, the city of Portsmouth and the entire nation."
"The UK's future flagship, as well her sister ship HMS Prince of Wales, will be powerful symbols of Britain's outward facing global character and ambition. The Royal Navy has a very special relationship with Portsmouth dating back half a millennium and both carriers will ensure the Navy's city remains the focal point of our great nation's maritime power for generations to come."
The ship will berth at the newly-opened Princess Royal Jetty at Her Majesty's Naval Base Portsmouth, which will be home to both of the Royal Navy's new aircraft carriers. The second, HMS Prince of Wales, will be officially named in a ceremony at Rosyth next month.
The berth has been upgraded and strengthened to support the carriers as part of a raft of infrastructure upgrades which took place ahead of the arrival of the ship.
The approach channel to Portsmouth has also been made deeper and wider, from its original 210 metres to 450 metres, and the channel has been straightened as much as possible to avoid large course alterations.
Bespoke navigational lights, a high-voltage electrical supply and specialist carrier-specific gangways, known as 'brows', have also been provided as part of a £100m programme of works to prepare Portsmouth for the arrival of the carrier.
Sir Peter Gershon, Chairman of the Aircraft Carrier Alliance, said: 
"I am incredibly proud to witness HMS Queen Elizabeth arrive at her home port of Portsmouth Naval Base having successfully completed the first phase of her sea trials programme.
"Over 10,000 people have come together to bring HMS Queen Elizabeth and HMS Prince of Wales to life, from early design to the magnificent ships they are today. It is thanks to their industrious endeavours and pride that we have achieved this historic moment in the programme to bring HMS Queen Elizabeth into service.
"We're excited to complete the remainder of her test and commissioning programme before delivering her to the Royal Navy by the end of the year."
With only three other countries in the world building aircraft carriers, HMS Queen Elizabeth will give Britain the capability to lead the way in tackling global issues in an increasingly uncertain world, from providing humanitarian relief to high-end war fighting.
And with the state-of-the-art F-35B Lightning fighter jets on track to make their first trial flights from the carrier's deck next year, the UK is now building towards delivering carrier strike capability. Both aircraft carriers are being delivered by the Aircraft Carrier Alliance.
Leading Airman Liam Forgeron, 28, from Portchester, is an aircraft handler on board HMS Queen Elizabeth. He said: 
"Being a local lad, I am extremely proud that Portsmouth will now be the base port for the nation's future flagship.
"The historic port has a long and proud association with the Royal Navy and the arrival of HMS Queen Elizabeth will cement this relationship for a further 50 years. As a Royal Navy aircraft handler, serving on board this mighty vessel is a real honour, as I too get to make history in my home town."