Media /
Remarks: Harry Theochari addresses Maritime UK Summer Party
Remarks: Harry Theochari addresses Maritime UK Summer Party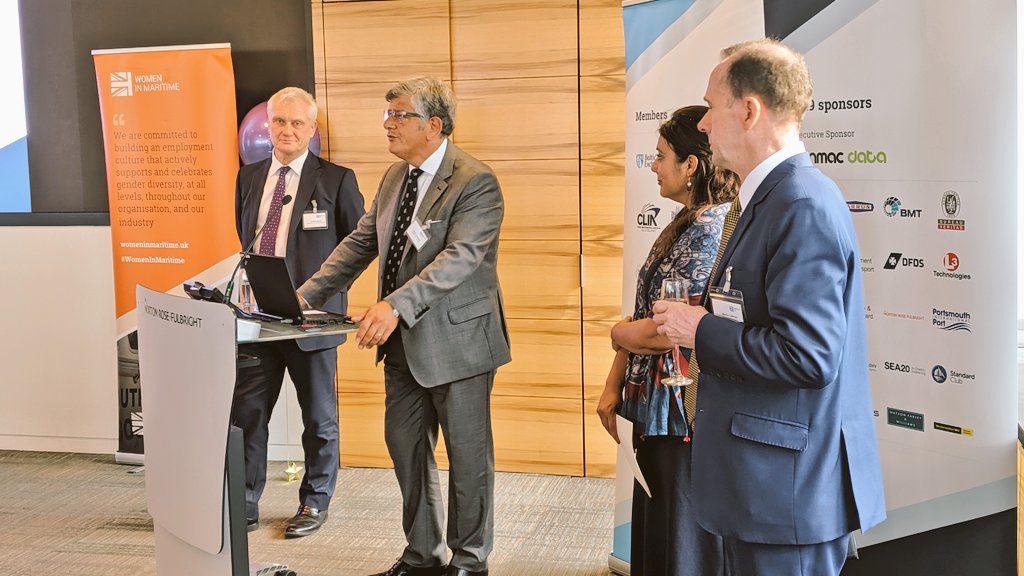 Remarks by Maritime UK Chair, Harry Theochari, at the Maritime UK Summer Party:
Check against delivery
Your Excellencies, My Lords, Ladies and Gentlemen, welcome to the Maritime UK Summer Party.
Thanks to our ministers for joining us, and thanks to so many of you, too. We've brought together a wide range of people for our summer party - from the shipping, ports, services, engineering and leisure marine industries. Our great maritime family. Worth £40bn to our island nation, supporting over 1,000,000 jobs.
This has been a significant year for maritime. At home we've been working closely with government on Brexit - where, unsurprisingly, it remains our priority to see a deal agreed with the EU - but we've also been focused on the future. Launched in January, we now have Maritime 2050, providing a framework for industry and government collaboration to ensure the UK's maritime future.
Together, we've made huge progress.
On raising the sector's profile, with the public and decision makers, through the media and in government engagement.
Promoting the sector overseas and working with DIT to develop a new five-year plan to more smartly promote exports and attract investment. Organising our own trade missions to Shanghai and New York, with our friends from Cunard and the Royal Navy.
To fostering collaborating amongst the sector, so that we have now, launched last week, a national centre for maritime research and innovation, backed by government, MarRI-UK.
A new careers brand with more outreach work across the country to attract young people into our sector, with bespoke teaching resources. Our Women in Maritime programme, challenging us all to make substantive progress on diversity.
To our focus on coastal economic development, with our coastal powerhouse campaign. Just last month we announced the creation of four new regional cluster organisations, and it's our ambition that every maritime region benefits from a cluster.
And that's just some of what we've done. Looking to the future, there is much to be excited about. Last week government launched its Clean Maritime Plan. The environment is an issue we have huge responsibility to get right, and we will. Maritime 2050, crafted with industry, will be delivered with industry. In the coming months you will learn of opportunities to get fully engaged in delivering against Maritime 2050 recommendations within industry delivery teams. Your support will be critical.
And next month we welcome the world to London for LISW. Together with government Maritime UK will host the Global Trade Hub at the Leadenhall Building. Here we'll match inward visitors with UK suppliers, showcase the best of British and deliver a programme of high-quality thought leadership seminars. We'll host the official welcome reception at Banqueting House, launch our state of the maritime nation report and deliver a Careers Hub aboard the NLV Pharos.
As we welcome the world to London, it's vital that we tell the world that we're open for business, and remain the same pragmatic, tolerant and dynamic country they've always known.
And as the world becomes more volatile, it's crucial that we defend the global rules-based order and maintain the capacity to enforce them. Thank you to the Royal Navy for your work to protect global trade.
Allow me to briefly wish everyone who has entered the Maritime UK Awards, to be held in Southampton on 19 September, the very best of luck. Ticket sales go live next week!
Maritime UK has grown and developed into an organisation few imagined just three years ago. And that's down to everyone in this room. Whether as members, as government champions and partners or as sponsors, we thank you all. Success in the coming months and years will rest on the strength of the community we are building.
Enjoy tonight and let's get to work.
Ministers Nusrat Ghani MP (DfT), Lord Callanan (DExEU) and Graham Stuart MP (DIT) also provided remarks.