Media /
News: 2019 Maritime Masters students announced
News: 2019 Maritime Masters students announced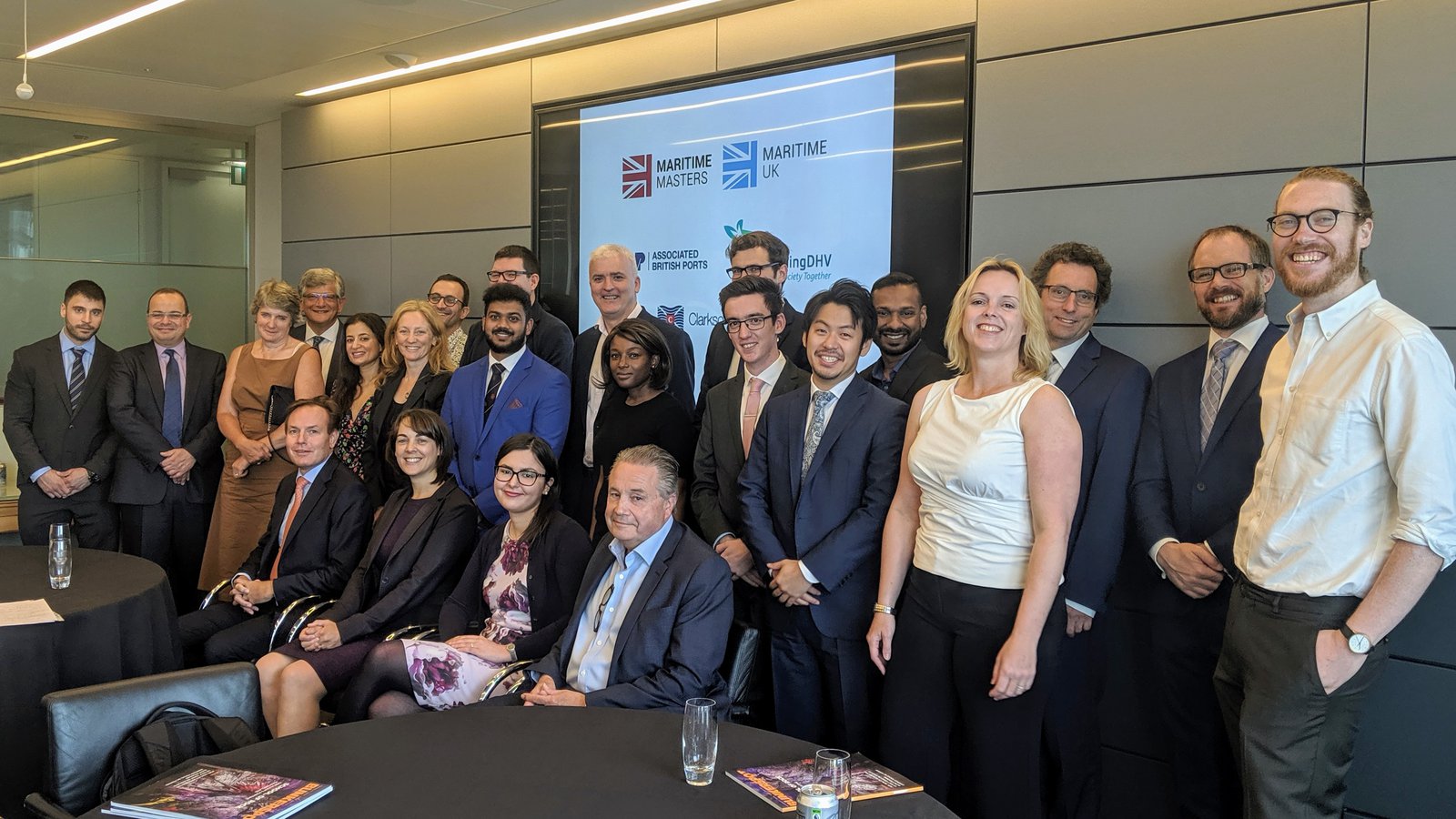 Maritime UK has announced the students taking part in the 'Maritime Masters' programme.

The Maritime Masters programme aims to encourage engagement and strengthen ties between the UK's maritime industries and academia. The programme promotes academic excellence among students, whilst providing valuable insight into the most recent research that will be supporting the work of the entire maritime sector.
The programme's inaugural year culminated with a finalist reception at Clarksons Platou's London offices in November 2018. Having listened to presentations by each student finalist, an industry audience then voted for their winner. The first winner was Tessa Jones from Queen Mary, University of London, for her research on blockchain.
Maritime UK has strengthened the programme in its second year, with University College London joining, as well as individual companies adopting student research. Adoption sees that company providing counsel, guidance, data or other access to support the student's research. This year has also seen greater engagement between participating students, including at an industry lunch where academics, sponsors, students and adopters met to discuss the research progress and identify where further support can be provided.
This year's Maritime Masters programme is sponsored by ABP, Royal HaskoningDHV and Clarksons Platou.
23 participating students are drawn from across the 9 universities. The research chosen by students this year covers a wide range of topics, such as maritime cyber security, the application of blockchain technologies, piracy, environmental regulations, climate change, autonomous vessels, shipping finance, waste disposal at sea, Tonnage Tax, diversity in the maritime workforce, vessel design and maritime law.
All 23 students will provide an update on their research at London International Shipping Week during Maritime UK's Education Spotlight session at the Leadenhall Building.
Each university will then select their single finalist to present their full research to industry, before voting, on 24 October at Clarksons Platou.  
Ben Murray, Director of Maritime UK, said:
"Collaboration within the maritime sector is increasing all the time. Maritime 2050, launched in January sets a route map for government and industry to collaborate to secure Britain's position as a maritime nation to 2050. The relationship between industry and academia is critical to our success. That's why Maritime Masters is so important. We're already starting to see the product of that closer relationship, with the establishment of the UK's national centre for maritime research and innovation, MarRI-UK."
"Maritime Masters also reminds us that the UK really is the world's leader in maritime education and training. This is a key part of our export offer."
Clarksons, Maritime Masters event sponsor, will once again be hosting the finalist reception. Their L&D Advisor, Dr Malcolm Willingale said:
"Building on the success of the inaugural event in 2018, Clarksons is delighted to host the 2019 Maritime Masters finalist's reception. The standards of research work presented by last year's finalists was impressive and we look forward to a keenly contested competition in October."
Alongside Clarksons, ABP and Royal HaskoningDHV are sponsoring this year's programme. Kerry Thompson, Head of ABP Academy, said:
"ABP is delighted to be working with Maritime UK to support Maritime Masters 2019. The programme is a great example of how collaboration between industry and leading academic institutions is helping the next generation of maritime professionals in producing valuable research on wide range of important topics."
Nicola Clay, Director for Smart Ports at Royal HaskoningDHV, added:
"We are delighted to be playing a role in building greater links between industry and academia through our sponsorship of Maritime UK's Maritime Masters programme.  Our engineers and consultants are looking forward to supporting the shortlisted students by sharing our knowledge on the challenges the maritime industry is facing and helping to shape targeted research around those topics."
2019's students and research topics
Cardiff University
Lydia Koumarela - 'Financing in the shipping industry: new trends, potential risks, and early warning mechanisms to prevent future market failures'
Jack Lockett – 'Utilising a multifaceted stakeholder approach to assess the international maritime organisation's target of halving vessel greenhouse gas emissions by 2050'
Eleftheria Skaltsa – Study on challenges facing piracy in Africa: current trends, concerns and resolutions'
Cass Business School
Maria Ceballos-Espinosa – 'Mitigation and adaptability of ports to climate change'
Nicholas Hoagland – 'Benefits of the UK Tonnage Tax on the UK economy'
Sofia-Vasileia Tzivara – 'A survey to better understand the current levels of diversity within the UK's maritime workforce'
Jose Von Habsburg-Lothringen – 'The applicability of Distributed Ledger Technologies in electronic bills of lading or other freight documentation in shipping/rail/road transport'
Liverpool John Moores University

Daniel Adam – 'Development and adoption of electronic Bunker Delivery Notes (e-BDN) and the pivotal role they will play in increasing efficiency and reducing disputes when incorporated into the shipping blockchain' 
Kumaran Kathiresan – 'What commercial or operational triggers can be used to persuade port authorities around the world to follow Singapore's lead in mandating the use of mass flow meters for all fuel and distillate bunker deliveries?' 
Newcastle University

Alvin Manu Job – 'The application of blockchain in freight forwarding'
Ben Richardson – 'How might the introduction of unmanned autonomous ships affect shipping accident statistics?'
Queen Mary, University of London
Rachel Genovese – 'A critical assessment of the regulation of the recycling of ships within the European Union and the commercial and environmental implications'
Femi Ngele – 'Examining cyber security from a maritime law perspective – A critical discussion on the relationship between cyber risk and marine insurance. What is covered and to what extent?'
Kazuya Yamashita – 'The legal impact of revision of Japan's maritime code on the collision of ships – including a comparison of the English law.'
 University College London
Luis De Matos Filipe - 'Ultrasonic C-scan applied to additive manufactured propeller'
Song Ma - 'Task assignment and planning system based on unsupervised learning for multi-USV systems'
Ernest Young – 'Waste treatment facility design at sea'
University of Plymouth
Georgios Koligianni – 'Maritime cybersecurity: a critical analysis of the maritime cyber security'
Andreas Tsestidis – 'The challenges associated with the deployment of Ultra Large Container Vessels and how to overcome them'
University of Southampton
Ignacio Elizalde Castells – 'Machine-learning predictions of ship performance'
John Hayes – 'An experimental study into the dynamic response and peak forces experienced by a floating hybrid renewable energy device in abnormal waves'
Chanhaeng Lee – 'Measuring the performance of a flexible propeller in a wind tunnel'
Nicholas Williams – 'An experimental investigation into the application of flapping foils to different vessel sizes'
University of Strathclyde
Jordan Curtis – 'An investigation into the aerodynamics of a wingmast and its subsequent effects on sail performance'
Hugo Spinola Diego – 'Analysis of the gate rudder on a catamaran'
Katarzyna Patryniak – 'Maximising range of the slocum underwater glider through wing optimisation'