People /
UCL /
2020 Finalist: Rafael Castillo
2020 Finalist: Rafael Castillo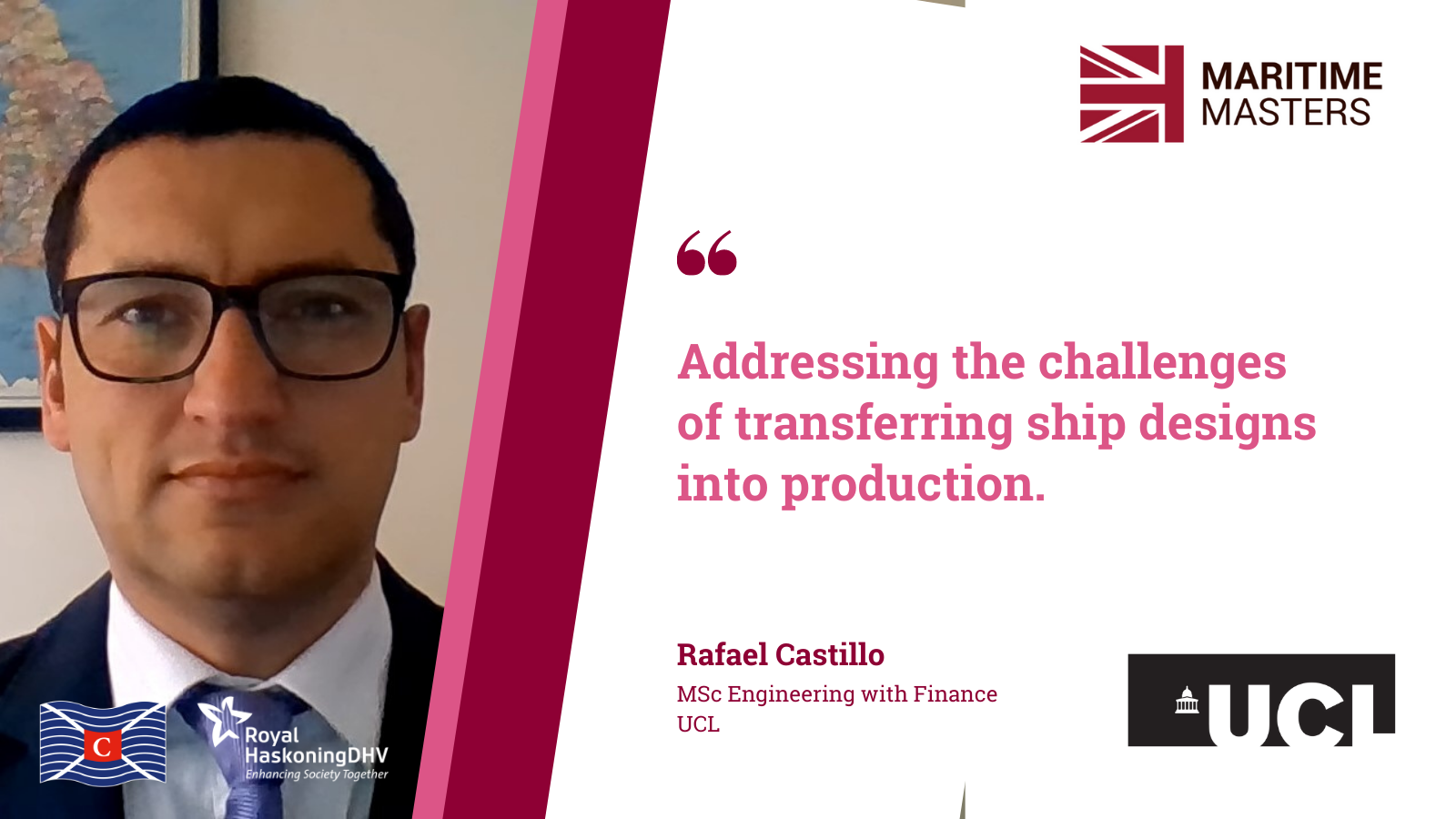 Download Rafael's dissertation here.
Biography:
I am a Chilean Navy active duty officer posted in London to study an M. Sc. In Naval Architecture (2019) and an M. Sc. In Engineering w/ Finance (2020).
My undergraduate background is as a Naval Engineer, Electrical Option, with a specialization in Submarines. 
I will head back to Chilean Shipyards ASMAR at the end of this M. Sc., to become part of the Shipbuilding Enterprise Management Team. ASMAR is currently undertaking a significant project, which is building a Polar V Class Antarctic Ship for our Navy/Government.
Introduction to research:
Translating a Naval Ship´s design into a contract and finally into an operational platform is internationally known to be a major challenge. The UK is no exception to that behaviour, as shown in conclusions reached by Sir John Parker in "An Independent Report to inform the UK National Shipbuilding Strategy" (Parker, 2016).
This project then aims to identify and classify pending challenges on specifying, financing, contracting, and building naval platforms, first through an extensive literature review, and second by the addition of surveys/discussions with relevant industry representatives. 
Financial Indicators of relevant UK Shipbuilding companies are also analysed and compared with the average values obtained.
Some of the identified major challenges are further developed, to gain an understanding of their drivers and potential mitigation measures.
Enhancement of the learning curve is found to be one powerful tool for improving performance. Therefore, a projection of potential savings through this method is estimated for currently ongoing UK Naval projects, namely T26 and T31e frigates.
What is your interest in or the practical applications of this research?
I think the information obtained should be useful because in current times there is a tendency to think that every problem can be overcome by the introduction of technology.
However, the study shows that problems addressed by Naval Shipyards are pretty much the same as in the last 50 years, leading to the late delivery of ships, with significant over costs and sometimes low capabilities.
Following that line, most effective improvements are not necessarily associated with the introduction of top-notch technologies, but more with developing of management and production teams and procedures that can be up to an extremely complex challenge; the conjunction of low net margins in the industry (around 5%), huge uncertainty in costs and high-value contracts (comparable to the company's valuation) keeps on conspiring against the survival of mid-sized shipyards, even managed by very capable hands.
Why did you choose maritime as your area of study and research?
First, because I am passionate about the maritime industry, and I have worked into the area my entire professional life, first as a surface ship engineer, after as a submariner, and after that as part of our Shipyard´s production line.
Second, because with that experience, I can understand why shipyards are so paramount to those communities that they are embedded in, as they not only provide jobs, but also a sense of local/national pride and belonging.
And third, because I will soon be back to the Shipyard, and as the report´s conclusions show, these facilities face a combination of factors that demands almost perfection from management.