People /
Cadet Training & Modernisation (CT&M) Programme
Cadet Training & Modernisation (CT&M) Programme
 The CT&M Programme was established in late 2021 to deliver the 23 recommendations detailed in the Maritime Skills Commission Seafarer Cadet Review (June 21). The Maritime Skills Commission (MSC) carried out the Seafarer Cadet Review at the request from the Maritime Minister in the MSC Tasking Letter. Seafarer Cadet Training Group Report & Recommendations 
On this page you can find updates on our progress delivering the recommendations of the Seafarer Cadet Review, a list of our achievements so far and further information regarding the programme's progress and processes. 
Programme Structure 
There are currently approximately 41 people, across 24 organisations, dedicating hundreds of hours of their time and expertise to support the CT&M Programme. It is an exemplar transformation model which brings together the Maritime Industry to modernise and improve.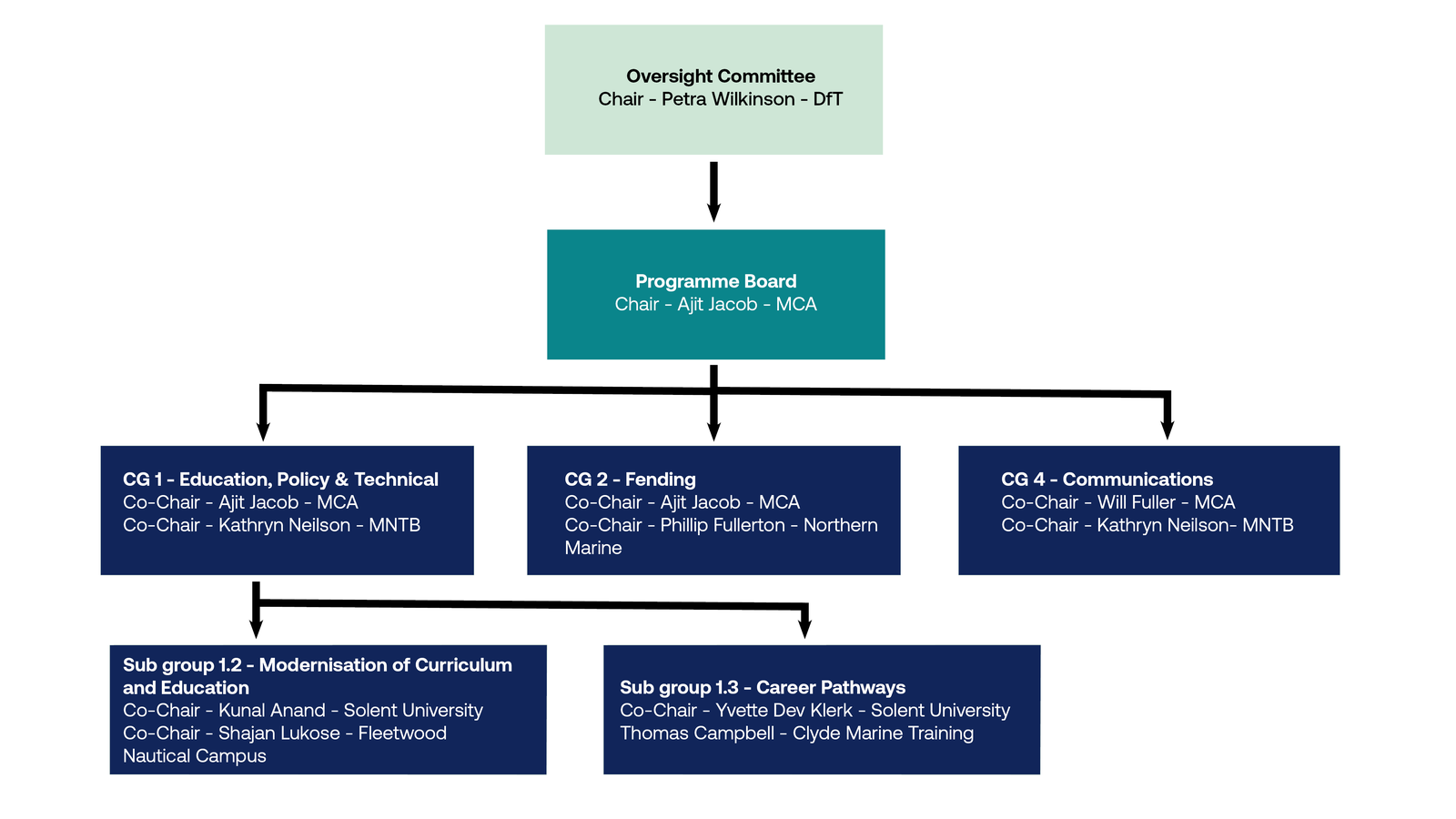 The programme is coordinated by the Maritime and Coastguard Agency and led by the CT&M Oversight Committee, who are charged with keeping oversight on the implementation of the recommendations of the Seafarer Cadet Report and particularly on ensuring that the enabling changes are happening at the required pace. The Oversight Committee reports directly to the Maritime Minister, as required by recommendation 21 of the Seafarer Cadet Report.  
The Programme Board, made up of members representing multiple organisations across the industry, ensures the programme delivers on the recommendations set out in the Maritime Skills Commission report and in accordance with the Oversight Committee's instructions. 
Three consultation groups are currently working on the required modernisation, funding, and communications. These groups are constructed to reflect a balance of stakeholders from across the industry and report progress directly to the Programme Board. They focus on the following topics: 
Education Policy & Technical 
Cadet Funding 
Programme Communications 
Each consultation group has a precise Terms of Reference including the recommendations assigned to them from Seafarer Cadet Review, clearly defined goals, and a timetable for delivery.  
Contact: 
If you have any questions relating to the Cadet Training and Modernisation Programme, please contact us on ctandm.enquiries@mcga.gov.uk